Before the 2020 World Series' first pitch, I predicted the Dodgers would win in six. It wasn't a tough call. The Dodgers were heavily favored, the best team in the COVID-shortened MLB regular season, and peaking at the right time coming back from a 3-1 deficit to a formidable Atlanta Braves squad in the 2020 NLCS.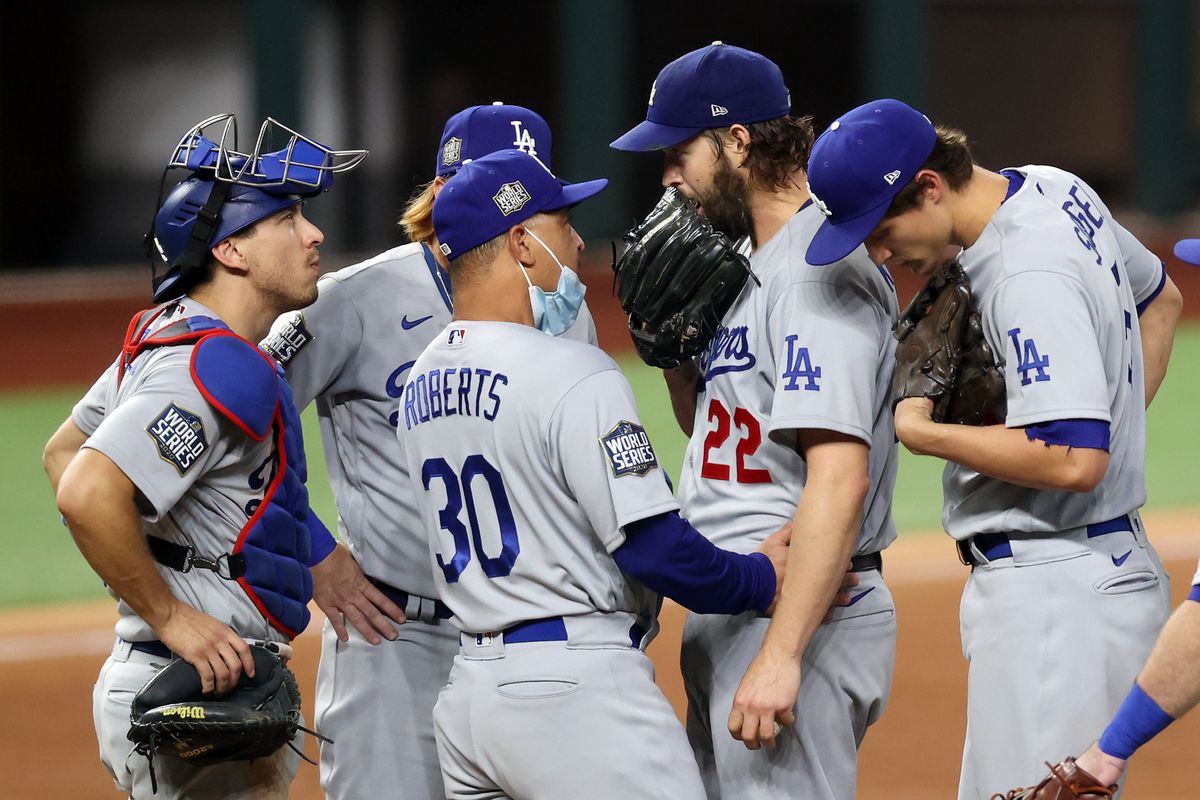 But the Dodgers' big bats are also prone to go quiet for innings at a time, and their late relief has been exposed over and over this playoffs. Ergo, I felt like Tampa would play their signature small ball mixed with shut-down relief to take one game in the series (Game 2), and steal one from a Dodgers' closer (Game 4.) 
I placed bets pre-series for the Dodgers to win, and for them to win in six. I got them at 6/1 early in the season to win in 2020. So all logic and reason tell me to hedge a little with Tampa for Tuesday night as I already have a couple of hedges for them to win and Randy Arozarena to nab the MVP, and have been seeing a handful of props come in here and there. So, play it conservative, right?
Nope.
I recently finished (for the second time) Ben Cohen's March release, "The Hot Hand." Check out the WSJ reporter's science of streaks if you already haven't.  TL;DR Science says when you get on it, stay on it till it bucks you (I'm waaaay oversimplifying). In that spirit, however, I'm all-in with a trio of Dodgers props for game six:
Dodgers to win: (-158) 
The Over: 8.0 (-118)
Total Runs by LA Dodgers: 4.5 (+110) 
With LA on the cusp of celebrating the Dodgers' seventh World Series title — and the city's first World Series/NBA Championship sweep since 1988 — here are a few keys to Game 6 from someone who has been waiting for this day. 
Dodgers Learn to Work the Count
In Game 5, the Dodgers started to use the pitch count again. The team, which had been relying heavily on the long ball since the NLCS, decided to get small—frustrating Rays' ace Tyler Glasnow in the first two innings by working the count and manufacturing runs. This led to all of the team's four runs coming in the first five innings.
This gave enough room for Dodgers' starter Clayton Kershaw to make his case for a long-waited WS MVP bid with his second strong outing of the series. 
Dodgers a Constant Favorite, Over Is King
In 18 playoff games, bettors have yet to see a game where the Dodgers aren't the favorite and, thus far, betting the favorite has paid off. Game 5 is unique in that the under paid for the first time in the World Series, and only the third time since the NLDS. 
Can Blake Snell Eat Innings to Save Tampa's Depleted Bullpen?
If the Rays are to push the series to seven games, they'll have to get at least five solid innings from probable starter Blake Snell. In Game 5, Tyler Glasnow — though roughed up in the early-going — completed the fifth, making him the first Rays starter to do so this series.
With the bullpen gassed thanks to Houston taking them the distance in the ALCS (each of their six relievers made at least one appearance during that series; four made at least two), Snell chewing up some innings is the only way for the Rays to keep dancing. A day off Monday is big for Rays middle relievers Aaron Loup and Diego Castillo, who pitched in both of the last two games. John Curtiss and Nick Anderson have also already pitched long relief in this series.
Why is Tony Gonsolin Starting? 
Dave Roberts is giving Tony Gonsolin the ball in Game 6, which is … strange. Gonsolin lasted just one and a third when he got the ball for game two, and this postseason, he's only notched seven and two thirds over three appearances while surrendering seven walks and eight runs for a playoff ERA of 9.39.
While Dustin May and Julio Urias may not be immediate options (let's face it, they are), Roberts can go to Game 3 starter Walker Buehler in the early innings, and then rely on a half-dozen rested relievers to boot. Look for all hands on deck should the Rays get baserunners early. 
Cody and Mookie, Where Are You? 
On Friday night, Mookie Betts stole two bases, which made him and Davey Lopes the only two players in Dodgers history to swipe two or more in multiple playoff games. This was after Betts guaranteed America a taco by stealing a pair of bags in Game 1 on Tuesday night. Beyond swiping bags, Betts has been deathly quiet at the plate, going 5 for 24 with a .227/.292/.409 slash line.
Cody Bellinger, who has been saddled with shoulder and back soreness, is 2-for-15 with four strikeouts, two walks, and one RBI (a home run he hit back in game one.) Will either one of the Dodgers' former MVPs get rolling in Game 6 in time to join the party? My guess is … definitely maybe.