After three months of trash talk, an untimely injury, and an infamous tattoo, Tyron Woodley will finally get his long-awaited rematch against Youtuber Jake Paul in the boxing ring.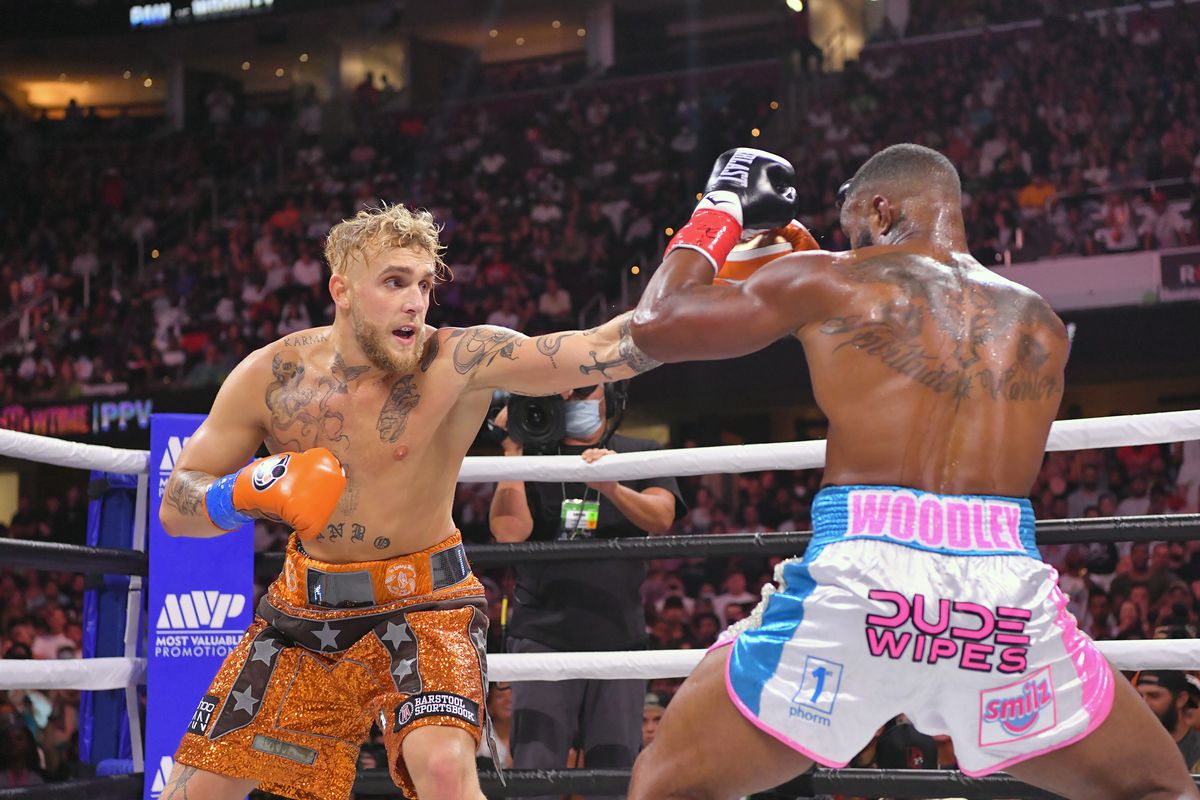 Woodley agreed to take the place of an injured Tommy Fury in the main event of a Showtime pay-per-view event on Dec. 18 in Tampa, Florida.
Paul blasts Fury's withdrawal
Paul (4-0, 3 KOs) planned to fight Fury as another gradual step up in competition. He had previously defeated fellow influencer AnEsonGib, ex-NBA star Nate Robinson, and MMA fighters Ben Askren and Woodley.
Tommy Fury (7-0, 4 KOs) doesn't hold the pedigree of his half-brother Tyson, the lineal heavyweight champion of the world. But he does own an established professional boxing record, and that along with his name recognition made him a suitable fifth opponent for Paul.
Fury withdrew from the fight with Paul, citing a broken rib and a severe chest infection.
"I can't express how disappointed I am and I really do hope we can get this fight rescheduled in the new year," Fury said in a statement. "I want this fight to still happen more than anything."
Woodley (0-1) quickly emerged as a replacement opponent. The former UFC champion has been angling for a rematch ever since Paul defeated him in August. Paul won that first fight by split decision, with the judges giving him the 77-75, 79-74, 75-77 victory.
Oddsmakers see repeat performance in the cards
Since that time, Woodley has claimed he should have won the fight despite his sluggish performance. He even called Paul out for not fighting him again, despite the fact that Woodley got a promised "I love Jake Paul" tattoo on his middle finger.
Tommy Fury has pulled out of the fight due to a "medical condition" and Tyron Woodley is stepping in for December 18th for the official rematch. pic.twitter.com/t1OFVQQBBt

— Jake Paul (@jakepaul) December 6, 2021
"Jake Paul is a b*tch," Woodley told MMA Junkie in November. "Most people that watched the fight felt like I won the fight. I really didn't walk away a loser in the fight."
Paul blasted Fury, but relishes another shot at Woodley.
"It is official: Tommy Fury is boxing's biggest b*itch," Paul said in a video he posted to Twitter. "The good news is that Mr. Tyron Woodley, we called him up and we were like, 'Hey, do you want to take the fight?' He has been training. He goes, 'Sure, I'll take the fight, let's do the rematch, run it back.' I'm giving him $500,000 extra if he can knock me out. Jake Paul vs. Tyron Woodley 2: 'Leave No Doubt.'"
Bet365 opened Paul as a -277 favorite over Woodley (+200) for the rematch. Those odds make Paul a larger favorite than he was in August when DraftKings Sportsbook posted him at -185 to win.
Once again, Paul should enter the fight as the larger boxer and, this time, he'll be aiming for a more decisive victory than he secured in the first encounter.
"I didn't knock him out the first time," Paul said. "I'm coming back, and I'm getting the crazy W, the crazy highlight-reel knockout. The show must go on."