Paige "Buckets" Bueckers was still in grammar school in Minnesota when she earned her first scholarship offer to play college basketball. She had three, actually, and they were all Big Ten schools. Last year, Bueckers committed to UConn and she came into this season as the top-ranked girl's high school player in the country out of Hopkins High School in Minnetonka, Minnesota. And today, Bueckers was named the 2020 Gatorade National Player of the Year.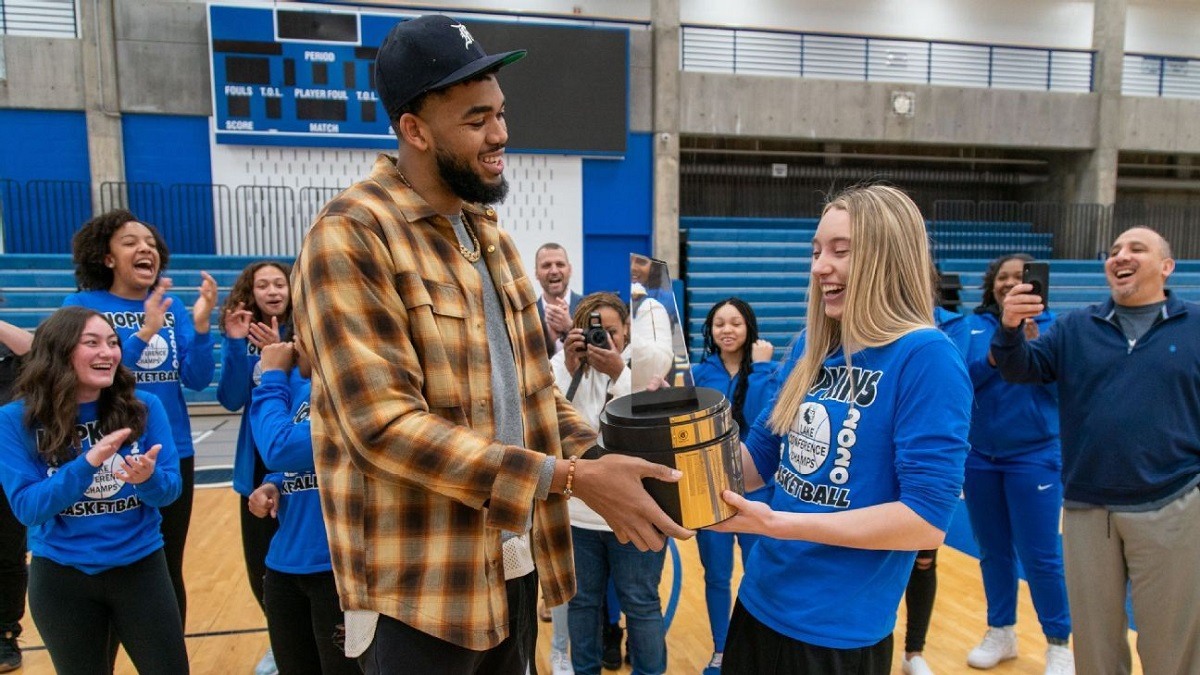 Minnesota Timberwolves star Karl-Anthony Towns surprised Bueckers at school to award her the special honor by Gatorade.
She was surprised by the visit, but no one was surprised that she won the award. After all, she's been one of the best high school players in the country for the past two years. This is also the same young woman who suited up to play high school varsity when she was still in the eighth grade.
"It's been a surreal and unreal morning," said Bueckers "I'm still trying to process it."
WHO IS PAIGE BUECKERS?
Age: 18
Nickname: Buckets
Height: 5-foot-11
Hometown: Minnetonka, MN
College: Committed to UConn
Last season, Bueckers won a Minnesota state championship title with Hopkins High School. Her team went undefeated and she finally won the title after three previous trips to the championship game.
Bueckers committed to UConn in April 2019. She will become the sixth National Player of the Year to attend UConn in the last decade.
Bueckers led Team USA to the FIBU U19 Women's World Cup this past summer, where she was named the tournament MVP. Her stellar play at the World Cup earned her the USA Basketball Female Athlete of the Year.
Paige Bueckers is the 2019-20 Gatorade National Girls Basketball Player of the Year.

She's a problem ♨️ @brhoops pic.twitter.com/2fSPwlYaRb

— Bleacher Report (@BleacherReport) March 9, 2020
Paige Buckets
Buuekers started playing basketball at age five. She played multiple sports with her brothers, but excelled in basketball from an early age.
In the seventh grade, Bueckers played against teenagers when she joined the Hopkins High School junior varsity team. By the eighth grade, she earned a spot on the Hopkins varsity squad.
"She was only in the eighth grade and we all thought, gosh, she's probably one of the best players in the entire state," said Hopkins high school coach Brian Cusgriff.
Bueckers had a deadly 3-point shot. She could score 50 or 60 points a game if she shot every time down the court. However, she loves to pass the rock and get her teammates involved in the action.
"She wants to make everyone around her better players," said coach Cusgriff. "She's a leader by example by how hard she works."
Bueckers came into this season as the #1 recruit in the nation. She also wants to win another state title before she graduates from Hopkins.
In the era of social media, "Paige Buckets" is a well-known persona. You've probably seen her highlight videos on YouTube or Instagram.
In addition to her excellence on the court, Paige excels off the court. She has a 3.8 GPA and devotes some of her time to a youth basketball clinic, dubbed "Paige Buckets" after her nickname.