The San Diego Padres bolstered their chances of winning a World Series this year by picking up Washington Nationals superstar Juan Soto, according to multiple media reports.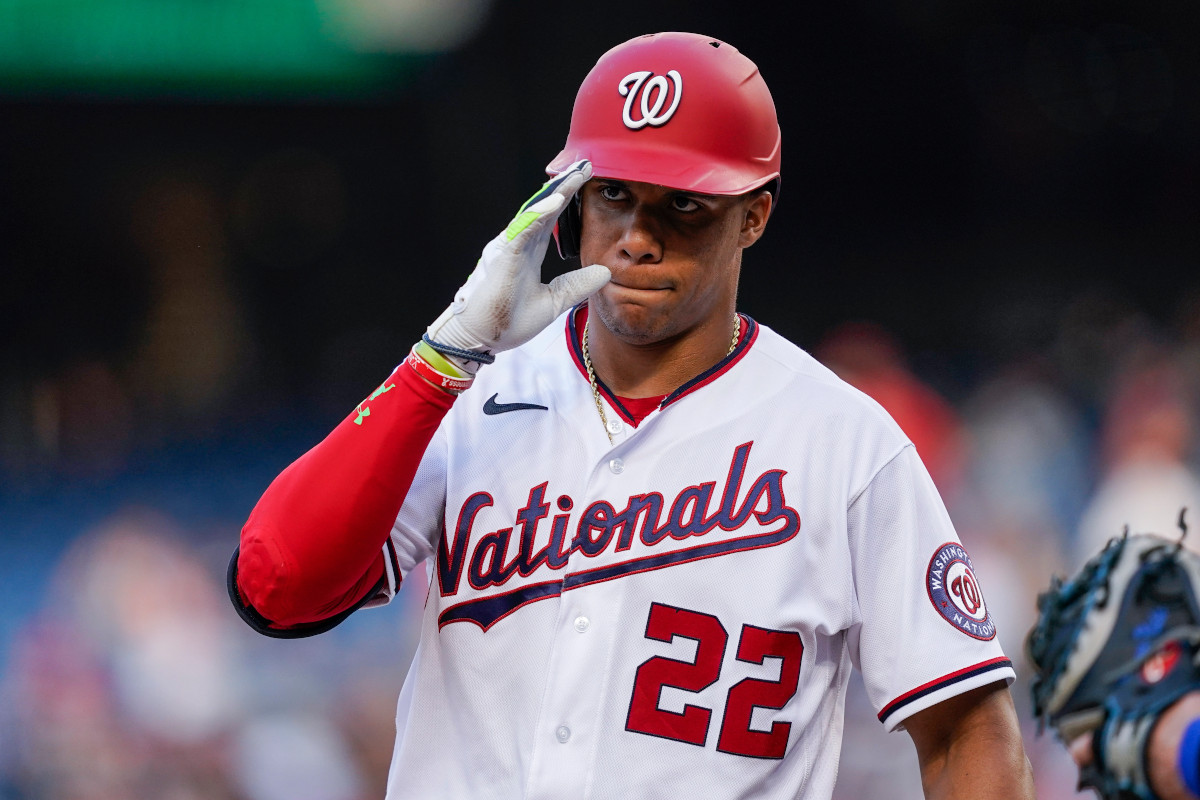 The Padres will also acquire first baseman Josh Bell in the deal.
Nationals pick up prospect haul
In exchange, San Diego is sending lefthander MacKenzie Gore and first baseman Eric Hosmer to Washington. The Nationals will also pick up shortstop CJ Abrams, and three top Padres prospects: outfielders Robert Hassell III and James Wood, along with right-handed pitcher Jarlin Susana.
Last month, Soto turned down a potential 15-year, $440 million contract from the Nationals. While Washington had Soto under contract through the 2024 season, the failure to reach an extension turned Soto into an unusually valuable trade chip.
A Deadline Day shuffle!

The Padres are reportedly acquiring Juan Soto from the Nationals, per @jonmorosi. pic.twitter.com/f17rTxeA41

— MLB (@MLB) August 2, 2022
Every contender showed at least some interest in Soto, though the Padres and St. Louis Cardinals emerged as the leading candidates to land the 23-year-old.
FanDuel Sportsbook now lists the Padres as a +1000 pick to win the World Series in 2022. That places them fifth on the board, behind only the Yankees (+330), Dodgers (+350), Astros (+450), and the Mets (+650).
Soto, Bell join powerful San Diego lineup
Most pundits regard Soto as a generational talent. He has already established himself as one the best hitters in the majors, and even though he has not put up the best numbers of his career this year, he will make a massive impact on the Padres lineup.
Soto is hitting .246 this season, but has belted 21 home runs. He has also drawn a league-leading 91 walks, pushing his on-base percentage up to .408 and his OPS to a strong .894.
Bell rates as far more than a throw-in piece for San Diego. The 29-year-old is hitting .301 with 14 home runs on the year.
Meanwhile, the Nationals will pick up a mix of young talent that will help them build for the future. They also pick up a large contract in Hosmer, who is owed $13 million a year through 2025. (Update: Hosmer rejected a trade to the Nationals. The Padres instead sent him to the Boston Red Sox.)
When the Padres get back injured shortstop Fernando Tatis Jr., they'll be able to stack him with Soto, Manny Machado, and Bell to create a deep and powerful lineup that lines up well against any team in the majors.
Currently, the Padres hold a 58-46 record. They are 12 games back of the Dodgers in the NL West race, but hold one of the National League wild card positions. Washington is 35-69 – the worst record in the majors – and in last place in the NL East.