As expected, the top two teams in the Pac-12 square off in the conference tournament championship tonight in Las Vegas with the #13 UCLA Bruins installed a +1.5 underdog against #2 Arizona.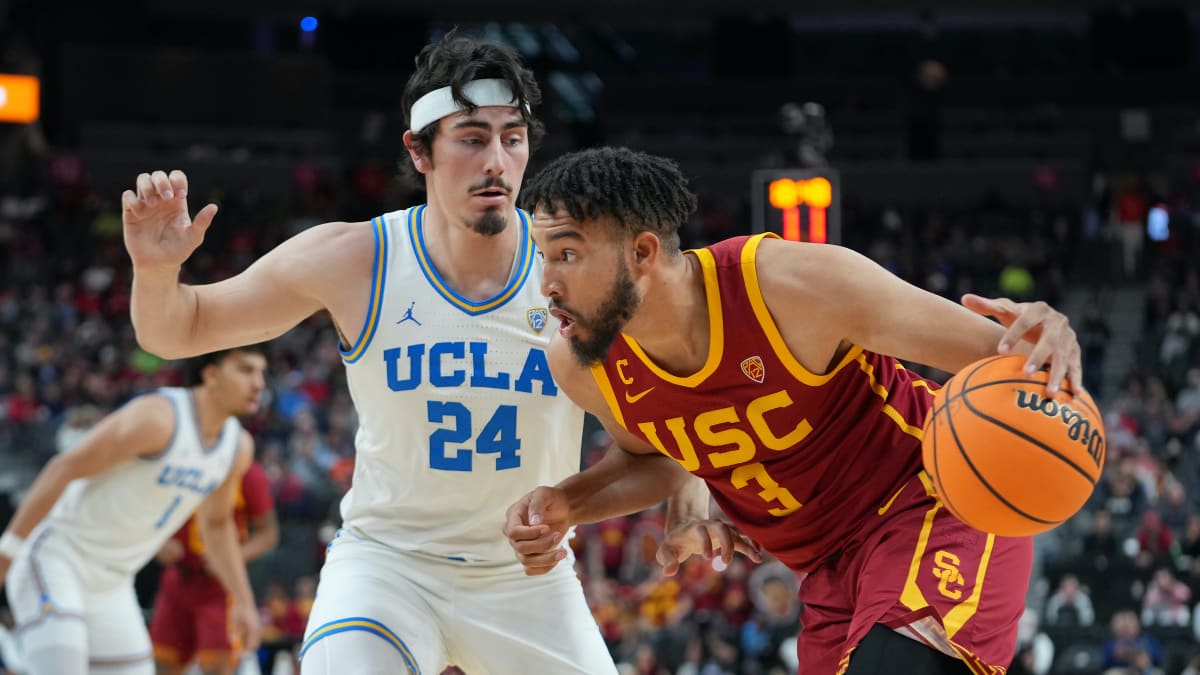 Heading into the Pac-12 tournament, Arizona was awarded with the #1 seed, while UCLA got tapped with the #2 seed, but now these two teams meet in the championship game. Arizona seeks their first Pac-12 title since 2018, when they won back-to-back tournaments.
Arizona did not break much of a sweat to defeat #4 Colorado 82-72 in the Pac-12 tournament semifinals, but the final score looked much closer than how the game played out. UCLA picked off inter-city rival #3 USC 69-59 in the other semifinal last night at the T-Mobile Center in Las Vegas.
PAC-12 CHAMPIONSHIP
#2 UCLA (25-6) at #1 ARIZONA (30-3)

Tip-off:  6pm PT
Location: T-Mobile Arena, Las Vegas
Point Spread: AZ -1.5
Total: 144 o/u
Money Line: UCLA +100, AZ -120
---
Overall, Arizona is +650 odds to win the 2022 March Madness national championship as the second favorite on the college basketball futures board over at DraftKings. UCLA is +3000 odds to win March Madness. Gonzaga, the #1 team in the nation, is the consensus betting favorite at +350 odds to win March Madness.
Arizona: World-Wide Wildcats
Arizona adds an international flavor with four starters that were born outside of the USA. Leading scorer Bennedict Mathurin (17.1 ppg) hails from Montreal. Azulos Tubelis (14.7 ppg), a 6-foot-11 power forward, is from Lithuania. Christian Koloko (12.1 ppg, 7.0 rebounds), a 7-foot-1 center, grew up in the Cameroon. Shooting guard Kerr Kriisa is from Estonia. Even backup center Oumar Ballo is from Mali, and backup guard Pelle Larsson grew up in Sweden.
Kriisa suffered a sprained ankle against Stanford in the quarterfinals. He missed the Colorado game, but senior guard Justin Kier got the start and has inspiring performance as the next man up. Kier scored 13 points and added five rebounds, 3 assists, and one steal in the win against Colorado in the semifinals.
"I knew I had to come out, do what I needed to do for the team," said Kier. "These guys give me the most confidence in the world. When I get confidence from them, that's all I need."
Tubelis led Arizona with a team-high 20 points in the semifinals. Mathurin had a bad night with just 10 points on 2-for-8 shooting from deep.
Arizona sort of lives and dies from 3-point land. In their only loss to UCLA, they were ice cold with a 25% success rate. Larsson, Kriisa, and Terry combined for 2-for-18 from downtown, with UCLA's perimeter defense shutting down the streaky Kriisa and Terry with zero points each.
UCLA: Seeks First Title Since 2014
UCLA lost six games this season, but three of them were against ranked teams including Arizona, USC, and Gonzaga. Three of their other losses were in Pac-12 conference play including two close losses against the Oregon Ducks.
UCLA avenged a regular-season loss against USC to knock them out in the Pac-12 tournament semifinals.
Jaime Jaquez led a well-balanced scoring attack with 19 points in the win over USC. The junior guard picked up the slack for leading-scorer Johnny Juzang (16 ppg), who is nursing a sprained ankle. Juzang had an off night with just 10 points on 4-for-11 shooting.
"It's a great opportunity for our team," said Jaquez. "It'll really give us a good test for where we are proceeding into March. It'll be a fun experience, it's what we all work for, trying to get that trophy."
UCLA has not won the Pac-12 tournament since 2014, but they'll face a tough Arizona team who won the tournament three times since then. UCLA will have a difficult task trying to match up with a much-bigger Arizona. They split the regular season series, which included a 16-point victory for the Bruins at UCLA. They shot 50% from the floor including 47.1% from 3-point range.
However, during a 10-point loss against Arizona, UCLA struggled shooting 39% from the floor. They also went cold from beyond the arc with a 21.4% clip.
Heading into the Pac-12 championship between Arizona and UCLA, it seems fairly obvious but the team that shoots better from 3-point range and the team that defends better on the perimeter will be the one that hoists the winner's trophy. In the regular season, UCLA was the Pac-12's second most accurate 3-point shooting team. UCLA shot slightly better from long range at 35.6% compared to Arizona's 35.1%.