Clemson loves to score, and it should be on display Saturday when they face Wake Forest. The team showed that last year when they averaged more points per game than all but three other teams. The Tigers averaged 26.2 points per game, and with Clemson playing 10 of 11 games in the weak ACC, I expect more of the same.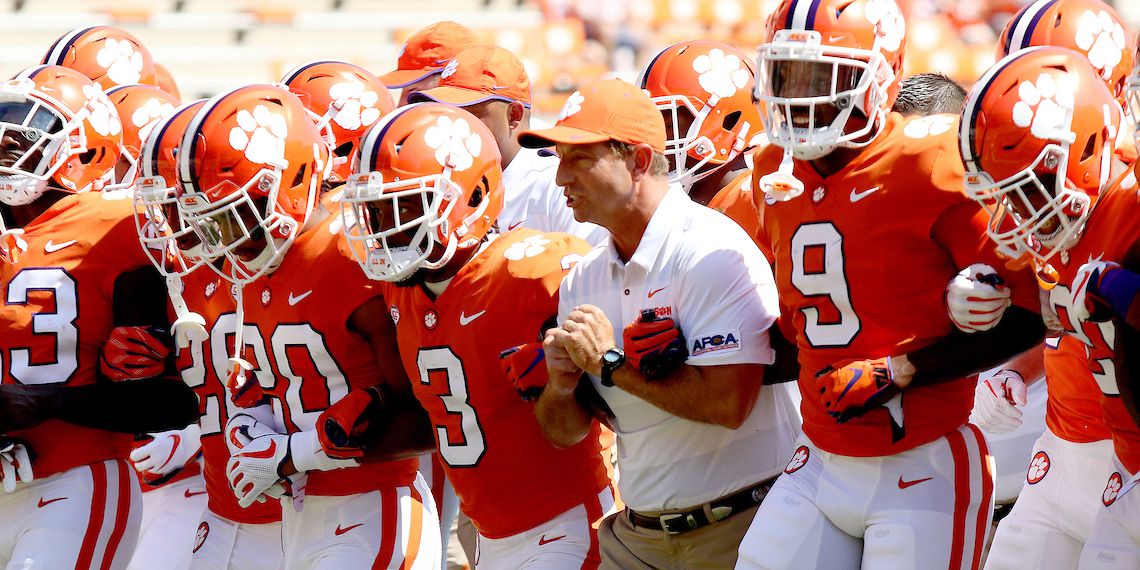 That is why with this week's One Bet: $100 I am taking the over of 59.5 points in the Tigers contest against Wake Forest. Clemson very well could score 60 points on their own, though I think the Demon Deacons will get at least a touchdown. I was lucky to get the total at 59.5, since it has been bet up to 60, 60.5, and even 61 at some sportsbooks.
Last week's wager was another over/under bet. I took the under at 74 points in the Arkansas State-Memphis game and didn't even have to sweat. Memphis won, 37-24, and I was under by 12 points.
One Bet, $100
| | | |
| --- | --- | --- |
| This Week | Last Week | Season Total  |
| Clemson/Wake Forest over | Won: Memphis/Arkansas State under | 1-0, +90 |
I believe Clemson should cruise against Wake Forest on Saturday. The Tigers will travel to Winston-Salem, North Carolina, but even though they are on the road, they should be able to put up points at will.
Look for Clemson to Pile on Wake Forest
Clemson is led again by Heisman Trophy favorite quarterback Trevor Lawrence. The junior is 25-1 as a starter, and has amassed 6,945 passing yards, 66 touchdowns, a 65.5 percent completion rate and just 12 interceptions.
Last year, the Tigers were favored by 24 or more points 12 times, and went 10-2 against the spread in those games. Clemson scored 50 or more points seven times last year. One of those games included Clemson thrashing Wake Forest, 52-3.
Clemson's 2019 Big Wins

Week 1: Clemson 52, Georgia Tech 14

Week 4: Clemson 52, Charlotte 10

Week 8: Clemson 59, Boston College 7

Week 9: Clemson 59, Wofford 14

Week 10: Clemson 55, NC State 10

Week 11: Clemson 52, Wake Forest 3

Week 13: Clemson 62, Virginia 17
Head Coach Dabo Swinney told reporters this week he expects his star quarterback to be even better than 2019.
"He certainly has a ton of experience under his belt now, and it should show," Swinney said. "Not making some of the careless mistakes. He took a few chances last year that he didn't need to take. So eliminating some of those things. And complete leadership in every aspect. I think you've seen that from him and will continue to see that."
Lawrence Man on Mission
After losing the National Championship to LSU in January, Lawrence dedicated himself to getting back to that game for the third consecutive year. Lawrence told Athlon Sports it took some time to get over the loss.
"I think anytime after a game like that especially, it takes a little while to let it sink in and kind of move on," Lawrence said. "It took me a little while, especially just you know, the way it happened, in the national championship, and you work all year to get there."
Now Lawrence is ready to lead this team back to the title game, and redeem his poor performance.
"It just makes you want to go out there and earn it even more," Lawrence said. "It all starts over, which is a good feeling. Everyone's already looking at next year, so we feel like we're back in the fight and can work to get where we want to now."
Why Over Will Hit
Clemson is the No. 1 team in the preseason AP Top 25 College Football Poll. I believe they are a team on a mission. After losing the National Championship game, the returning players made it their goal to win it for the second time in three years. They are currently the 2/1 favorite to capture the National Championship.
That motivation to be the best team in the nation, in addition for the team's inclination to seemingly score points at will, should push this game past the 59.5 points.