College football, I've missed you so, and I don't even care that I'm focused on Arkansas State facing Memphis. It's football, and for me, that represents a chance to follow up on last season's successful betting campaign.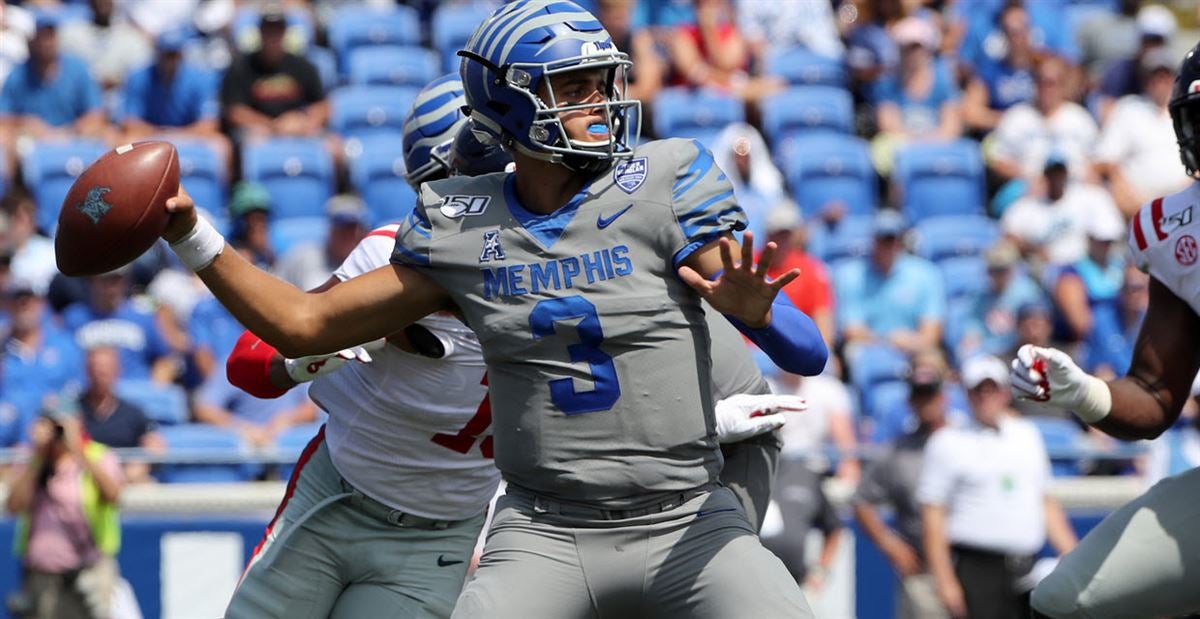 For the first installment of this year's One Bet, $100, I'm taking the under of 74 points in Saturday's Arkansas State-Memphis contest. Though both teams can score fairly regularly, I'm going with the under for a couple of reasons.
I'm hoping to continue my strong showing from last year with my college football bets. After I correctly picked LSU to defeat Clemson and cover the five points in the National Championship game, my record ended up at 12-6, earning me a tidy profit of $540.
This year, with the uncertainty of the season because of the COVID-19 pandemic, the first three weeks are going to be more of a challenge. The usual creampuff opponents that an Alabama or Clemson would schedule are gone, so I'll have to dig a little deeper in the schedule to find wagers I like.
Arkansas State-Memphis Over/Under Jumps
Of the seven games scheduled for this holiday weekend, one caught my eye — Arkansas State at Memphis. I noticed that the line for both the game and the over/under had jumped from the opening lines.
The game opened at 16 points, and the over/under was 69.5. It quickly went to 18. 5 to 19 points, depending on the sportsbook. The over/under rose to as high as 74 points.
Usually, when an over/under line jumps, I leap at the chance to wager on it. The sharps come in and drive the point total up, believing the total is too low. By the time the general public gets around to making a wager, however, the total may be too high. That doesn't stop some from still making the bet, and often it comes back to bite them. I liken it to a stock ballooning in price and people buying it for too much money before it comes crashing down.
I believe that's the case with Arkansas State-Memphis.
Rust, New Players May be Factor
There's no doubt Memphis is a better team than is Arkansas State, and the point spread reflects that. The Tigers return a good portion of last year's starters, including quarterback Brady White. The defense, which held teams to an average of 26.4 points per game, also should have no drop off from 2019.
Arkansas State might be using a two-quarterback system. Logan Bonner is coming back from a thumb injury that ended his season after four games. His replacement, Layne Hatcher filled in admirably. That, however, gave Arkansas State head coach Blake Anderson a decision to make as to who will start. He opted with Bonner, but said Hatcher would see some time.
Anytime a coach platoons the quarterback position nothing good comes from it. I believe that will be the case in this contest.
The biggest factor for Memphis' offense is the departure of starting running back Kenneth Gainwell, who chose to opt out. Three running backs, Kylan Watkins, Rodrigues Clark, and Auburn transfer Asa Martin should see action.
The first game is always a time for teams to see what they have, and Arkansas State and Memphis are no exception. I believe the two squads were hampered by a lack of practice time. Memphis should be fine and will generate points, though it might take a quarter or two to get into a rhythm. Arkansas State, though, might be the team that affects the over/under. They are capable of putting up points, but I believe they will struggle against a new commitment by Memphis to strengthen its defense. I see this game flirting with the original 69.5 points, but not reaching 74.