Charles Oliveira may not have won the lightweight championship at UFC 274, but he proved that he's the man to beat in the 155-pound division.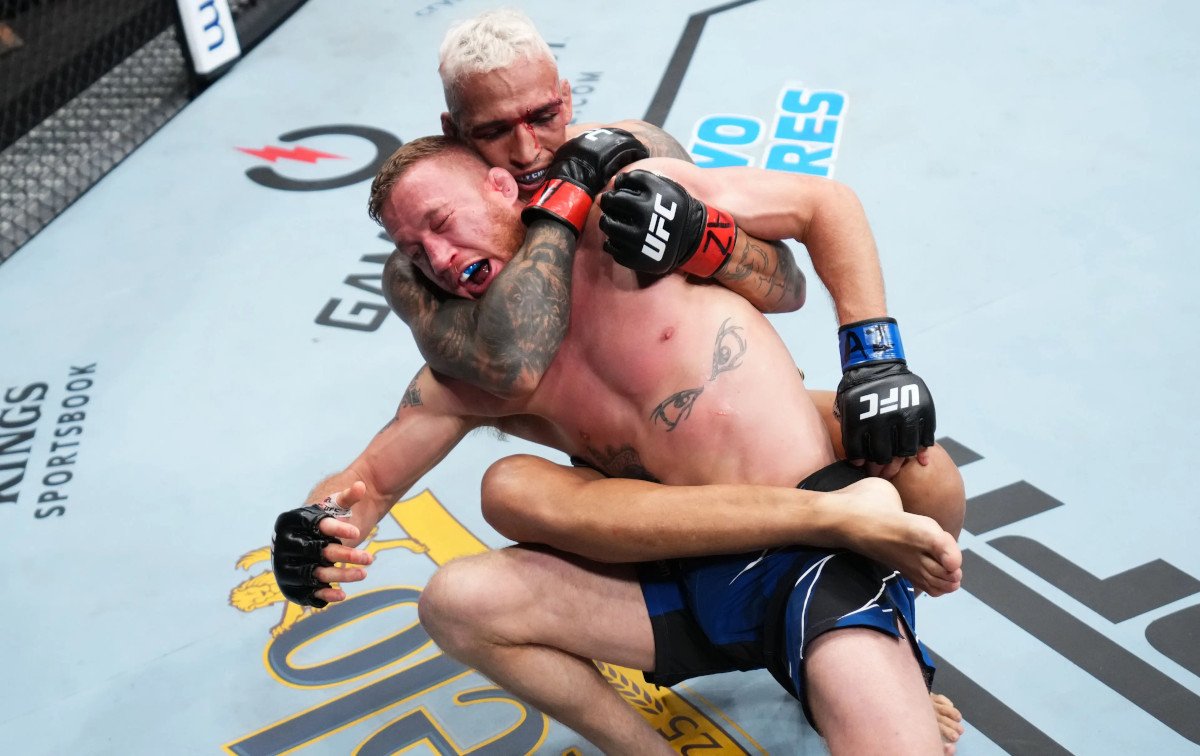 Oliveira scored a submission victory over Justin Gaethje just 3:22 into the first round in Phoenix on Saturday night, one day after forfeiting his title by missing weight.
Oliveira still champion in all but name
The win leaves Oliveira (33-8) as the official No. 1 contender in the lightweight division. Afterward, UFC president Dana White made it clear that he understands exactly where Oliveira stands after his big win.
"He's the guy," White told reporters after the fight. "We have rules. He didn't make the weight. The belt is vacant. I'm sure in the minds of the media and fight fans, Oliveira is the champion, you know? But technically he's the No. 1 contender now."
Oliveira backed up that statement, no matter what the official records may say.
"I went into the Octagon to defend the title. I don't have to get it back," Oliveira told reporters. "The champion is Charles Oliveira, and we all know that."
Esparza grinds down Namajunas for strawweight title
It may not have been the most exciting fight in MMA history, but Carla Esparza did enough to outlast Rose Namajunas and take away the women's strawweight championship in the UFC 274 co-main event.
Esparza (19-6) won the fight by split decision. Two judges gave her the fight by 49-46 and 48-47 scores, while a third saw Namajunas (11-5) as a 48-47 winner. Media opinion fell on similar lines. MMADecisions.com lists 19 media scorecards: 11 had Esparza as the winner, with seven for Namajunas and one draw.
The fight played out with Esparza tentatively moving forward, while Namajunas concentrated on avoiding takedowns. With neither fighter taking any real chances, a sluggish, boring standoff ensued. Esparza landed just 30 strikes, while Namajunas connected 38 times. Esparza likely won the fight on the strength of her forward action.
"Nobody wants to see a fight like that, nobody wants to be part of a fight like that," Esparza said, via MMA Junkie. "I hate that I couldn't put on a show for the fans."
Esparza now holds a 2-0 career record over Namajunas. The two first fought for the inaugural UFC women's strawweight title in 2014, with Esparza winning via submission.
Harrison wins, Leal upsets Cooper in PFL action
Kayla Harrison (13-0) did more than enough to remain undefeated on Friday, but the two-time PFL champion wasn't satisfied with her performance against Marina Mokhnatkina.
Harrison won a unanimous decision by scores of 30-26, 30-27, and 29-27, yet she wasn't able to find a finish and never seriously threatened to stop Mokhnatkina (6-2). Harrison picked up three points for the decision victory in her first regular-season fight of the 2022 PFL campaign.
"I think it was utter dog crap," Harrison said in evaluating her win. "Sorry to the fans. I wanted to put on a better show for you. Sometimes, these girls are tougher than you think."
Meanwhile, Carlos Leal (17-3) scored an upset unanimous decision victory over two-time welterweight PFL champion Ray Cooper III (24-8-1). While the result doesn't eliminate Cooper from contention, he'll go into his second regular-season fight without any points while Leal is in excellent shape to make the postseason.