When Khabib Nurmagomedov retired, he left a gaping hole in the UFC's lightweight division. Now, Charles Oliveira and Michael Chandler will face off to take up the mantle at 155 pounds when they battle for the vacant lightweight title in the main event of UFC 262 on Saturday night.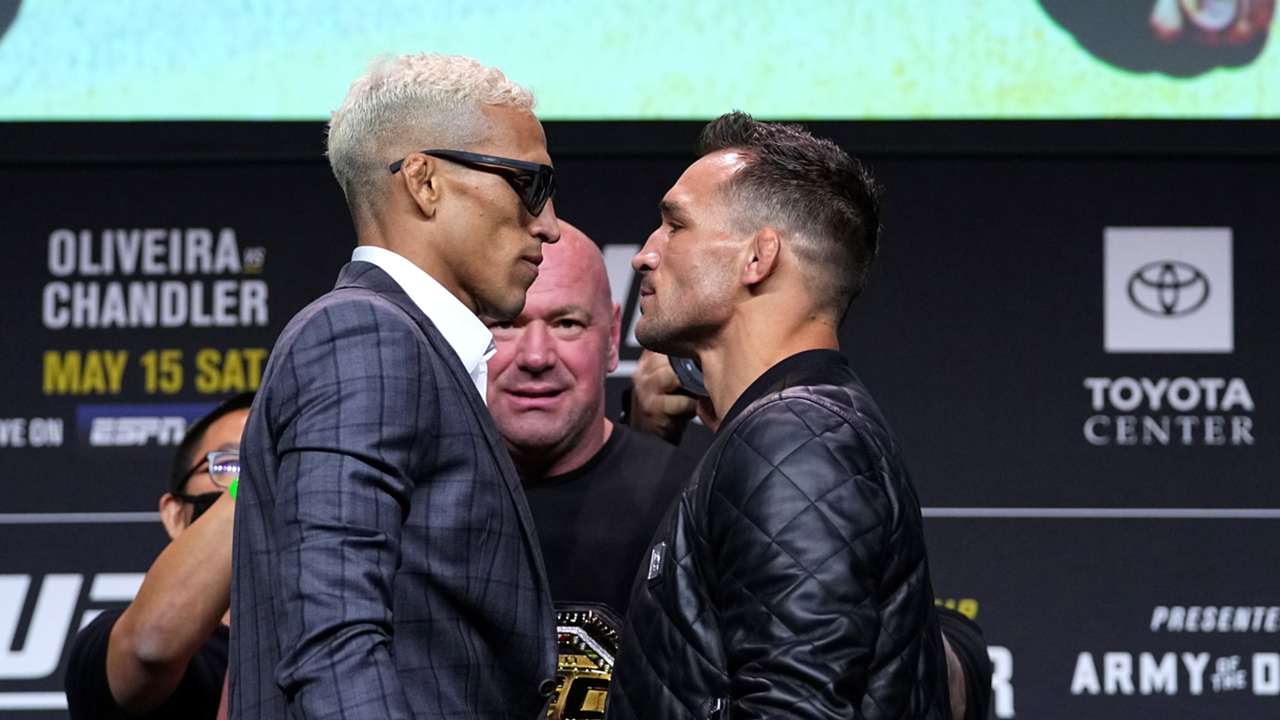 UFC 262 will take place at the Toyota Center in Houston, as the company puts on another show in front of a live crowd after a year of mostly empty arenas.
Nurmagomedov Leaves Behind Lightweight Mess
Nurmagomedov announced his retirement after beating Justin Gaethje at UFC 254. UFC president Dana While held out hope that the undefeated champion would return for a 30th fight, but when it was apparent that Nurmagomedov was hanging up his gloves for good, that left no clear successor in the lightweight division.
On the other hand, there were plenty of worthy contenders vying for the spot. Dustin Poirier remains the No. 1 contender, while Gaethje sits in the No. 2 position. Tony Ferguson and Conor McGregor loom as potential champions as well.
---
Oliveira vs. Chandler Odds (via PointsBet)
Charles Oliveira: -135
Michael Chandler: +108
Method of Victory
Oliveira by KO/TKO: +475
Chandler by KO/TKO: +180
Oliveira by Submission: +185
Chandler by Submission: +1600
Oliveira by Decision: +700
Chandler by Decision: +750
Draw: +6600
---
But Oliveira (30-8) and Chandler (22-5) emerged as the perfect competitors for the championship at this moment, both due to circumstance and their sterling resumes.
Oliveira is riding an eight-fight winning streak that dates back to 2018. In December, he won a unanimous decision over Ferguson, cementing himself as a title contender. He says that after that win, there was only one possibility next: fighting for the lightweight crown.
"I knew when I beat Tony, and that's why I said it after the fight," Oliveira told DAZN. "I knew that there was no other possibility. I knew it was just me."
Chandler Steps Up from Bellator
Meanwhile, Chandler has only fought once in the UFC, stopping Dan Hooker halfway through the first round at UFC 257. But he spent 10 years dominating as a lightweight in Bellator, and has long considered himself one of the best fighters in the division regardless of promotion. Now, Chandler gets the chance to prove himself to the world.
"Just got to get the job done May 15, and it will feel absolutely amazing," Chandler told MMA Junkie. "The road that I took, the practicing of patience, the swallowing of my pride for many, many, many years and being underutilized as one of the best lightweights on the planet – it's going to feel really, really good."
Oliveira comes into the fight as a slight -135 favorite over Chandler (+108), according to PointsBet. Chandler possesses an elite striking game that could end the fight early, or potentially wear on Oliveira over the course of the first few rounds. However, if Oliveira can weather the storm and keep the pressure on, he should have the advantage in the later rounds, as he has excellent endurance and a strong submission game should the fight go to the mat.
Either way, the winning should emerge as a true champion, ready to forge his own legacy in the lightweight division.
"The guy who wins on Saturday night is the champion," White told reporters. "Khabib left. He's not here, and one of these guys will win it, and one of these guys will start to defend the title."