LiAngelo Ball wants to play in the NBA, but not everyone's sure he'll be drafted. That didn't stop the 19-year-old from declaring his intentions to make himself eligible for the June 21 draft.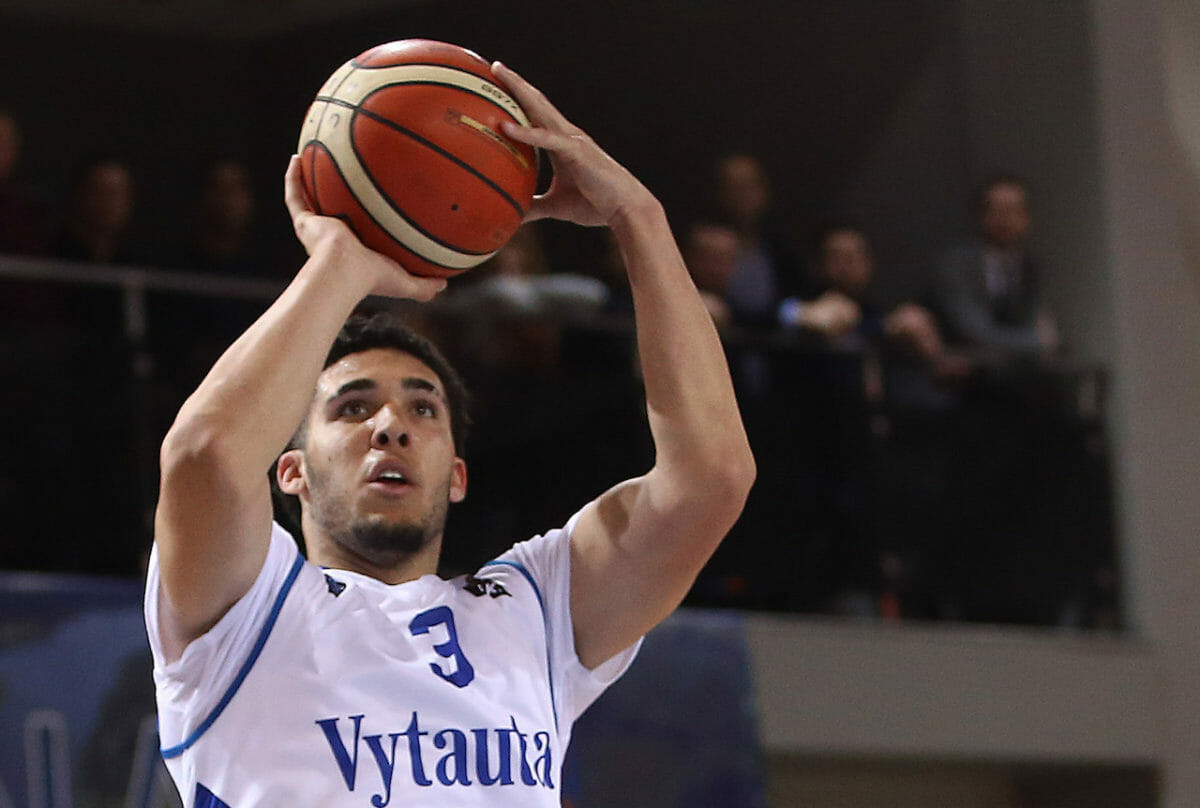 Ball's agent Harrison Gaines told ESPN on Tuesday that his client was entering the draft and would be working out for NBA teams. Gaines told Yahoo Sports that Ball would be participating in the Professional Basketball Combine in May at IMG Academy in Florida.
LiAngelo is the younger brother of Lonzo Ball, who plays for the Los Angeles Lakers. LiAngelo has been playing professionally in Lithuania, along with the youngest Ball brother, LaMelo.
Sportsbooks Doubt Ball's Chances
In December, shortly after he went to Europe to play with the Prienu Vytautas in the Lithuanian Basketball League, Bovada gave him slim chances of being picked by an NBA team, setting the line at +2500 to be drafted and -1000 that he would not.
Ball told a Lithuanian television station he expects to be on an NBA roster next year.
"I'm going to be excited to play on any NBA team," Ball said. "I'm going to play my hardest and try and bring wins to the team."
Many scouts have said he is the least talented of the three Ball brothers and that the best he could hope for is to get signed to a G League roster, the NBA's developmental organization.
Bleacher Report had a story recently that said no NBA scout it talked to said LiAngelo Ball would be drafted. "Not one scout Bleacher Report has reached out to thinks Ball has a chance to play in the NBA anytime soon," Jonathan Wasserman wrote.
But the odds have shortened on his draft chances. BetOnline adjusted the line to +240 he would be selected and -300 he would not.
One person who believes he will get picked up is former NBA all-star Paul Pierce. The future hall of famer told TMZ Sports that he liked his chances.
"I think he's got a good shot, man," Pierce said. "I hope all the Ball brothers make it to the league."
Father LaVar Knows Best
The Ball patriarch, LaVar, pulled LiAngelo out of UCLA's program after the freshman was caught shoplifting on a trip to China with the Bruins in November. He was suspended indefinitely by Coach Steve Alford and then left the university without ever playing a game.
LaVar announced he was also yanking his youngest son out of high school and sending the two overseas to play professionally. He wanted to ready them for careers in the NBA.
LiAngelo has been averaging 15.7 points in nine games with Vytautas, but LaVar orchestrated a game with a youth team to up his son's draft stock. A day after the draft announcement LiAngelo scored 72 points against players younger and smaller.
It is all part of a plan LaVar has hatched to have all three of his sons play for the Lakers. He told a Lithuanian journalist of his intentions.
"I want all my three boys to play for the Lakers," Ball said. "If they don't take Gelo this year, I bring back Gelo here (Prienai in Lithuania) to play with Melo for two years. Lonzo will be on his third year, and I want to let every NBA team know that Lonzo is not going to re-sign with the Lakers but will go to any team that will take all of my three boys. That's my plan."