Steph Curry unleashed one of the finest performances in NBA Finals history when he torched the Boston Celtics for 43 points and willed the Golden State Warriors to a victory in Game 4 to tie the series at 2-2.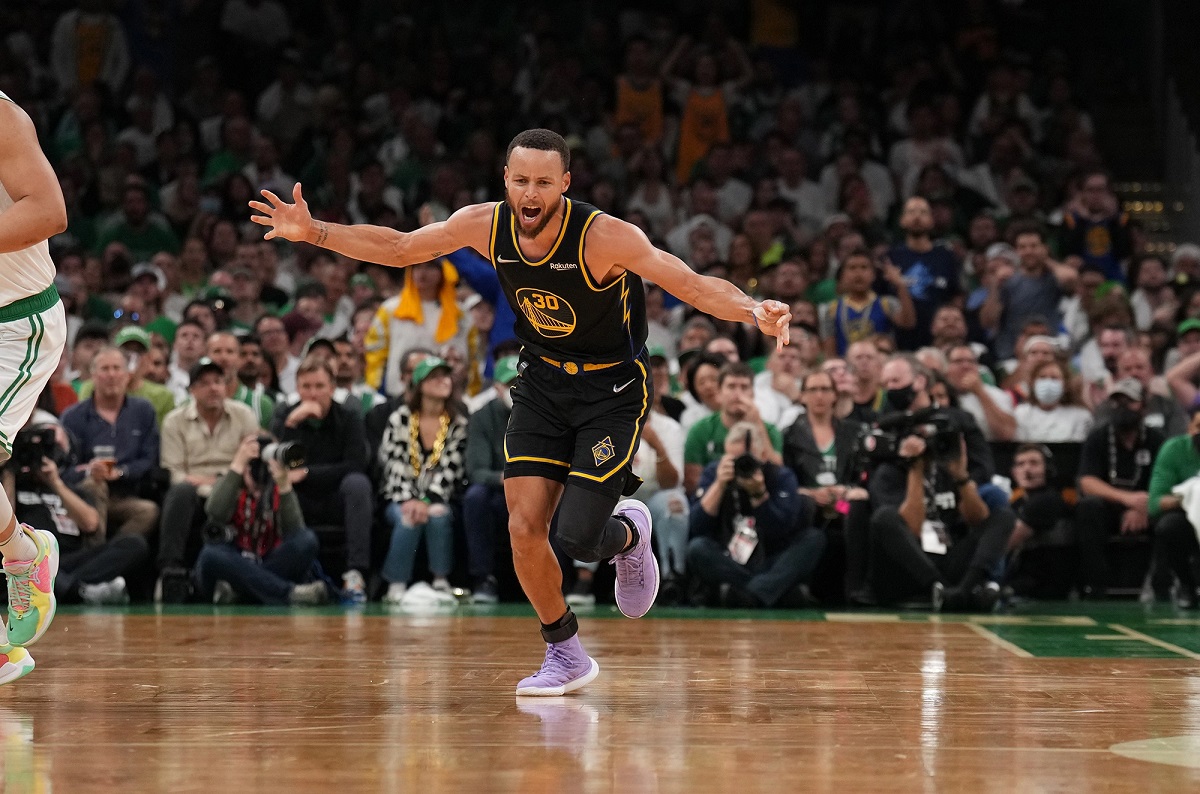 Curry knocked down seven 3-pointers and finished with 10 rebounds and four assists in a must-win situation for the Warriors in a 107-97 victory in Boston. Curry made history as the first player with five-plus 3-pointers in four straight games in the NBA Finals.
Game 4 was a truly heroic performance for Curry, especially considering that his closest teammate — Klay Thompson — scored just 18 points compared to his 43.
Through the first four games of the 2022 NBA Finals, Curry averaged a series-high 34.3 ppg. He connected on 50% of all of his shots including 49% from 3-point range. That's just insane to think Curry hit nearly half his treys against the top defensive team in the NBA. And yes, Curry is the betting favorite to win the NBA Finals MVP.
Even LeBron James had to give Curry props on Twitter.
Chef is INSANE!!! 😂😂😂😂😂

— LeBron James (@KingJames) June 11, 2022
Curry: 43 Points
Curry once dropped 47 points in an NBA Finals game back in 2019 against the Toronto Raptors. However, there was something about his performance last night where his 43 points against the Celtics seemed even bigger because he led them to victory. Back in 2019, the Warriors did not have Klay Thompson or Kevin Durant in the lineup in Game 3 of the NBA Finals, so Curry had to carry the Warriors with 47 points in a losing effort.
But last night in Boston, Curry overcame a fierce defense and a hostile crowd at TD Garden to put on one of the finest scoring masterpieces of his career with 43 points.
"Felt like we just had to let everybody know that we were here tonight," said Curry. "Whether that's their crowd, their team, our team, whoever wants to see that energy and that fire, we feed off of that."
"Incredible," said Draymond Green. "Put us on his back. Willed us to win. A game we had to have. Came out and showed why he's one of the best players to ever play this game. It's absolutely incredible."
"When a guy is on a roll like that, you just get out of his way," said Klay Thompson. "The things he does, we kind of take for granted from time to time."
"Stunning," said head coach Steve Kerr. "Just when you think Steph's already done it all, he has a game like tonight."
Check out more installments of NBA High Guys, and take a deep dive of our coverage of the 2022 NBA Playoffs.