The Indiana Pacers are looking to move some of their starters before the trade deadline next month, and center Myles Turner has drawn interest from the New York Knicks, Charlotte Hornets, Los Angeles Lakers, and Dallas Mavericks.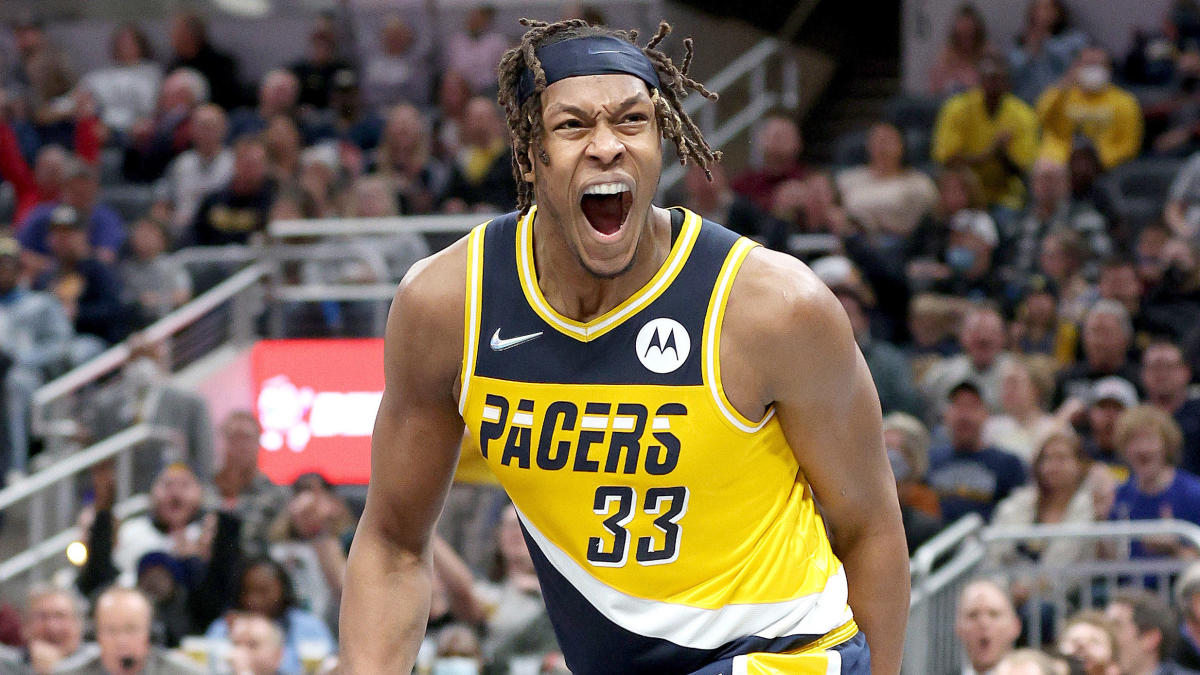 Turner averages 12.9 points, 7.2 rebounds, and 2.9 blocks per game this season. He leads the NBA in blocked shots. He's one of the best rim protectors in the league, and he's quick enough to chase down smaller players on the perimeter.
Turner wanted to have a bigger role in the offense this season, but he's fifth on the team in scoring. He never gets his number called on offensive sets and has to earn his buckets the old-fashioned way by fighting for offensive boards.
The Pacers (15-26) are considering a rebuild and tanking the rest of the season. They want to deal their high-salaried players like Turner and trade away their most-coveted assets like Domantas Sabonis, Caris LaVert, and Malcolm Brogdon. Turner signed a four-year deal worth $80 million and has two-plus years remaining on his contract.
Turner trade: NYC or Buzz City?
The Knicks have a lot of problems, and they're not as strong on defense as they were last season. They have a competent big man and rim protector in Mitchell Robinson, but he's struggled with injuries the past couple of seasons. Robinson also doesn't have the same offensive skill set as Turner, who has a great jumper and who knocked down 37% of his 3-pointers this season, making him third-best among centers.
The Knicks would have to give up a future draft pick and Obi Toppin to acquire Turner in a trade. Toppin is a local kid from New York City who's emerged as a fan favorite while playing on the Knicks' second unit. They'd also throw in backup center Noel Nerlens to sweeten the deal.
The Charlotte Hornets could use a big man who can defend and shoot treys. The Hornets would have to give up PJ Washington and find another player like Kelly Oubre to match Turner's salary. Oubre is a streaky shooter but when he gets hot, it's fun to watch him light it up.
Myles goes to Hollywood or to the Big D?
The Los Angeles Lakers are struggling right now and are barely above .500 while holding down the #7 seed in the Western Conference playoffs. LeBron James and the Lakers need help on the defensive end, especially with Anthony Davis dinged up. Imagine having a healthy Davis and Turner controlling the paint?
The Lakers gave up a motherlode to acquire Russell Westbrook in a trade with the Washington Wizards in the offseason, so they lack a juicy package to offer the Pacers in exchange for Turner. The Lakers have Talen Horton Tucker and Kendrick Nunn to offer up, but they would have to give up a first-round pick in the late 2020s in order to work out a suitable trade for Turner.
The Dallas Mavericks would love to ditch Kristaps Porzingis and his hefty contract. Word on the street is that Luka Doncic and Porzingis aren't BFFs anymore, so the Unicorn's days are numbered in the Big D. Pacers head coach Rick Carlisle took a shine to the Unicorn when he coached the Mavericks, so perhaps the Mavs and Pacers can figure out a trade that involves Turner? Otherwise, Dallas doesn't have much to offer up to the Pacers, aside from Josh Green.
Check out more NBA trade rumors.