Pedro Munhoz called for a rematch after dropping a controversial split decision to Frankie Edgar in the main event of Saturday's UFC on ESPN card.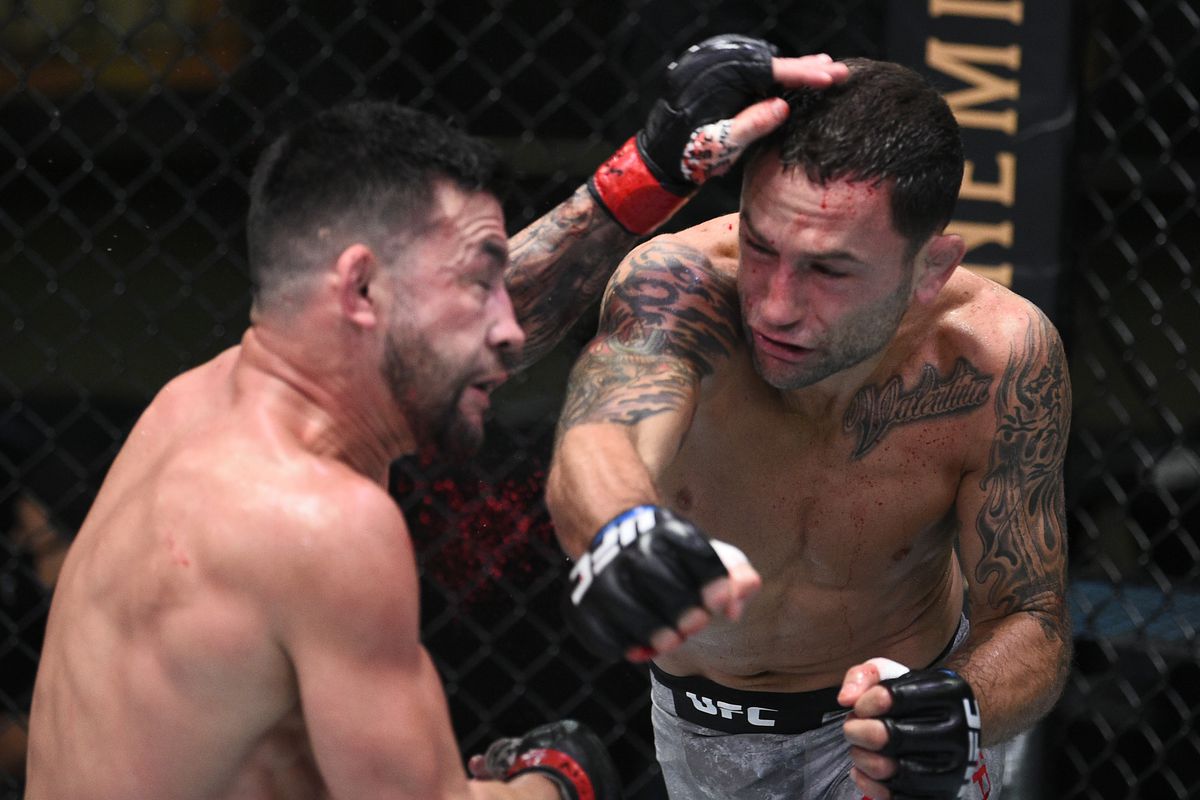 Two judges gave Edgar the 48-47 nod, while the third saw the fight 49-46 for Munhoz.
Munhoz Blasts Judges on Instagram
Few dispute that the fight was close. MMADecisions.com collected 23 media scorecards, 19 of which saw Munhoz as the winner. Seven had Munhoz winning 49-46 while one had Edgar up by the same margin.
In other words, while observers scored the fight very differently, the vast majority did see Munhoz (18-5) on top. Both men had impressive moments in virtually every round. Afterward, Edgar (24-8-1) said his performance proved he can still compete late in his career.
"I proved them all wrong," Edgar said after the fight. "I'm showing I can compete with the best at 38 years old. I don't want to hear nothing from nobody."
But Munhoz still had something to say. On Monday, he took to Instagram to voice his displeasure with the result.
"I've always done my talking in the Octagon, but this needs to be said. I work too hard to get screwed by poor judges who have no training and even less accountability," Munhoz wrote. "Tell me how the deciding judge gave round 3 to Frankie. He's a legend, but I won that fight and want a rematch now @danawhite."
Nemkov Finishes Bader to Take Bellator Title
Ryan Bader went into the main event of Bellator 244 on Friday as a two-division champion with a chance to establish himself as perhaps the best light heavyweight in the world. He left without his 205-pound belt.
Vadim Nemkov (12-2) scored a second-round TKO over Bader to become the first Russian fighter to win a major light heavyweight title. Nemkov landed a head kick to rock Bader (27-6), then blasted away with punches to force a stoppage.
After the win, Nemkov argued that he deserves recognition as one of the top 205-pound fighters in MMA today.
"I feel like me and Ryan Bader are the top two light heavyweights in the world right now," Nemkov said via a translator. "I know there are a lot of top light heavyweights in the UFC, but I think we could beat any one of them."
Miocic: Ngannou First in Line for Title Shot
UFC heavyweight champion Stipe Miocic supported the idea that Francis Ngannou should be the next challenger for his title, rather than former light heavyweight champion Jon Jones.
Miocic defeated Ngannou by unanimous decision in 2018, but the 33-year-old Ngannou has now won four straight fights by first-round stoppage.
"Ngannou has definitely shown a lot better stuff since the first fight," Miocic told ESPN. "He's knocking everyone out in the first round. He's just on a tear."
Miocic didn't dismiss Jones – who recently gave up his light heavyweight title to move up to heavyweight – as a potential opponent, saying that he'll fight anyone the UFC puts in front of him.
"Whoever they put me in front of, I'm gonna fight. That's what I do," Miocic said. "If it's him or it's Ngannou or whoever, I'm ready to go."