This wild and unpredictable season of college basketball lacks a dominant team heading into March Madness. Either the Gonzaga Bulldogs (26-1), Baylor Bears (23-1), or Kansas Jayhawks (22-3) held the #1 ranking during the previous 10 weeks, and all three teams are co-favorites to win 2020 March Madness this season at 10/1 odds.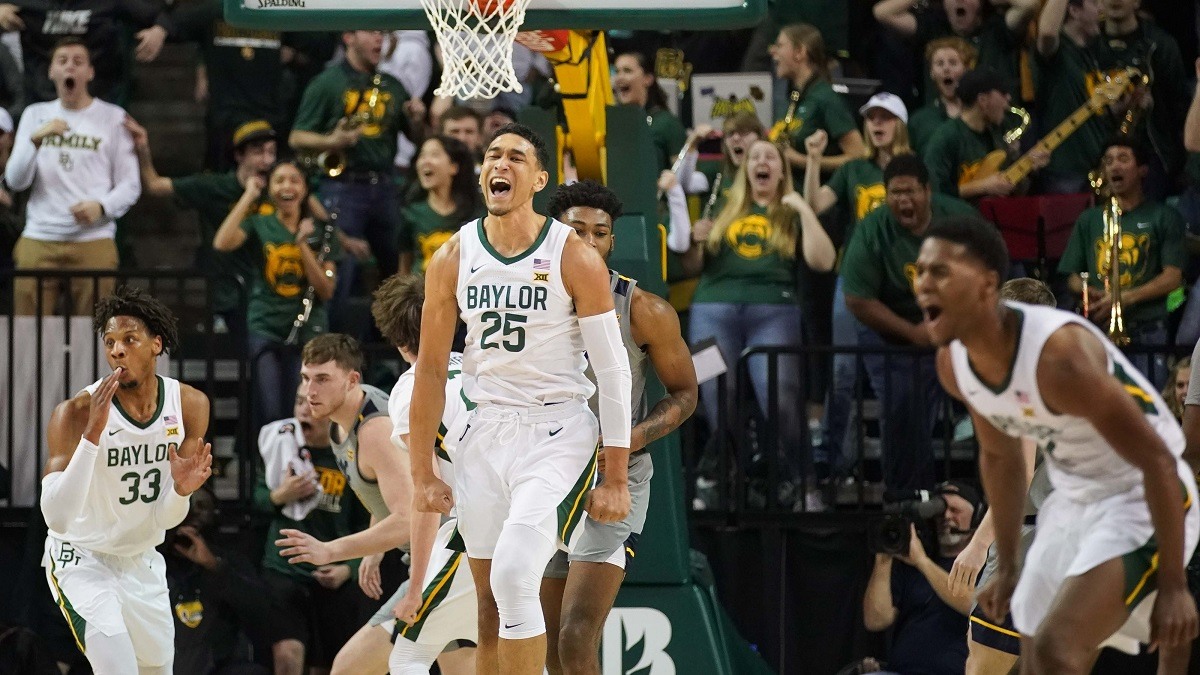 At the start of the tumultuous college hoops season, six teams shared the top spot before Baylor took over at #1 five weeks ago.
Even mighty Duke has been vulnerable this season. #6 Duke is a popular pick to win March Madness every season, despite being one of the most-hated teams in all of sports. Duke (22-4) recently suffered their second-worst loss against an unranked opponent with a 22-point spanking against North Carolina State. Duke also dropped a rare non-conference home game earlier this season. Stephen F. Austin came into Durham as a huge road dog, yet pulled off the remarkable upset over the Blue Devils (ranked #1 at the time).
March Madness Odds – Top 8
Kansas Jayhawks 10/1
Gonzaga Bulldogs 10/1
Baylor Bears 10/1
Duke Blue Devils 15/1
Louisville Cardinals 17/1
San Diego State Aztecs 18/1
Dayton Flyers 20/1
Maryland Terrapins 22/1

** Odds courtesy of Bet365
The #5 Dayton Flyers (23-2) finally moved into the top 5. The high-octane Flyers are led by future lottery pick Obi Toppin (19.4 ppg). You can get the Flyers at 20/1 odds to win the championship.
The #7 Maryland Terrapins (21-4) are the top team in the Big Ten, and they're riding a nine-game winning streak. The Terps have quality wins over #11 Ohio State, #18 Iowa, and #20 Illinois. Maryland is only 22/1 odds to win March Madness.
Kansas, Gonzaga, or Baylor at 10/1
Kansas, Gonzaga, and Baylor were all awarded preliminary #1 seeds in the 2020 March Madness tournament, so it comes as no surprise that they're all co-favorites to win the tourney at 10/1 odds.
San Diego State was the other team that earned a preliminary #1 seed. The Aztecs are listed at 18/1 odds to win March Madness, and not clustered with the other #1 seeds at 10/1 odds.
The Aztecs have yet to lose a game this season, but they've hit a glass ceiling at the #4 ranking. So long as the top three teams continue to win, San Diego State is stuck in fourth place.
Kansas held the #1 ranking for a week before they were pushed out by Gonzaga. The Zags held the top spot for a month, which seemed extremely impressive at the time, considering Louisville and Duke could only hold the top ranking for two weeks before coughing it up.
Baylor seized the #1 spot without Gonzaga losing a game. The Zags' soft schedule in the WCC came back to bite them. Baylor knocked off #22 Texas Tech and #3 Kansas in the same week to move into the #2 spot. The Bears took over #1 the next week after wins against Oklahoma State and Oklahoma.
The Outsiders: Ducks, Tigers, and Sparty
After a grueling SEC season, #13 Auburn seems worthy of a flier at 40/1 odds. Bruce Pearl's squad went to the 2019 Final Four, but lost to Virginia in the semifinals. They started the season 15-0, before losing two in a row. They won seven-straight  games before hitting another skid with back-to-back road losses at Missouri and at Georgia.
The #14 Oregon Ducks (20-6) are tied with Colorado for first place in the Pac-12. They recently ended a two-game skid with consecutive wins over #16 Colorado and Utah.
March Madness Odds – Tier 2
Michigan State 25/1
Oregon Ducks 28/1
Kentucky Wildcats 28/1
Penn State Nittany Lions 28/1
Villanova Wildcats 33/1
Florida State Seminoles 33/1
Auburn Tigers 40/1
West Virginia 45/1
Michigan State earned a #1 preseason ranking, but dropped their first game of the season against #2 Kentucky. The team suffered a huge tragedy at the start of the season when Cassius Winston's brother died after being hit by a train. Winston, a 6-foot-1 senior point guard, soldiered on, and coach Tom Izzo expects Winston to kick his game into high gear when the Big Ten tournament and March Madness rolls around.
Michigan State (17-9) tumbled out of the Top 25 during their recent downturn. The Spartans are 4-6 in their last 10 games. They've dropped four out of their last five, and are 3-4 against ranked teams this season.
The hottest team in the Big Ten is #9 Penn State (20-5). The Nittany Lions jumped up four spots in the latest AP Top 25 Poll. They recently saw an eight-game win streak halted by Illinois, but they're in second place in the Big Ten. Penn State's March Madness odds jumped to 28/1 during their recent upswing, but they still have a long way to go to catch Baylor, Gonzaga, and Kansas.