The two most prolific speed chess players in the world will meet in the finals of the Magnus Carlsen Invitational, as Hikaru Namakura and Magnus Carlsen each advanced after tightly contested semifinal matches.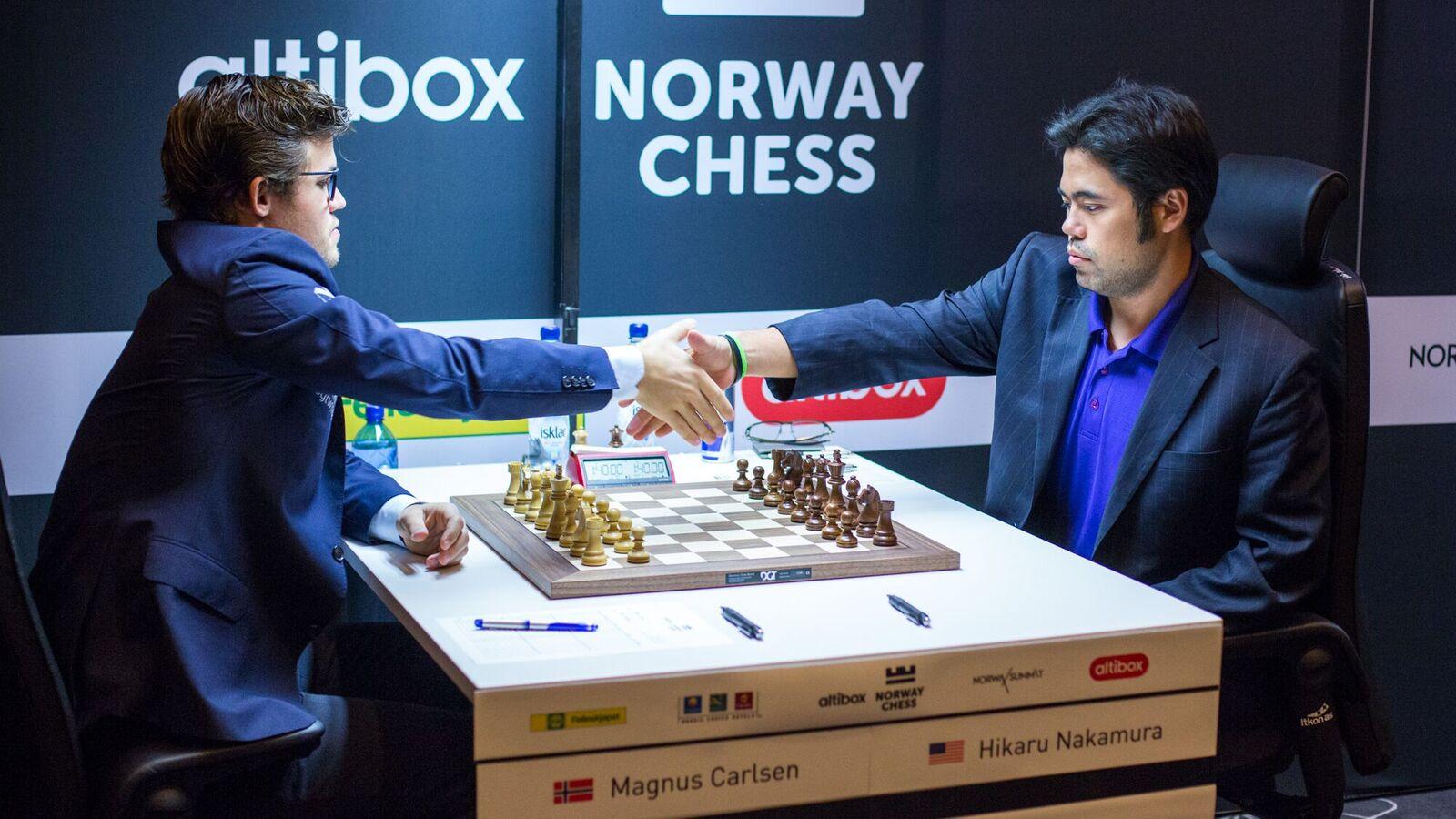 Both players dealt with frustrating moments in their semifinals matches before advancing.
Nakamura Prevails in Blitz Tiebreaker
On Friday, Nakamura battled fellow American Fabiano Caruana. Nakamura came in as a significant favorite thanks to his prowess in blitz chess. He broke through with a win in Game 3 after two draws to take a 2-1 lead.
But Caruana struck back with the black pieces in Game 4, stunning Nakamura in a tense King's Indian that was poised on a knife's edge for much of the contest. Nakamura showed his frustration as he realized Caruana had built a winning position.
That sent the match to blitz tiebreakers. Here, Nakamura's speed chess pedigree shined, and he won both games of the mini-match to claim a 4-2 victory overall.
"Maybe I shouldn't say this, because it probably helps my opponents a bit, but I feel like whenever I play these blitz or rapid events, I feel this great pressure that I either have to finish first or play Magnus in the final match," Nakamura said afterwards. "If I don't do that, I feel like I've failed in a way."
Carlsen Overcomes Blunder to Beat Ding
For portions of Saturday's second semifinal, it appeared that Nakamura might play Ding Liren in the final instead. Ding took advantage of a massive blunder by the world champion in the second game to take a 1.5-0.5 lead. Carlsen allowed a forced checkmating combination, and like Nakamura before him, became visibly upset when he realized he had lost.
But Carlsen showed his championship mettle, bouncing back to win Games 3 and 4, and to take the match 2.5-1.5 over the Chinese grandmaster. After the match, he said that the Magnus Carlsen Invitational was proving to be just as nerve-wracking as the biggest live events of his career.
"This was dead serious and, as far as tension goes, as much as I've experienced in a long time," Carlsen said in a post-match interview. "I feel the same way as I felt after Game 10 of the match in London with [Fabiano Caruana], that's really the sort of feeling I had."
Carlsen will enter the MCI final as a significant favorite over Nakamura, though the American can't be counted out in any rapid event. Unibet lists Carlsen as a -286 choice to win the title, with Nakamura fetching +200 odds. Unibet sees Carlsen wins of 2.5-1.5 (+150) or 3-1 (+250) as the most likely outcomes.
Nakamura and Carlsen have each clinched $45,000 in prize money. The winner of Sunday's final will take home $70,000. Caruana and Ding each won $30,000 for reaching the semifinals.