American grandmaster Hikaru Nakamura defeated Maxime Vachier-Lagrave in an Armageddon tiebreak to secure the top seed heading into the semifinal round of the Magnus Carlsen Invitational.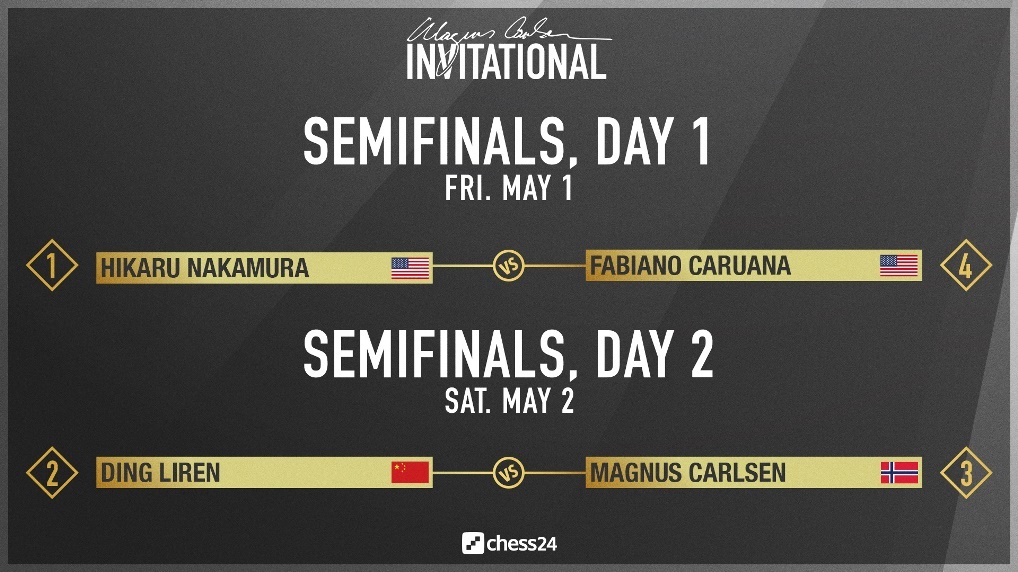 Nakamura will next face off against countrymate Fabiano Caruana, who lost to Anish Giri 2.5-1.5 in his Round 7 matchup.
Carlsen Punished for Offbeat Openings
Thursday was the final day of the round-robin portion of the Magnus Carlsen Invitational. While the top four players had already wrapped up the semifinal positions, there was still plenty to play for: Not only would the top players be jockeying for seeding, but each of the bottom four were contending for prizes that varied from $22,500 for fifth place down to just $15,000 for eighth.
Ding Liren beats Magnus Carlsen's King's Gambit and wins the match 3:1! https://t.co/RDUUm06drB #c24live #MagnusInvite pic.twitter.com/9er25nagJX

— chess24.com (@chess24com) April 30, 2020
The key match pitted Chinese grandmaster Ding Liren against world champion Magnus Carlsen. Surprisingly, Carlsen played some interesting but dubious opening lines, perhaps opting to entertain fans while also avoiding showing any preparation for the critical knockout rounds. In the end, Ding had little trouble countering Carlsen's offbeat choices, winning the match 3-1 in a contest in which all four games were decisive.
"Things didn't go quite according to the plan," Carlsen told a Norwegian television station. "I got a pretty good position from the opening in all games, but I blundered in three of the games and he brutally took advantage of it."
The final round-robin standings saw Nakamura and Ding share first place on 15 points, with Carlsen and Caruana tied for third on 13 points, with tiebreaks determining the exact seeding heading into the semifinals.
Hikaru Nakamura finishes top after beating MVL in Armageddon. https://t.co/1VC4JUrd7z
The semifinals will be:

Friday: Nakamura vs. Caruana
Saturday: Carlsen vs. Ding Liren #c24live #MagnusInvite pic.twitter.com/AhF32jxwWU

— chess24.com (@chess24com) April 30, 2020
Nakamura Favored in All-American Semifinal
That means Nakamura will take on Caruana in an all-American semifinal on Friday, while Ding and Carlsen will face off in an immediate rematch on Saturday.
In the first semifinal, Unibet has listed Nakamura as a -240 favorite to advance past Caruana (+175). Nakamura has built a reputation as one of the world's best rapid and blitz players, while Caruana – a former challenger for the World Chess Championship – has fared relatively poorly in faster formats, making Nakamura a clear pick in the MCI format.
Carlsen (-250) comes into the second semifinal as a similarly priced favorite against Ding (+180). Carlsen holds the world rapid and blitz championships to go along with his classical World Chess Championship, and would be favored over any other player in the world. However, Ding is an extremely solid player who is ranked third in the world in both classical and rapid chess, and feels undervalued even against the World Champion.
---
Magnus Carlsen Invitational Odds (Overall Winner)
Magnus Carlsen: -143
Hikaru Nakamura: +350
Ding Liren: +450
Fabiano Caruana: +750
Odds via Unibet
---
The format of the MCI changes slightly for the knockout rounds. If a match ends in a 2-2 tie, the players will first compete in a two-game blitz match. If the tie is unbroken, another round of blitz games will be attempted. Should the deadlock persist, only then will the players use an Armageddon game to break the tie.
Carlsen remains the overall favorite to win the MCI. Unibet lists him as the -143 pick to win the tournament, followed by Nakamura (+350), Ding (+450), and Caruana (+750).