It took a slow track and a trek halfway around the world to keep Life Is Good off the board in his last outing, and it took a superhorse to keep Speaker's Corner out of the winner's circle in his last race.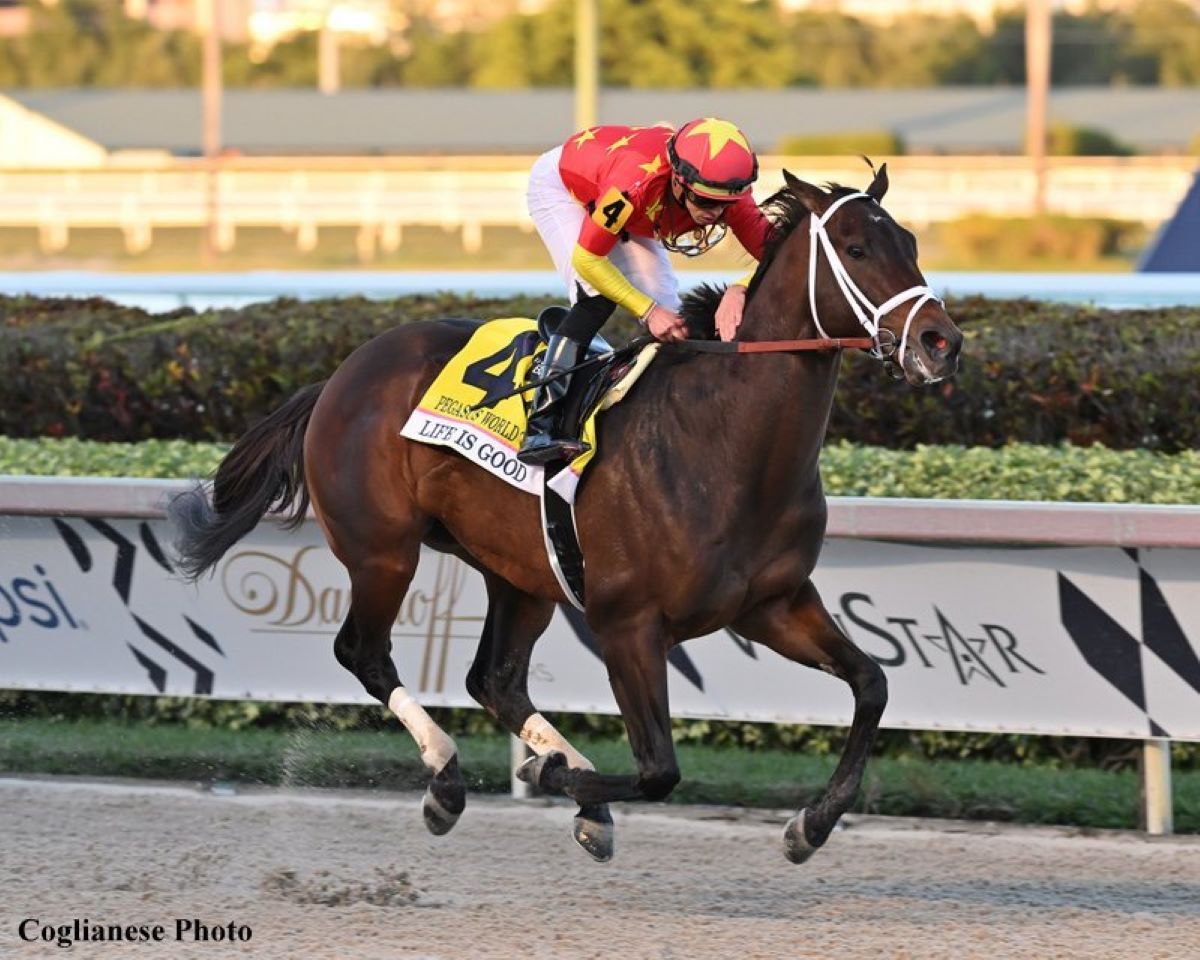 Now, both standout colts seek to get back on track in Saturday's Grade 2 John A. Nerud Stakes at Belmont Park. The seven-furlong sprint for older horses is one of Belmont Park's featured races on its 10-race card.
The two standout 4-year-olds are among the fastest horses in their division, which both dramatically illustrated earlier this year. Life Is Good brushed aside 2021 Horse of the Year Knicks Go by 3 1/4 lengths in his season-opening, Grade 1 Pegasus World Cup victory.
Speaker's Corner won the first Grade 1 on the New York Racing Association's 2022 schedule, the Carter Handicap, by 4 1/2 lengths. His 114 Beyer Speed Figure from that race is the highest Beyer recorded by a North American horse this year.
Middle East muddle at Meydan
What happened next to both leaves them both with something to prove in the Nerud. In March, Life Is Good went to Dubai's Meydan Racecourse for the Grade 1 Dubai World Cup. He came back with the worst finish of his career — finishing fourth, the first time the Into Mischief colt finished out of the exacta in eight career starts (6-1-0).
"It was the wrong racetrack for him," Pletcher told the NYRA, finding issue with the slow track and not the 10-furlong distance. "We were a little concerned about that going in. I thought they would have it a little tighter on that night, but it didn't play to his style at all."
As for Speaker's Corner, his Carter romp illustrated he has no issue with Belmont Park. Half of his six career victories came at Big Sandy. His issue last out in the Metropolitan Handicap came because of who lined up against him — Flightline. Even though the Street Sense progeny went into the Met Mile on a three-race winning streak, Flightline was simply too much to handle.
Speaker's Corner said his piece early in the Met Mile
Speaker's Corner clocked pace-setting splits of 22.78 for the quarter-mile and 45.01 for the half. That didn't stop Flightline, who got off to a slow start, from blowing by Speaker's Corner six furlongs into the mile race. Flightline left his rival 8 3/4 lengths behind in third.
It's a tough ask. Yet, with Life Is Good aboard, the Nerud doesn't exactly provide the soft recovery trainer Bill Mott would find ideal for Speaker's Corner after dealing with a superhorse. And the Hall of Fame trainer told the Daily Racing Form he's unapologetic about sending the colt out against a rival who's 6-for-8.
"I think it's the wrong thing to do, the way he is right now, not to run, Mott told the DRF. "My feeling is, you can't duck and dodge everybody. Every good race that comes up from now 'til the end of the year, you're going to have one or two good horses in there. You can't be afraid."
This is a prep to bigger game for both
Mott is using the Nerud as a bridge to the Grade 1 Forego Stakes, which isn't until Aug. 27. Michael Banahan, director of
bloodstock for Godolphin USA, told BloodHorse that it doesn't make sense to keep Speaker's Corner in the corner for two months.
Pletcher isn't afraid either. He's using the Nerud as a prep for what promises to be one of the biggest races of the year for older horses: the Aug. 6 Grade 1 Whitney. Nor is Pletcher afraid to use Flightline's jockey in the Met Mile — Flavien Prat — on Life Is Good here in the Nerud. Irad Ortiz Jr. piloted the colt in his last two victories in the Pegasus and last fall's Breeders' Cup Dirt Mile at Del Mar, but he's currently serving a suspension.
Prat gets both Flightline and Life Is Good
"Flavien has proven he rides really well in any occasion," Pletcher said. "There might be some similarities to Flightline and Life Is Good, but we'll have a talk about the horse a little bit. He's got kind of a quiet touch, so that should suit him well."
Mott, too, is going to an alternate pilot, albeit one who rode Speaker's Corner before: Jose Ortiz. Regular rider Junior Alvarado is at Churchill Downs this weekend, riding Olympiad in the Stephen Foster, that track's marquee Saturday race. Ortiz piloted Speaker's Corner to a 5 1/4-length score in a Saratoga allowance last summer.