Derrick Lewis scored a first-round win over rising contender Chris Daukaus on Saturday to take over the top spot on the UFC's all-time knockout leaderboard and, potentially, throw himself back into the heavyweight title picture.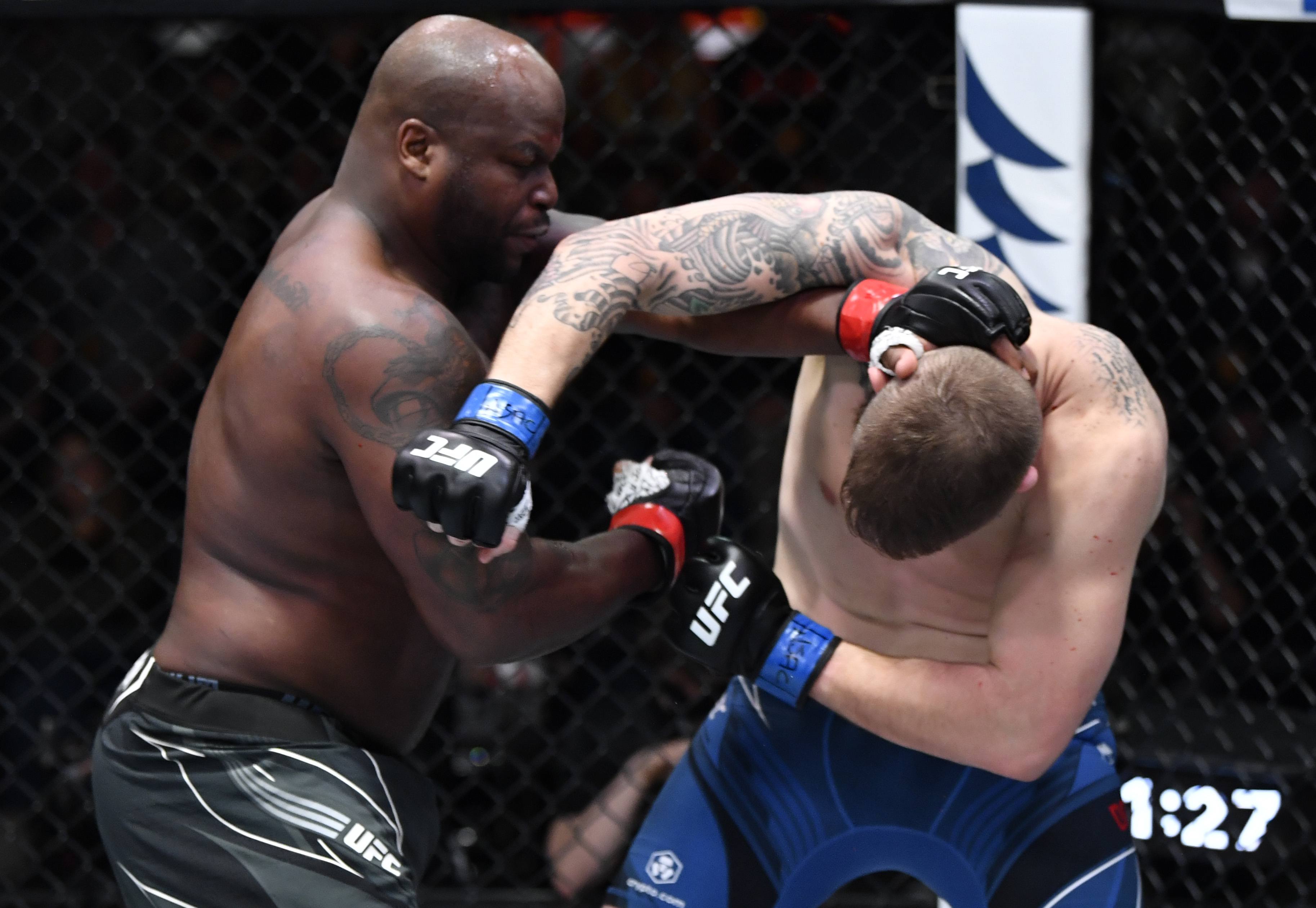 Lewis (26-8) stopped Daukaus just 3:36 into the first round in the main event of UFC Fight Night.
Lewis wants another (short) title fight
After spending some time in the clinch, Lewis landed a huge right hand that floored Daukaus (12-4). He followed up with more blows to finish the fight.
Afterward, Lewis said that he remains interested in pursuing bigger things in the future, though he made it clear he prefers shorter fights.
"I would love to get a title fight, for sure," Lewis said after the bout. "If they can change that rule and make it three rounds for a title fight, hit me up. But if not, don't call my phone."
Lewis recently lost to Cyril Gane, the interim heavyweight champion. Gane and champion Francis Ngannou will unify their belts on Jan. 22. Lewis may have to wait even longer after that bout for a championship shot, however, as both former champion Stipe Miocic and the legendary Jon Jones could vie for the title.
Whether or not Lewis can ever win the unified title, he has already made his mark on the UFC.
"If you look at the amount of times that he's been here and the records that he's broken, it's impressive," UFC president Dana White told reporters after the fight. "He looked good tonight … he got in good shape. He said that last fight [against Gane] pissed him off and he wanted to make up for it tonight, and he did."
Jake Paul knocks out Woodley in second fight
YouTube influencer Jake Paul knocked out former UFC champion Tyron Woodley in the sixth round of their rematch on Saturday night, ending what had been a relatively dull affair with an unforgettable finish.
Paul landed one stunning blow to drop Woodley with just under a minute left in the round. The flash knockout electrified social media, with several different angles of the finish appearing soon after.
"This is as real as it f***ing gets, just like my right hand," Paul said afterward. "I've knocked out every single person I've fought."
Even prior to the fight, however, Paul promised that he would eventually cross over to Woodley's preferred stomping grounds. The 24-year-old says he'll eventually give MMA a try, but only after he first accomplishes more in the boxing ring.
"I don't see why if I can do boxing at this high of a level that I couldn't do MMA at this high of a level," Paul said at a prefight press conference. "I've gotta go 10-0, 12-0 in boxing first and then I'll hit that MMA fight."