Leon Edwards proved that he belongs in the discussion of the top welterweights in the world on Saturday, decisively beating former lightweight champion Rafael dos Anjos in the main event of UFC on ESPN 4 in San Antonio.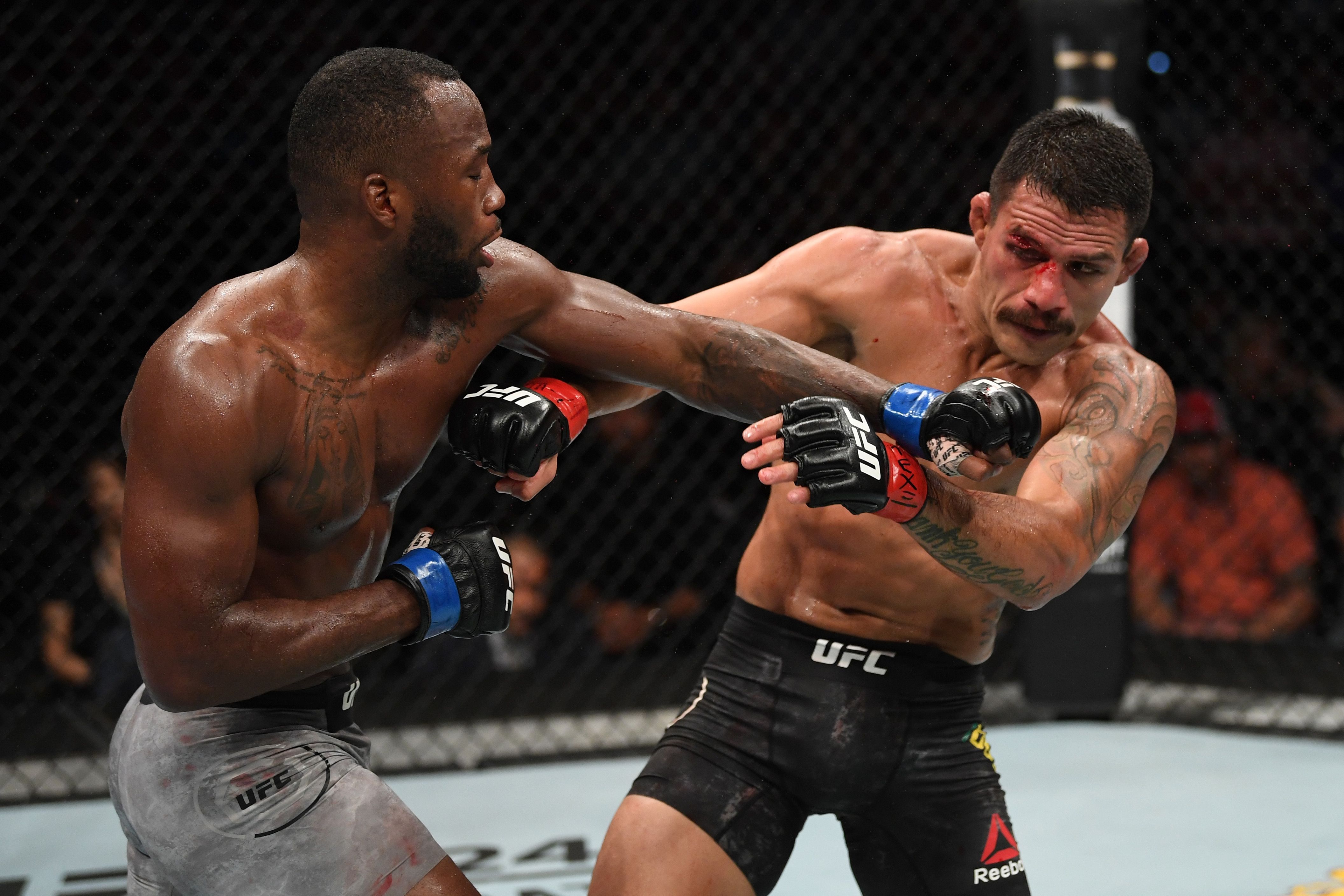 Edwards (18-3) won a unanimous decision over dos Anjos (29-12), with the judges easily giving him the 50-45, 49-46, 49-46 decision.
Edwards Calls Out Masvidal
That gives Edwards eight straight wins, with his last loss coming to current UFC lightweight champion Kamaru Usman back in December 2015.
Coming into the fight, Edwards – who was ranked as the No. 12 contender in the division – had said that he hoped a win might give him a shot at a rematch against Usman. After his win, he instead called out No. 3 contender Jorge Masvidal, with whom Edwards had a previous altercation backstage at a UFC event in London this March.
"There's a little weasel called Jorge Masvidal," Edwards said in his post-fight interview. "Accept the fight. Let's do it. You're not on my level. Let's make the fight happen."
Masvidal responded on his Twitter account, and seemed less than impressed by Edwards' demand.
Big difference between putting top ranked opponents to sleep and putting fans to sleep #bum #whoru

— Jorge Masvidal UFC (@GamebredFighter) July 21, 2019
Even if Edwards doesn't get the fight he's looking for, though – and it seems unlikely, as Masvidal could easily be in line for the next shot at Usman or another high-profile opponent – the win should put him easily into the top 10 in the rankings, all but guaranteeing a marquee fight in his next appearance.
Quick KOs Bring Card to Life Late
The UFC on ESPN 4 card had been somewhat disappointing early, as the first nine fights on the card all ended in decisions. But that changed quickly, as the next three fights were quickly decided by fight-round knockouts.
That started with a win by lightweight Dan Hooker over James Vick, and was followed by two heavyweight fights that lasted less than a minute.
First, there was a win for Greg Hardy (5-1) over Juan Adams (5-2) that took just 45 seconds. Early on, Adams tried to take Hardy to the ground, but ended up in an awkward position on his side. That allowed Hardy to rain down punches to the side of Adams' ear, and while Adams may not have been taking serious damage just yet, the fact that he was not doing anything to stop the onslaught forced the referee to end the fight.
Didn't need long!@GregHardyJr GnP's his way to the TKO! #UFCSanAntonio pic.twitter.com/aHMsuAiLve

— UFC (@ufc) July 21, 2019
"Everybody wants to get me on the ground," Hardy said after the fight. "I want everybody to know that calling out my name comes with consequences. And taking me down comes with consequences."
While Adams was theoretically a step up in competition for Hardy, it remains to be seen just how fast the UFC brings along the former NFL star. There are still plenty of questions as to his overall MMA skill set, and given his name value, the promotion may want to protect him from ranked contenders for as long as possible – or at least long enough to let him develop further, and perhaps grow on UFC's fan base, which has not been welcoming to a man whose NFL career ended after a conviction for domestic violence (which was later overturned).
The fastest finish of the night came in the co-main event, when heavyweight Walt Harris (13-7) finished Aleksei Oleinik (57-13-1) in just 12 seconds. Oleinik also suffered a right leg fracture in the fight, likely due to an awkward fall from the punch that knocked him out.
#UFCSanAntonio had nine straight decisions followed by three straight first round KO

What a brutal KO by Walt Harris 😱😱😱😱pic.twitter.com/dv3hmKpaEK

— MMA India (@MMAIndiaShow) July 21, 2019
Harris has now won his last two fights in under a minute combined, and could wind up in the top 10 of the UFC's heavyweight rankings after Saturday's performance.