Aspen Ladd and Norma Dumont aren't typically main event fixtures for the UFC. But the two will have the chance to add depth and potentially bring more respect to the promotion's understaffed women's featherweight division when they clash in the main event of UFC Fight Night 195 on Saturday night in Las Vegas.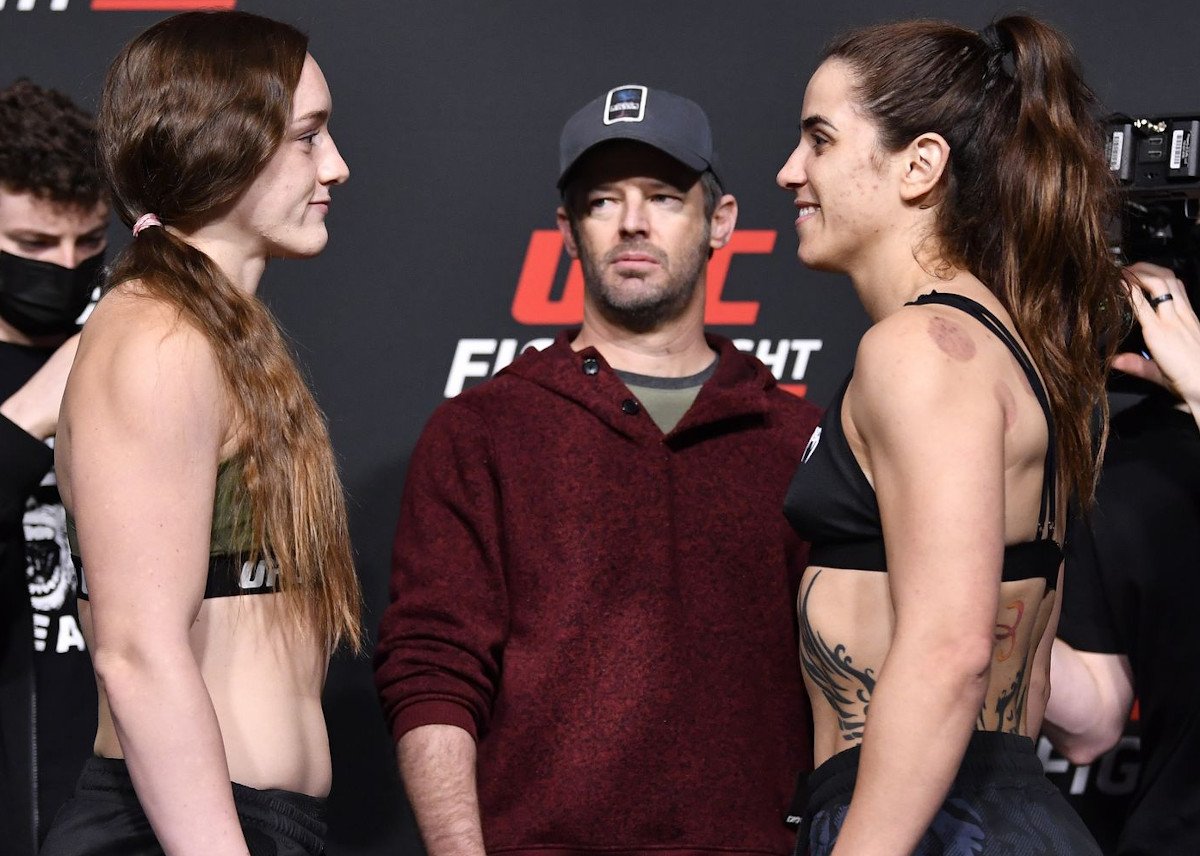 Initially, the UFC planned to put Miesha Tate and Ketlen Vieira in the main event spot, but ultimately postponed that fight after Tate tested positive for COVID-19.
Tate, Holm departures force main event changes
The promotion then tried to set up a bout between Dumont and Holly Holm. But when Holm injured herself in training, Ladd got the main event call.
Ladd was initially supposed to fight at bantamweight against Macy Chiasson two weeks ago. But UFC officials called off that bout after Ladd looked shaky and unhealthy during her weigh in.
Ladd (9-1) did much better at her weigh-in for tonight's fight. This is her first fight since December 2019, when she stopped Yana Kunitskaya in the third round of a UFC on ESPN card to make up for her previous loss to Germaine de Randamie. Ladd ranks as the No. 3 bantamweight in the UFC, and might be one of the most logical opponents for Amanda Nunes' featherweight title, considering that the division is so thin that the company doesn't even keep rankings for it.
That gives Ladd the chance to immediately jump into the title picture with a win on Saturday.
"I don't know, [featherweight] is very interesting because right now there's not much substance," Ladd told MMA Junkie. "But I think they're about to sign Kayla Harrison, or at least they are going to try to. She has her last fight with PFL, and I think they're going to build the division around her. They want new blood and new faces, so I think over the next couple of years, featherweight, if that happens, will flush out pretty good."
Dumont (6-1) has split her time between bantamweight and featherweight. Her one career loss came to Megan Anderson in February 2020 in the featherweight division. But Dumont has bounced back to win her last two fights, including a split decision over Felicia Spencer in May.
Dumont wants title shot with win over Ladd
Dumont thought that beating Spencer would be enough to get her a title shot. But she's now ready to solidify her place in the pecking order with a win over Ladd.
"I thought I already [earned a title shot] in the fight against Felicia, but maybe I still have to prove more," Dumont told MMA Junkie. "I think that I'm better than most of the fighters in the 135 division, too. I'm continuing to evolve."
---
Ladd vs. Dumont Odds (via PointsBet)
Aspen Ladd: -139
Norma Dumont: +115
Method of Victory
Ladd by KO/TKO: +275
Dumont by KO/TKO: +600
Ladd by Submission: +650
Dumont by Submission: +800
Ladd by Decision: +300
Dumont by Decision: +275
Draw: +6600
---
Ladd comes in as a slight favorite, with PointsBet rating her as a -139 pick over Dumont (+115). One of the biggest x-factors could be how Ladd responds to moving up in weight. If she looks better than at bantamweight, she may well find a finish, while Dumont's best path to victory will likely be outlasting a Ladd that's still recovering from a tough weight cut.