Khabib Nurmagomedov defeated interim lightweight champion Dustin Poirier via third-round submission by rear-naked choke on Saturday, unifying the lightweight title, and solidifying his place as one of the top pound-for-pound fighters in all of MMA.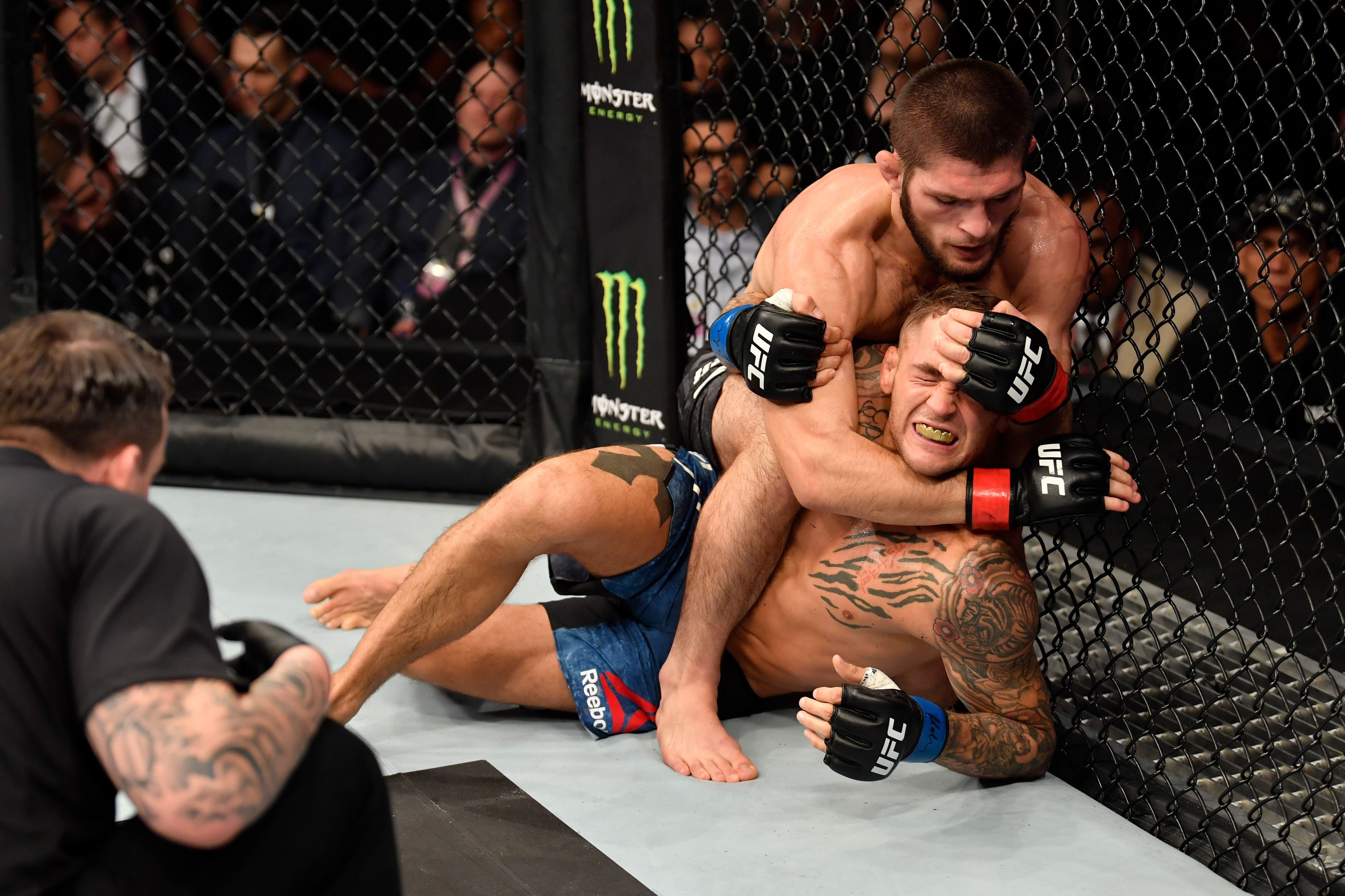 Nurmagomedov (28-0) was dominant for most of the fight, though Poirier (25-6, 1 NC) had his moments, showing that he was a worthy contender for the undefeated champion.
Dominant Nurmagomedov Shows Respect for Poirier
For most of the fight, Nurmagomedov had Poirier on his back, frequently scoring takedowns and preventing the interim champ from using the stand-up striking that appeared to be Poirier's best chance for a win. Both in the clinch and on the ground, it was Nurmagomedov who had the best of the exchanges.
Still, Poirier was able to put up resistance. In one of the few times he was able to keep the fight standing, Poirier actually had Nurmagomedov on his back foot for the opening moments of the second round, landing a couple of big left hands.
But it was mostly for naught, as Nurmagomedov was in charge and threatening to submit Poirier for most of the fight. That quickly tired Poirier, who made one last attempt to find a win by applying a guillotine in the third round. But the 30-year-old Nurmagomedov calmly worked his way out of any potential trouble, took Poirier's back, and forced him to tap via the rear-naked choke at 2:06 of the third round.
The fight had a completely different feel from Nurmagomedov's last trip to the Octagon, when he took on Conor McGregor at UFC 229. While he put on a similarly dominant performance last October, the bout was marred by a post-fight brawl that led to suspensions for both fighters, including a nine-month ban for Nurmagomedov, which led to Poirier being designated as the interim title holder.
"Why do we have so much more respect between us than the last fight?" Nurmagomedov said to the crowd in his post-fight interview. "We show what this is in MMA that No. 1 is respect. That is what your coach teaches you first, that you have to respect the gym, your teammates, and to clean the gym. MMA is not about trash talking, and this is what we show."
Meanwhile, Poirier expressed disappointment that he couldn't achieve more in the fight.
"I just feel like I let myself down," Poirier told the crowd. "I have a lot of tread left in the tires, but for now, I just need some time to think. I'm sorry for anyone I let down with this performance. I promise you, I wanted this more than anything."
What's Next for the Champion
The result led to renewed speculation over whether Nurmagomedov should be considered the No. 1, pound-for-pound fighter in the UFC rankings. While the pound-for-pound list is more about recognition and debate fodder than having any practical purpose, it does feel as though the undefeated lightweight champion has a strong argument for the top spot, with light heavyweight champ Jon Jones being the other legitimate contender – and the current holder of that honor.
While there's also a question as to what's next for Nurmagomedov, the best answer seems clear: a matchup with likely new No. 1 lightweight contender Tony Ferguson (25-3), who has a 12-fight winning streak in which he has looked impressive in virtually every bout.
Also playing himself into the lightweight mix could be Paul Felder (17-4), who defeated Edson Barboza by split decision on Saturday. Already the No. 10 contender before that fight, Felder might now be just one big win away from a title shot of his own, and the UFC may well give him that chance with a bout against Poirier or the winner of next weekend's main event between Donald Cerrone and Justin Gaethje.