Josh Emmett did just enough to get the win at UFC on ESPN 37 in Austin on Saturday, beating Calvin Kattar by split decision in the main event.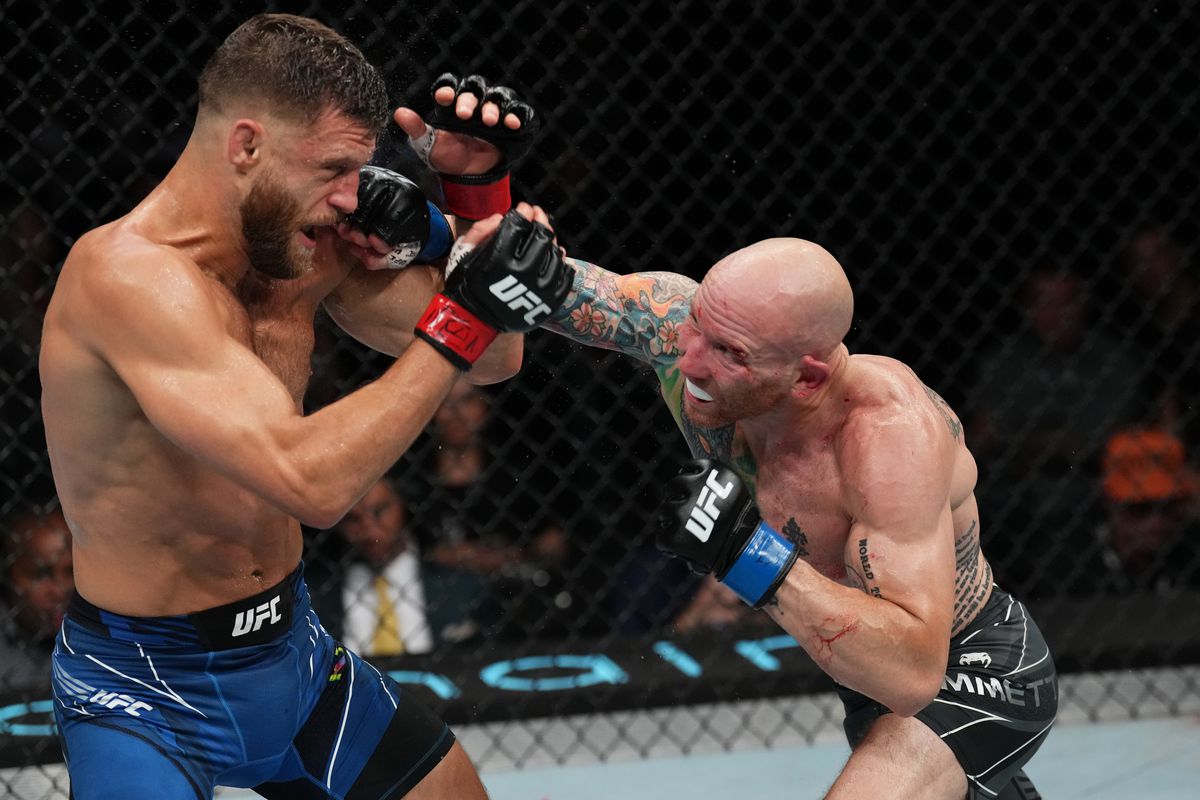 Two judges gave Emmett a 48-47 win, while the third saw it 48-47 in favor of Kattar.
Emmett wants Holloway vs. Volkanovski winner
The decision caused mild controversy, though just about everyone saw a close fight. Of the 19 media scorecards on MMADecisions.com, 14 gave the fight to Kattar, though one observer had the score as anything but 48-47 one way or the other.
Emmett (18-2) and Kattar (23-6) stayed on their feet throughout the fight, essentially resorting to boxing inside the Octagon. Kattar landed stiff jabs at distance while Emmett excelled on the inside.
Afterward, Emmett called for a title shot against the winner of the fight between current champion Alexander Volkanovski and Max Holloway at UFC 276 on July 2.
"Calvin Kattar was ranked No. 4. Look at the guys he has fought," Emmett said. "Holloway and Volkanovski are arguably some of the best featherweights of all time, but they need some new blood and I can get it done."
Emmett came into the fight as a +200 underdog to Kattar (-265) at FanDuel Sportsbook.
Cerrone vs. Lauzon fails to materialize yet again
For the second time, Donald Cerrone and Joe Lauzon made it to the day of a scheduled fight against each other, only for the bout to fall apart at the last minute.
The two lightweights expected to compete as the co-main event at UFC Fight Night on Saturday. However, Lauzon suffered a medical issue just after his weigh-in. Lauzon described the injury as his knee "locking out" ahead of the fight.
"I've dealt with meniscus injuries on both knees, but this knee, in particular, had it cleaned out a bunch of times, but when it does lock up, I can usually straighten out, it unlocks, totally fine, 100%, immediately," Lauzon wrote on Instagram. "Eventually, I end up hopping on one of my cornerman's back, acted like I was choking him like we were joking, but I couldn't stand. I couldn't walk at all."
Hardy joins Bare Knuckle Fighting Championship
Former NFL defensive end Greg Hardy has signed with the Bare Knuckle Fighting Championship, the promotion announced on Wednesday.
"I'm back and ready to knock everyone out in the baddest promotion there is," Hardy said in a statement. "I can't wait to take the gloves off and rumble for BKFC."
Hardy's NFL career ended in 2015 after a domestic violence arrest and other off-field issues. He then joined the UFC, going 4-5 with one no-contest during his time in the promotion. Overall, he has a professional record of 7-5 in MMA, always fighting as a heavyweight.
Yan says Cejudo ducking him
Henry Cejudo has reentered the US Anti-Doping Agency drug testing pool and appears headed for a return to the UFC. Former bantamweight champion Petr Yan called Cejudo out on Twitter, but Cejudo rejected the challenge.
Only if you had the gold I would have loved to have buried 😢 You should go back to Dagestan and learned more wrestling because you got outwrestled by Division III all American. That wouldn't be smart of you taking an Olympic champ after that lose. I'm after Gold hoe #Bendthekne https://t.co/lsANtEjBAW

— Henry Cejudo (@HenryCejudo) June 18, 2022
"Only if you had the gold I would have loved to have buried [you]," Cejudo replied to Yan's callout. "You should go back to Dagestan and learned (sic) more wrestling because you got outwrestled by [a] Division III All-American. That wouldn't be smart of you taking an Olympic champ after that loss."
Yan clapped back, questioning the timing of Cejudo's previous retirement.
The truth is you retired the day I became number 1 contender and unretired on the same day I ceased to be the champion. Now you ducking me again only proving those facts https://t.co/TuSEH7m1An

— Petr "No Mercy" Yan (@PetrYanUFC) June 18, 2022
"The truth is you retired the day I became No. 1 contender and unretired the same day I ceased to be the champion," Yan wrote. "Now [you're] ducking me again, only proving those facts."