The Brooklyn Nets learned that James Harden suffered a setback with his hamstring injury, so they're shutting him down indefinitely. Meanwhile, the LA Clippers will play the next few games without Kawhi Leonard, who can't shake a nagging sore foot injury, which flared up over the last week.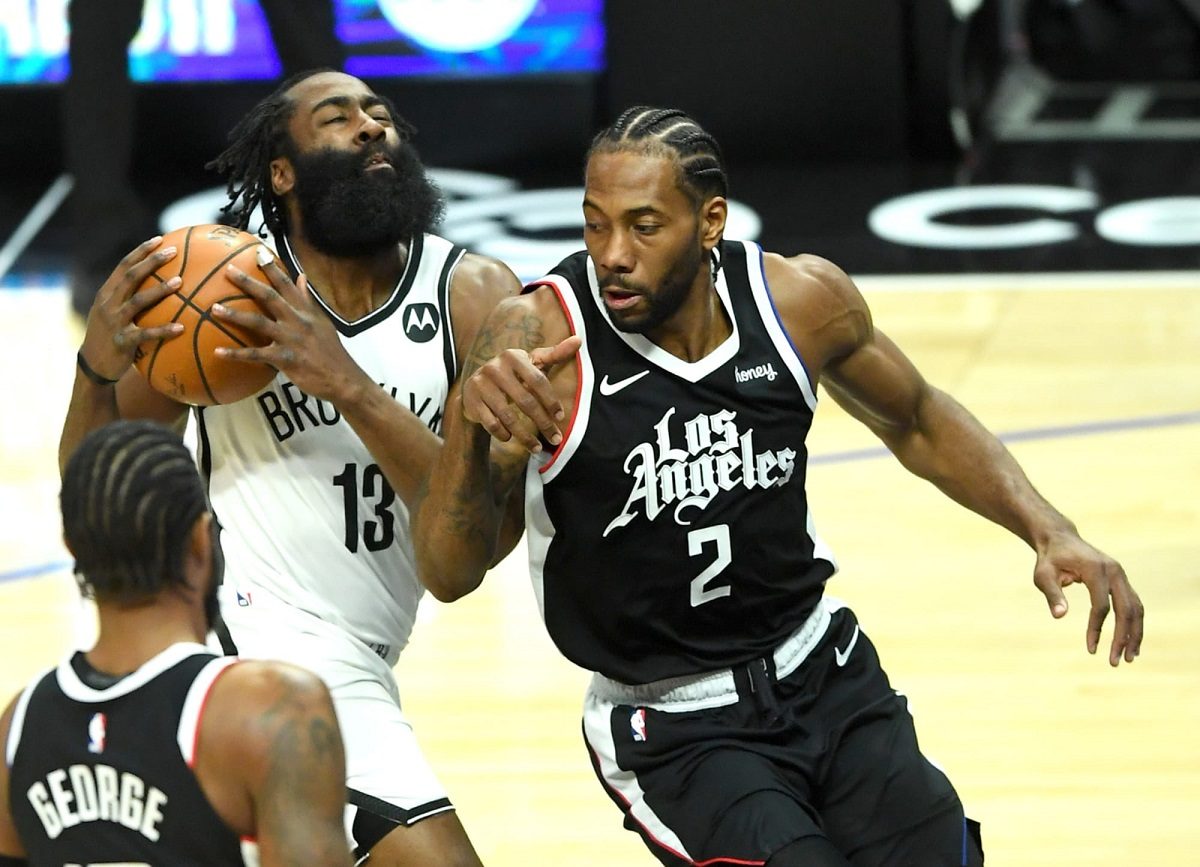 Harden initially suffered a mild hamstring injury two weeks earlier against the New York Knicks. The Nets said he'd miss approximately two weeks. However, Harden felt a strain during a recent workout.
"He just felt it," said Brooklyn Nets head coach Steve Nash. "He didn't fall or stumble or anything out of the ordinary. He just felt something maybe in the ballpark of a strain. Then the scan revealed he did suffer a setback. So not much more to it other than just disappointment and that we have to rebuild and get him going again."
Teammate Kyrie Irving was similarly pragmatic, saying "We'll have to figure it out. That's just the sentiment throughout the season. Just figuring out this process and meshing us together and game by game."
Harden averages 25.2 points, 10.9 assists, and 8.0 rebounds per game this season. He's second in the league in the assists.
The Nets are the consensus favorites to win the 2021 NBA title at +250 odds over at DraftKings. The LA Clippers are the third-highest team on the futures board at +500 odds.
Brooklyn ER
The Big 3 from the Brooklyn Nets barely spent any time together this season due to physical injuries and mental health issues from Irving, Harden, and Kevin Durant.
Durant missed nearly two months of action with a hamstring injury. Harden carried the Nets during the 23 games that Durant missed. As soon as Durant was healthy enough to return, Harden went down with a hamstring injury.
The Nets went 4-3 in the last seven games without Harden.
"Back to square one," said Nash. "We'll rehabilitate him and get him back whenever we can, and who knows when that will be."
The Nets have 14 games remaining, so the team decided they'd keep him out indefinitely. They'll need Harden for a playoff run, so it makes sense if they shut him down for the remainder of the season to give him enough time to heal his injury.
"He'll be back when he's back," explained Nash. "That may not be until the playoffs. It may be sooner. I don't know."
Kawhi Down
Guess the load management didn't help keep Kawhi fresh and away from injury, eh? Kawhi suffered a minor foot injury over the weekend. The Clippers decided to shut their leading scorer down for a few days. Leonard will be evaluated next week, but it sounds like the Clippers are being cautious with the postseason looming.
"He wants to get out there," said LA Clippers head coach Ty Lue. "Right now, it's not the smartest thing to do with him feeling it and trying to manage it for the most part for a while now. We just got to be smart about it. Sometimes you got to protect the player from themselves, and right now that is what we are doing."
Kawhi sat out of four games last week, with three absences attributed to the sore foot injury. He played Sunday in an easy victory over the Minnesota Timberwolves. Leonard just missed a triple-double with 15 points, 11 rebounds, and eight assists.
Kawhi averaged 25.7 points, 6.7 rebounds, and 5.1 assists per game this season. His 26.98 PER rating is the fourth-best in the NBA.
PG-13 Rising
The Clippers now have three starters out with injuries. Patrick Beverly fractured a finger earlier in the month. Serge Ibaka's back has been acting up. The veteran center has missed 20 games and hasn't played since mid-March.
The Clippers will rely on Paul George, who's playing some of his best basketball of the season, and enjoying what is, perhaps, his best scoring stretch since joining the Clippers. George averages 23.6 ppg this season. He's been on a heater, scoring 32-plus points in six out of his previous seven games. He's averaging 29.2 ppg and shooting 45.7% from 3-point range in April.
The Clippers (41-19) have only 12 more games remaining on their schedule, if they decide to keep Kawhi out any longer.