Kitten's Joy, a former Champion Male Turf Horse and one of the top turf sires of the 21st century, died Friday at his Hill n' Dale Farm home in Xalapa, KY. of an apparent heart attack. He was 21.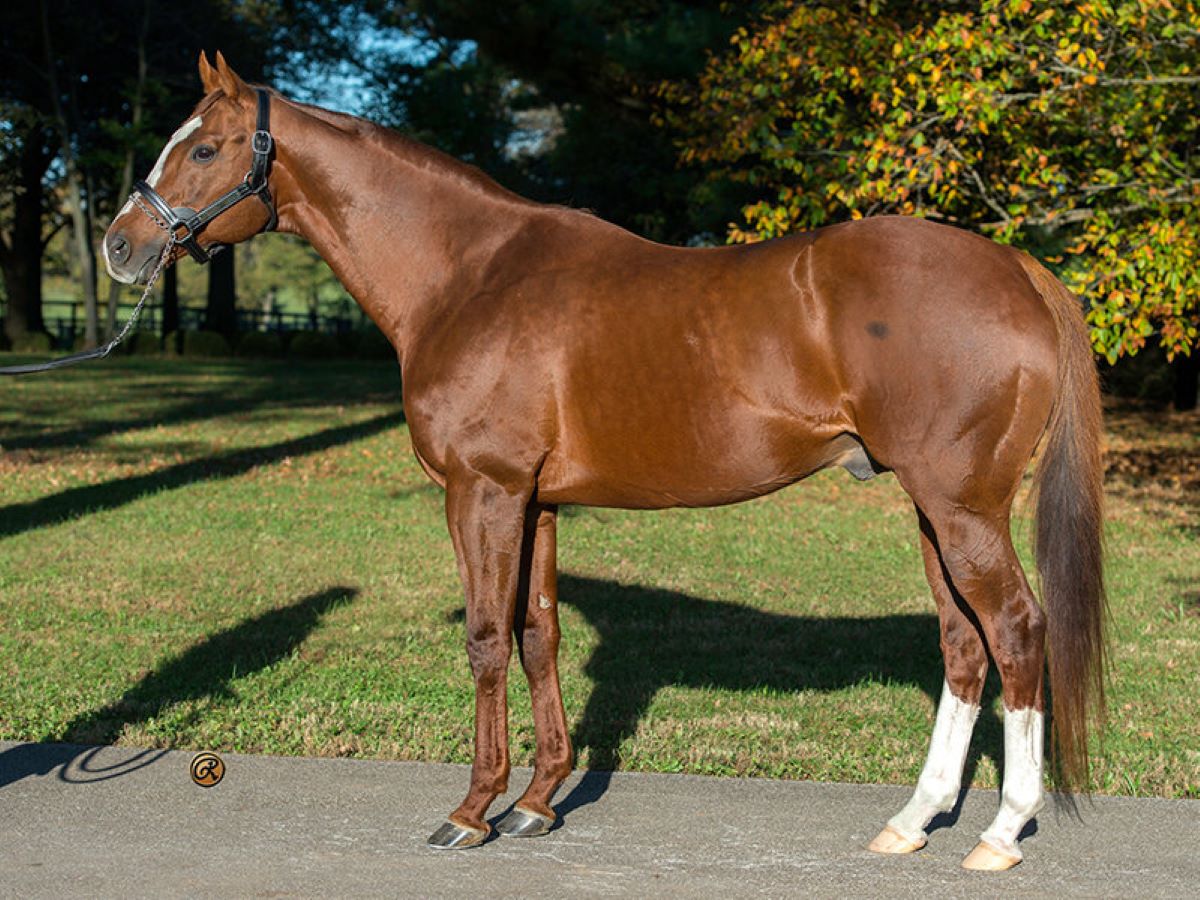 Ramsey Farm's social media accounts announced the death Friday. Ramsey Farm was Kitten's Joy's breeder, the farm that raced him and the farm where he stood at stud for most of his career. He moved to Hill 'n' Dale in 2018, after that farm acquired a 50% stake in the stallion.
"It is with great sadness that I announce that Kitten's Joy, one of the most influential turf sires in recent history, has died," said Hill 'n' Dale owner John Sikura in a statement on the farm's website. "Kitten's Joy, who finished another successful breeding season this year, followed his daily routine which included being turned out in his paddock first thing in the morning. Around 10:30, the horse was observed to be lifeless in the middle of the field. Though apparently in optimal health with no signs of concern, it is believed that the 21-year-old stallion most likely died of a heart attack."
It is with great sadness we announce the passing of our cherished Kitten's Joy. pic.twitter.com/g6zi5Rnp04

— Ramsey Farm (@Ramsey_Farm) July 15, 2022
Kitten's Joy got his name from the late Sarah Ramsey, who raced horses alongside her husband, Ken. That was Ken Ramsey's name for his wife, who died May 29.
"It is devastating to lose both my wife and her favorite horse in such a short period of time," Ken Ramsey said in that statement. "My wife said, 'This horse will bring us a lot of joy,' and he certainly did. … Kitten's Joy was the horse of a lifetime. His name will be in pedigrees for generations to come."
Kitten's Joy was a seven-time graded stakes winner
Indeed it will. Kitten's Joy enjoyed a fine racing career that included nine victories in 14 starts and more than $2 million in earnings. It also included an Eclipse Award as Champion Turf Horse of 2004, after Kitten's Joy went 6-for-8 with a pair of seconds, including the Breeders' Cup Turf. He won two Grade 1s that year: the Secretariat Stakes at Arlington Park and the Joe Hirsch Turf Classic at Belmont Park.
He never finished worse than second since moving to turf in his third start. The Ramseys retired him in 2005 after he suffered a knee injury.
But as a stallion, Kitten's Joy was elite. He was North America's leading turf sire for six consecutive years (2013-18). Twice, he was North America's leading sire by progeny earnings (2013-18). His fee opened at $25,000 for the 2006 breeding season. It would eventually hit $100,000 in 2014.
The Ramseys bred in-house at the outset
Kitten's Joy sired 112 stakes winners, a total that included 15 Grade 1 winners and 15 millionaires. His progeny won 981 times, amassing more than $128 million in earnings.
Much of that came from horses and fillies like Big Blue Kitten, the 2015 Champion Male Turf Horse. Stephanie's Kitten was Kitten's Joy's most decorated progeny. She won the 2011 Breeders' Cup Juvenile Fillies Turf and the 2015 Breeders' Cup Filly and Mare Turf during a career that produced 11 victories – nine of those graded stakes — in 26 races and nearly $4.3 million.
Other Grade 1 winning progeny included 2014 Breeders' Cup Turf Sprint winner Bobby's Kitten, 2016 Breeders' Cup Juvenile Turf winner Oscar Performance, two-time Turf Classic Stakes winner Divisidero, Queen Elizabeth II Challenge Cup Stakes winner Kitten's Dumplings and Arlington Million winner Real Solution. It also included last year's Pacific Classic winner, Tripoli.
Kitten's Joy produced international champions
Kitten's Joy made his mark internationally as well. His 2018 sire title came via horses such as Group 1 Dubai Sheema Classic winner Hawkbill and Roaring Lion, who won four Group 1 races in England and Ireland. Oscar Performance added a victory in the Grade 1 Woodbine Mile in Canada.
Cannot be overstated the hole that the death of Kitten's Joy leaves in the ranks of Kentucky stallions. For those of us here trying to breed top-level turf horses, we have lost Kitten's Joy, English Channel and Get Stormy, all gone in the last seven months. We already miss them.

— Brian Malloy (@brianwmalloy) July 16, 2022
Along the way, Kitten's Joy gave the Ramseys plenty of joy come awards season. He led them to the 2004 Eclipse Award as outstanding owner. He'd help them to two more Eclipse Awards: for outstanding owner and breeder in both 2013 and 2014.
"It was an honor and a privilege to have been entrusted to advance the career of what I believe to be one of the most important, international turf sires of this century," Sikura said. "This stallion is a tribute to one of the modern era's most creative minds, namely Ken Ramsey. This horse was a part of our family, but perhaps even more to the Ramsey family. This is a great loss to the industry and to the Ramseys."