Election betting season hasn't ended just yet – and we're not just talking about outstanding wagers on the presidential race. Two Senate races in Georgia are headed to runoffs, as Kelly Loeffler faces off against Raphael Warnock and David Perdue takes on Jon Ossoff.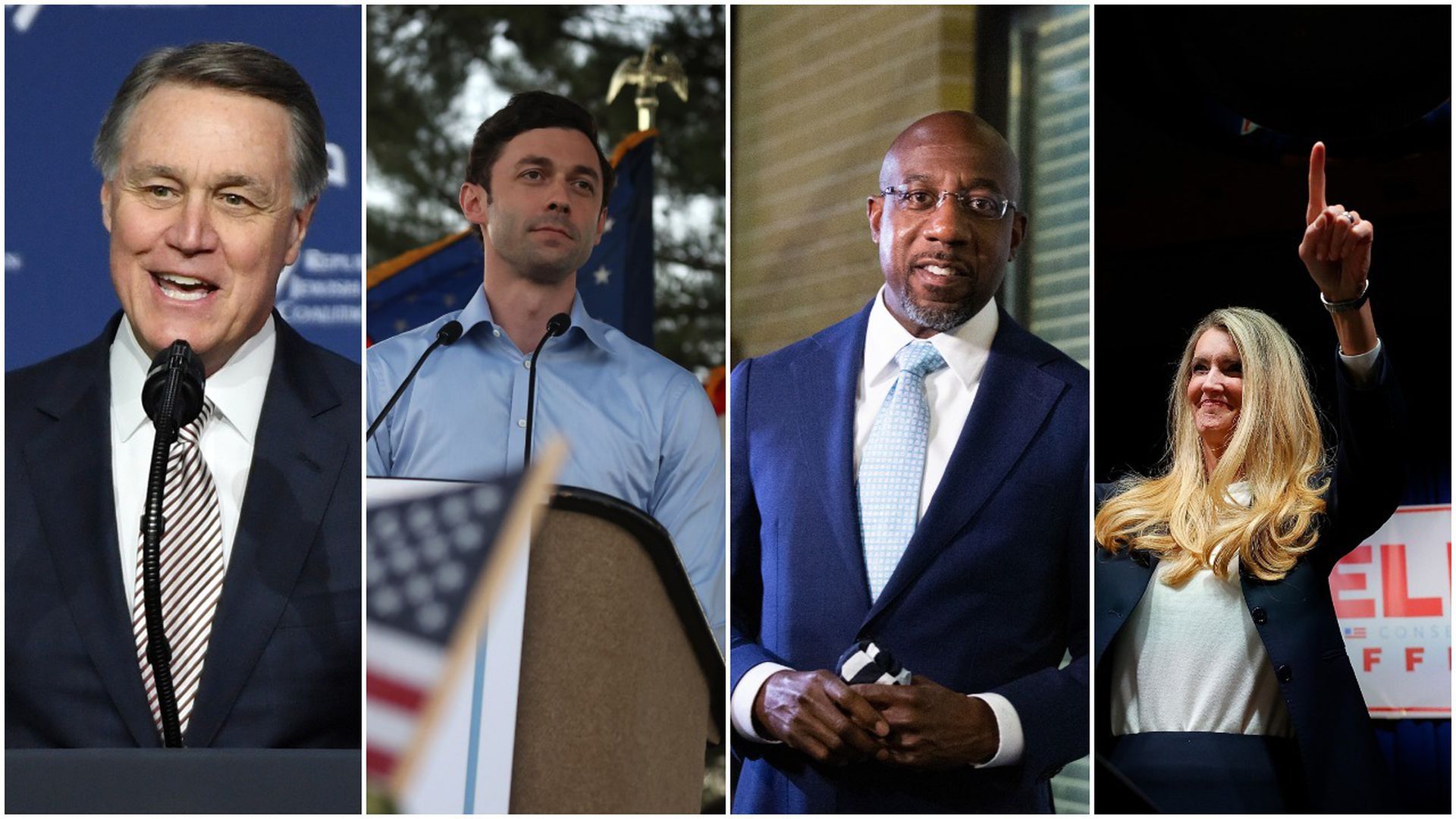 The stakes are high for these runoffs, as the Democratic Party can take control of the Senate if both Warnock and Ossoff score wins in their races.
Ossoff Holds Perdue Under 50% to Force Runoff
However, both men face uphill battles on Jan. 5, the date for the two Senate runoff elections. Republicans Perdue and Loeffler come in as favorites in a state that still tilts Republican, even if Joe Biden appears to have narrowly won the state on the presidential level.
---
Georgia Senate Runoff Odds (via Bovada)
Kelly Loeffler (R): -250
Raphael Warnock (D): +185
David Perdue (R): -330
Jon Ossoff (D): +235
Party to Control Senate After 2020 Elections
Republican Party: -550
Democratic Party: +350
---
Perdue nearly avoided a runoff, collecting 49.7% of the vote to Ossoff's 48.0%. In Georgia, the winning candidate must take 50% plus one vote in order to win an election outright. Otherwise, the top two candidates move on to a runoff.
Bovada lists Perdue, who has served as a Senator for Georgia since 2015, as a -330 favorite over Ossoff (+235).
Warnock, Loeffler Emerge from Jungle Primary
There are a lot more questions surrounding the other Georgia Senate runoff. The special election featured a "jungle primary," in which all candidates from all parties were thrown against each other, almost inevitably leading to a runoff.
Eight different candidates received at least 1% support, with Warnock leading the way at 32.9% to easily lead all Democratic candidates. Loeffler, who earned her Senate seat through an appointment by Governor Brian Kemp in December 2019, took 25.9% of the vote, outpacing fellow Republican Doug Collins (19.9%) for second place.
That format makes it difficult to project what the final numbers might look like in a two-way race between Loeffler and Warnock. Loeffler is unleashing more than $1 million in attack ads against Warnock, while the Democrat – a pastor at Atlanta's Ebenezer Baptist Church – is presenting himself as an everyman in contrast to his opponent, who co-owns the Atlanta Dream WNBA franchise.
"If you're looking for a billionaire, I'm not your guy," Warnock says in his first runoff ad. "But if you want someone who's been through some of the same challenges as you, I'm Raphael Warnock, and it would be my honor to serve you."
Loeffler rates as a -250 favorite over Warnock (+185), according to Bovada. Republicans are lining up to support both Loeffler and Perdue, with Senator Lindsey Graham (R-South Carolina) pledging $1 million from his campaign to the runoff races.
"I'm going to donate a million dollars to Senators Loeffler and Perdue from my campaign to make sure they have the resources to combat a tsunami of liberal money about to sink Georgia," Graham told Fox News.
One-Party Sweep Likely in Georgia Runoffs
If you're considering a parlay on these two races, keep in mind that the sportsbooks know just as well as you do that the two contests are likely to be closely correlated. With the same voters voting on both races on the same day, it's probable that one party will sweep both seats.
That's far from guaranteed, especially if both races are close. But Bovada's market on control of the Senate acts as a good proxy for a parlay bet on both Democratic candidates, as the Democrats will only control the chamber if both Ossoff and Warnock win. Based on the odds of their individual races, the normal parlay payout on both Democrats winning would be around +850. Bovada is offering bettors just +350 on the possibility of Democrats getting to 50 seats.