It's the Spida and Jamal Show! The Utah Jazz and Denver Nuggets series will go the full seven games thanks to a sizzling shooting streak from Denver's Jamal Murray. In the last three games, Murray averaged 47.3 points per game and dropped not one, but two 50-point games. Meanwhile, Donovan "Spida" Mitchell equaled Murray's output, averaging nearly 38 points per game in the playoffs for Utah with a pair of 50-plus games, including a ghastly 57-point performance in Game 1.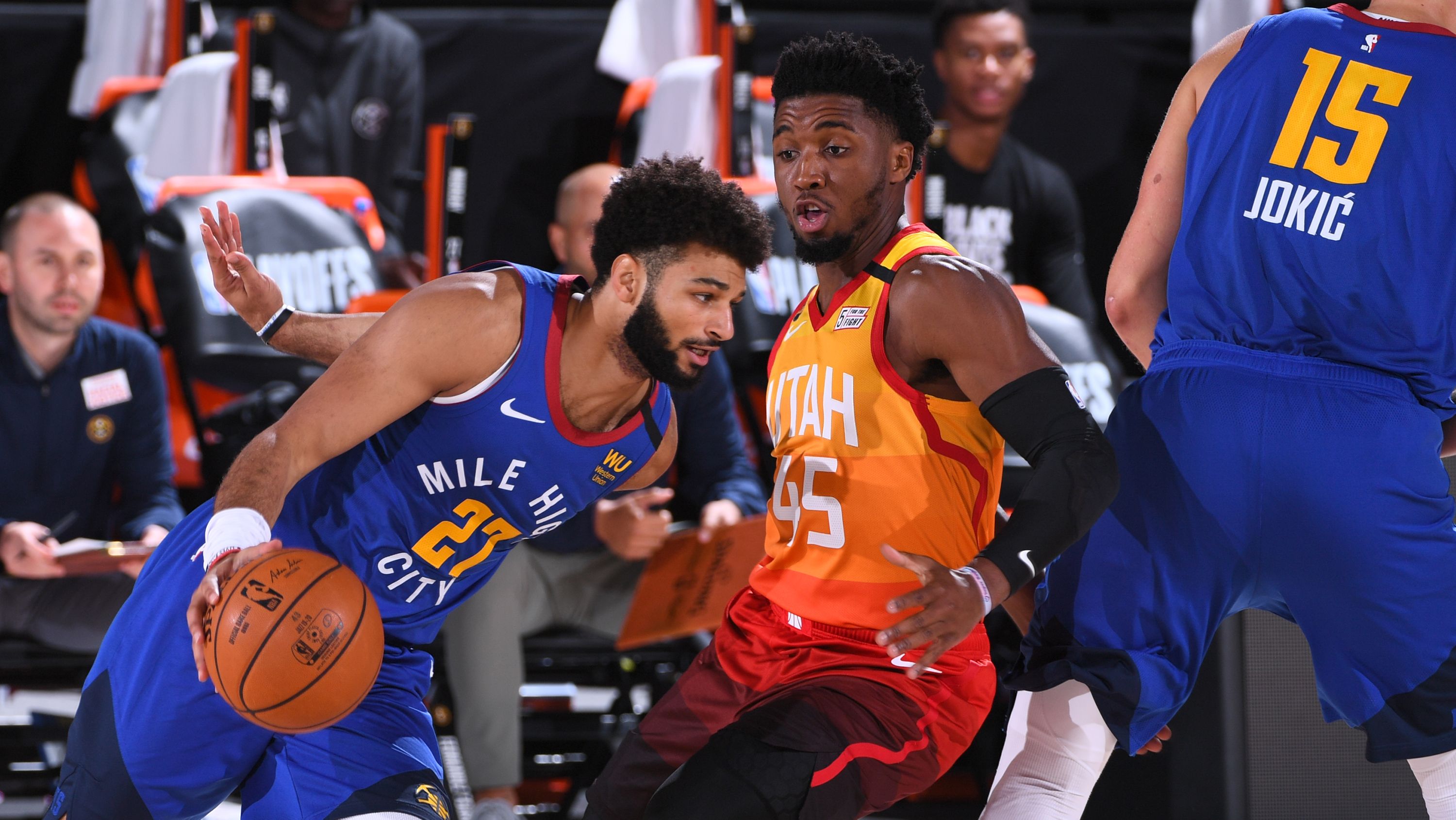 This series has turned into the Jamal Murray and Donovan Mitchell Show, as the two playmakers have been battling back and forth over the last six games.
Denver won Game 1 in overtime. Utah won the next three games to take a 3-1 lead. With Denver on the ropes, they rallied behind Murray's hot hand and won the last two games to tie the series at 3-3.
"They believe in me, I believe in them and we're trying to be this 12th team to come back from down 3-1," said Murray.
---
#3 Denver Nuggets (3-3) vs #6 Utah Jazz (3-3)
Tip-Off: 5:30pm PT
Point Spread: UTAH -1
Total: 216.5 o/u
Money Line: UTAH -100 / DEN -100
---
Denver's defense stepped up and held the Jazz to 107 points in their last two victories. But it's been the emergence of Murray as a mega-scorer that elevated the Nuggets from a team on the brink of elimination to a team that is now one win away from advancing to the Western Conference semifinals.
"To be honest, it's Game 7 for the last two games for us," explained Denver's big man, Nikola Jokic. "It's win or go home for us. That's why we're playing a little bit relaxed. We have nothing to worry about."
Murray averaged 18.5 points per game this season, but he nearly doubled his scoring output averaging 34 ppg in the postseason.
Majestic Murray
Murray joined Michael Jordan as the only players in NBA history to score 40-plus with five-plus rebounds and five-plus assists in three consecutive playoff games. Any time you're on a list with his Royal Airness, then you're doing something spectacular.
Murray exploded for two 50-point performances over the last three games. He's shooting an ungodly 62.1% from the floor, which is a remarkable number for a long-range shooter. Murray put on a clinic in Game 6, knocking down more than 70% of his shots on a 17-for-24 performance, including a 9-for-12 clip from beyond the arc.
---
JAMAL MURRAY SCORING VS. UTAH
36 Points, 6-9 3-PT (GAME 1)
50 Points, 9-15 3-PT (GAME 4)
42 Points, 4-8 3-PT (GAME 5)
50 Points, 9-12 3-P (GAME 6)
---
In Game 2 (12 points) and Game 3 (14 points), the Jazz held Murray to the low teens. The Jazz won both of those games. They did an impressive job of clamping down Murray on the perimeter where he shot only 3-for-10 combined in both losses.
It seems pretty simple. If you neutralize Murray, you have the best chance at winning. Denver is 3-1 when Murray drops 36 or more points per game.
"Last game, he got to the rim, so we wanted to take that away," explained Utah head coach Quinn Snyder. "We were trying to make him hit contested shots. Obviously, we have to do a better job on him. We have to take away other situations and stop giving things up easy because in other situations he's difficult to defend."
Spida Needs a Sidekick
if it weren't for Murray's ridiculous performance this series, we'd be gushing about Donovan Mitchell, who leads the NBA in postseason scoring at 37.6 ppg. During the regular season, Mitchell averaged 24 ppg.
Mitchell also has a pair of 50-plus games in this series, just like Murray. He erupted for 57 points in a Game 1 loss in overtime. In Game 4, he dropped another 51 points. In Game 6's loss, Mitchell's 44-game heater flew under the radar.
Mitchell connected on 56% of his treys and he's shooting 54.5% overall from the floor. But none of that matters because the Jazz are on the verge of blowing a 3-1 lead.
"Nobody said it was going to be easy," said Mitchell. "At the end of the day, they came back, credit to them. We're just locked in and ready to go."
Mitchell has been picking up the scoring slack. But will someone else step up in Game 7?
Mike Conley averaged 22.8 points in the four games he's played after missing the first two games due to the birth of his son. Rudy Gobert averages a double-double with 16.5 points and 10.3 rebounds per game.
Jordan Clarkson joined the Jazz in a mid-season trade. He's averaging 17.8 ppg in the postseason off the bench. When Clarkson provides a scoring punch, the Jazz win. They are 2-0 when he scores 20-plus points in a playoff game.
Aside from sixth-man Clarkson, Utah's bench has been unreliable in the scoring department. If Utah can get 20-plus out of Clarkson, they'll have a chance to keep pace with Denver and their high-octane offense.