The back-and-forth battle between Donald Trump and Joe Biden took numerous twists and turns throughout the evening and overnight, with election odds shifting dramatically in both directions. But when the dust began settling on Wednesday morning, it was Biden who held the edge in betting markets thanks to possessing the more straightforward path to 270 electoral votes.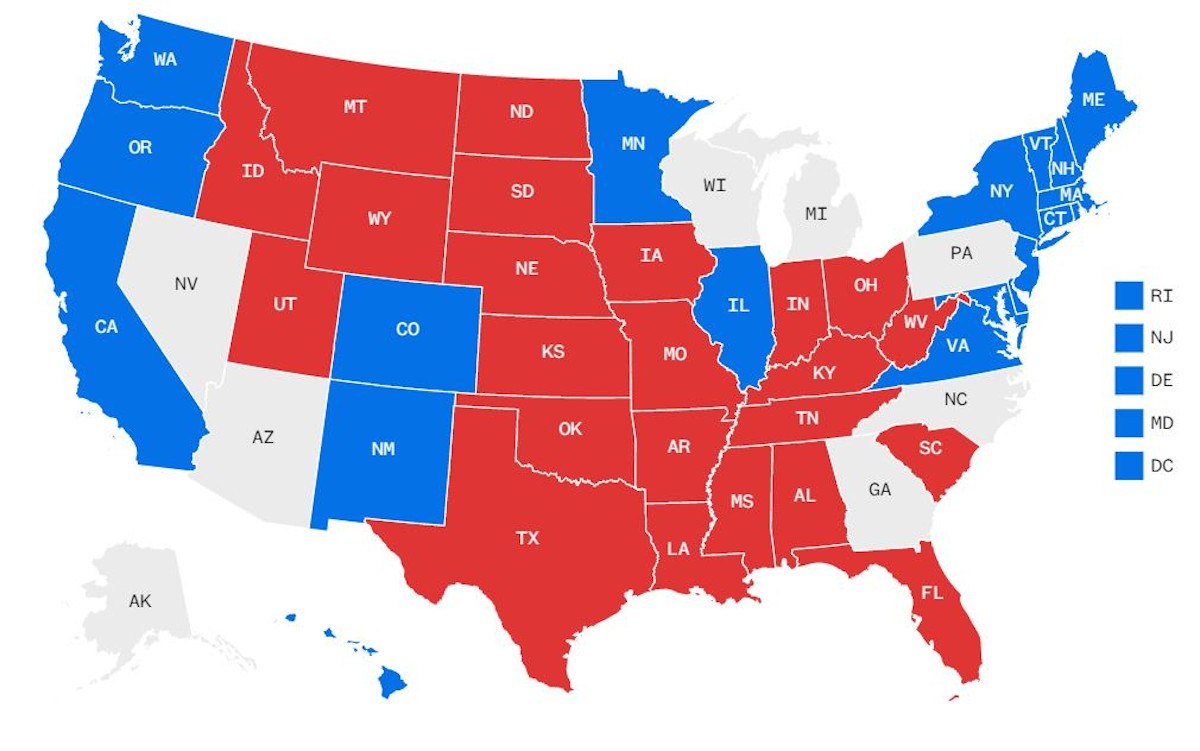 While officials are still counting votes in most states, Biden holds small leads in Arizona, Nevada, Michigan, and Wisconsin.
Biden Holds Advantages in Key Outstanding States
In each case, the outstanding votes appear to favor the Democratic challenger, though – with some exceptions for Arizona – news networks have been reluctant to make calls at this time. Vote counting also continues in Pennsylvania, where officials couldn't begin counting mail-in ballots until Election Day, and in Georgia, which remained too close to call as of noon on Wednesday. Networks have also kept North Carolina in the undecided column, though Trump appears to have the edge there.
As of early afternoon Wednesday, bookmakers and prediction markets have made Biden a substantial favorite to win the presidential election. Bovada lists Biden as a -525 pick over Trump (+340), while Biden shares were trading at 80 cents at PredictIt.
---
Presidential Election Odds (via Bovada)
Presidential Election Winner
Joe Biden: -370
Donald Trump: +260
Arizona
Biden: -215
Trump: +160
Georgia
Biden: +210
Trump: -290
Nevada
Biden: -500
Trump: +330
North Carolina
Biden: +285
Trump: -420
Pennsylvania
Biden: -210
Trump: +155
---
Those numbers don't tell the story of a wild night for election bettors during which the odds swung back and forth several times over the course of a few hours.
Much of the volatility in the election odds markets came from overreactions to unrepresentative vote samples. When the first votes were reported in Florida, Texas, and Ohio, Biden held leads in all three. But those states reported mail-in and early votes first, which favored the Democrat and which kept his odds steady during the early evening.
Election Odds Swing Wildly as Votes Counted
As it became clear Trump would actually win all three of those states, bettors began to turn toward the president. Furthermore, when early vote reports started to appear in Pennsylvania, Wisconsin, and Michigan, the numbers looked promising for the incumbent. But in those states, the first votes reported were overwhelmingly cast on Election Day, disproportionately favoring Trump.
It wouldn't be until the early hours of Wednesday morning that Biden regained his position as the favorite in the race. As it became apparent that Biden was the likely winner in Arizona, that Wisconsin, Michigan, and Georgia would be close, and that the outstanding votes in Pennsylvania overwhelmingly favored the challenger, Trump's odds drifted throughout the morning.
Smarkets, a market prediction site, saw Biden trade at as low as a 22% chance to win before bouncing back to 82% on Wednesday morning.
"After a long night of wild twists and turns in our election market, Joe Biden is once again the strong favorite to win the 2020 presidential election," Smarkets political analyst Patrick Flynn said in a statement. "Biden now leads in the vote counts in Nevada, Michigan and Wisconsin, and our markets make Biden a heavy favorite to win all three of those states."
Markets remain open in states where there still appears to be uncertainty in the result. Bovada lists Biden as a -280 favorite to win Arizona, while Trump holds the same -280 edge in Georgia. Biden (-260) also stands as a strong favorite over Trump (+190) in Pennsylvania.