Ed Orgeron found out that winning pays, as LSU on Friday agreed to a six-year contract extension worth more than $42 million to its head football coach.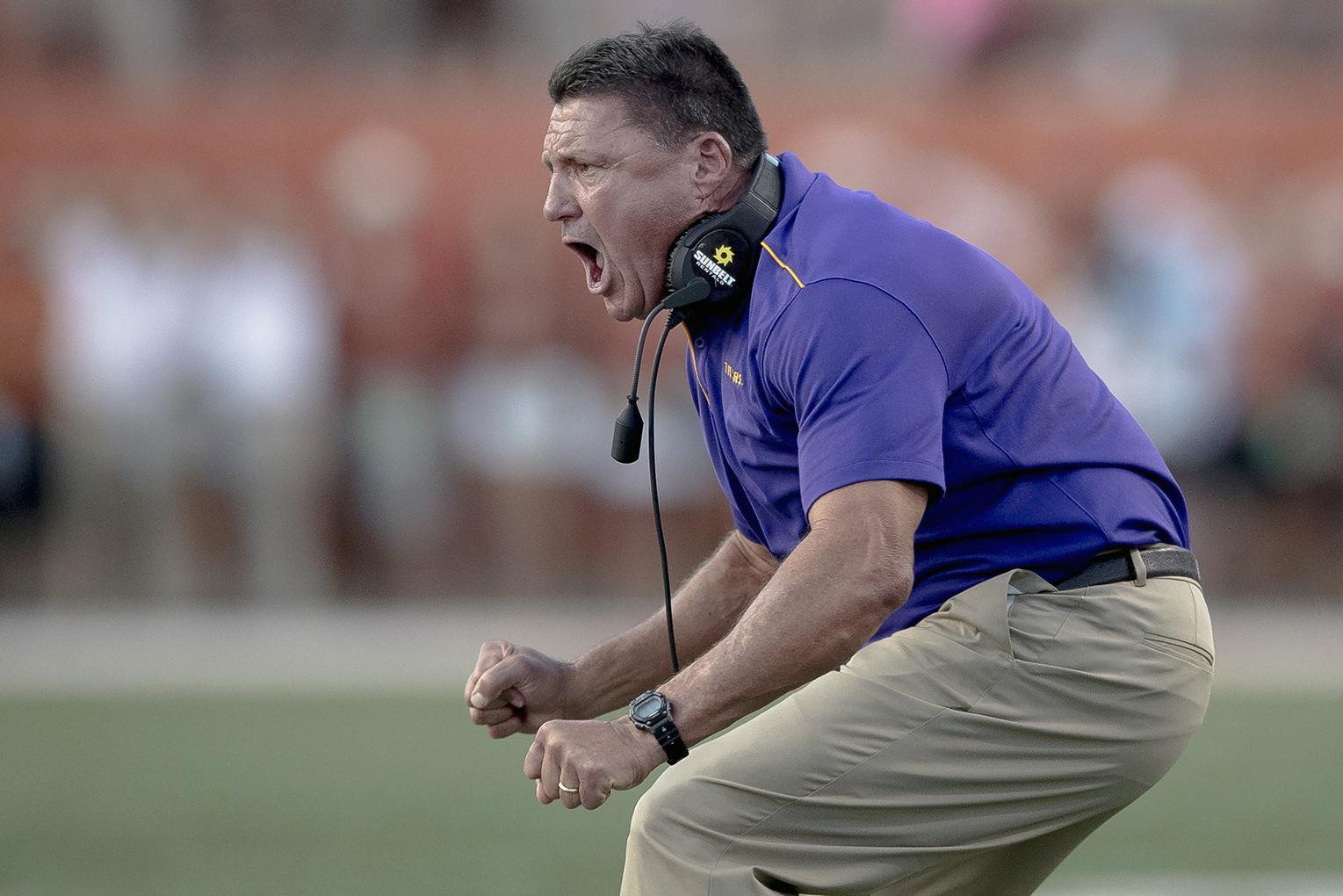 Oregron becomes the fifth-highest paid coach in college football, according to The Advocate.
Orgeron Reaps Rewards
The deal pays Orgeron a base annual salary of $6 million, while a $5 million, split-dollar life-insurance policy will also be paid out over the first two years of the extension.
Orgeron earned his payday by leading the Tigers to their first national title since 2007. LSU's season culminated in a 42-25 win over Clemson in the national championship game earlier in January. He was also named the winner of the Paul "Bear" Bryant Coach of the Year Award.
"Coach O has set a new standard at LSU," athletic director Scott Woodward said in a statement. "He has proven that he is not only a championship coach, but also a leader of a program committed to doing things the right way. He has represented our institution and our state with great pride, on and off the field of play."
Orgeron has enjoyed extraordinary success since taking the role of head coach in 2016. Over that time, he has led the Tigers to a 40-9 record, and the team has won 11 of its last 12 matchups against top-10 foes.
Loss of Burrow, Assistants Will Challenge LSU
The coach faces challenges if he wants to turn LSU into a school that, like Alabama or Clemson, is consistently in the national title mix.
LSU saw many of its most talented players move to the NFL after winning a title. Nine underclassmen made the jump to the draft, as did Heisman Trophy winning quarterback Joe Burrow, who set an FBS record with 60 touchdown passes this season.
The Tigers' assistant coaches also grew in renown thanks to the championship. Passing coordinator Joe Brady took an offensive coordinator's job with the Carolina Panthers, while Baylor hired defensive coordinator Dave Aranda as their new head coach after Matt Rhule bolted to coach the Carolina Panthers.
Those losses hurt LSU's odds of winning back-to-back national championships. FanDuel Sportsbook sees LSU as a second-tier contender, listing them at +1600 – the same odds as Florida – behind perennial threats like Clemson (+200), Ohio State (+400), Alabama (+500), and Georgia (+1000).
That reality won't lower the bar at LSU, and Orgeron acknowledges that a lot will be expected of him going forward.
"I'm very appreciative of Scott Woodward, the LSU Board of Supervisors, and the state of Louisiana," Orgeron said in a statement announcing the extension. "My family and I are very grateful, and I look forward to working as hard as possible to continue to win championships at LSU."
In 2019, most of college football's highest-paid coaches worked at traditional powerhouses. Dabo Swinney led the way, making more than $9.3 million at Clemson, followed by Alabama's Nick Saban ($8.85 million), and Jim Harbaugh of Michigan ($7.5 million).