The Cincinnati Bengals coaches are fawning over potential No. 1 draft pick, Joe Burrow, but the feeling might not be mutual. The LSU quarterback had one of the most successful seasons of any college player. He won the Heisman Trophy, and led the Tigers to a 42-25 victory over Clemson in the National Championship game.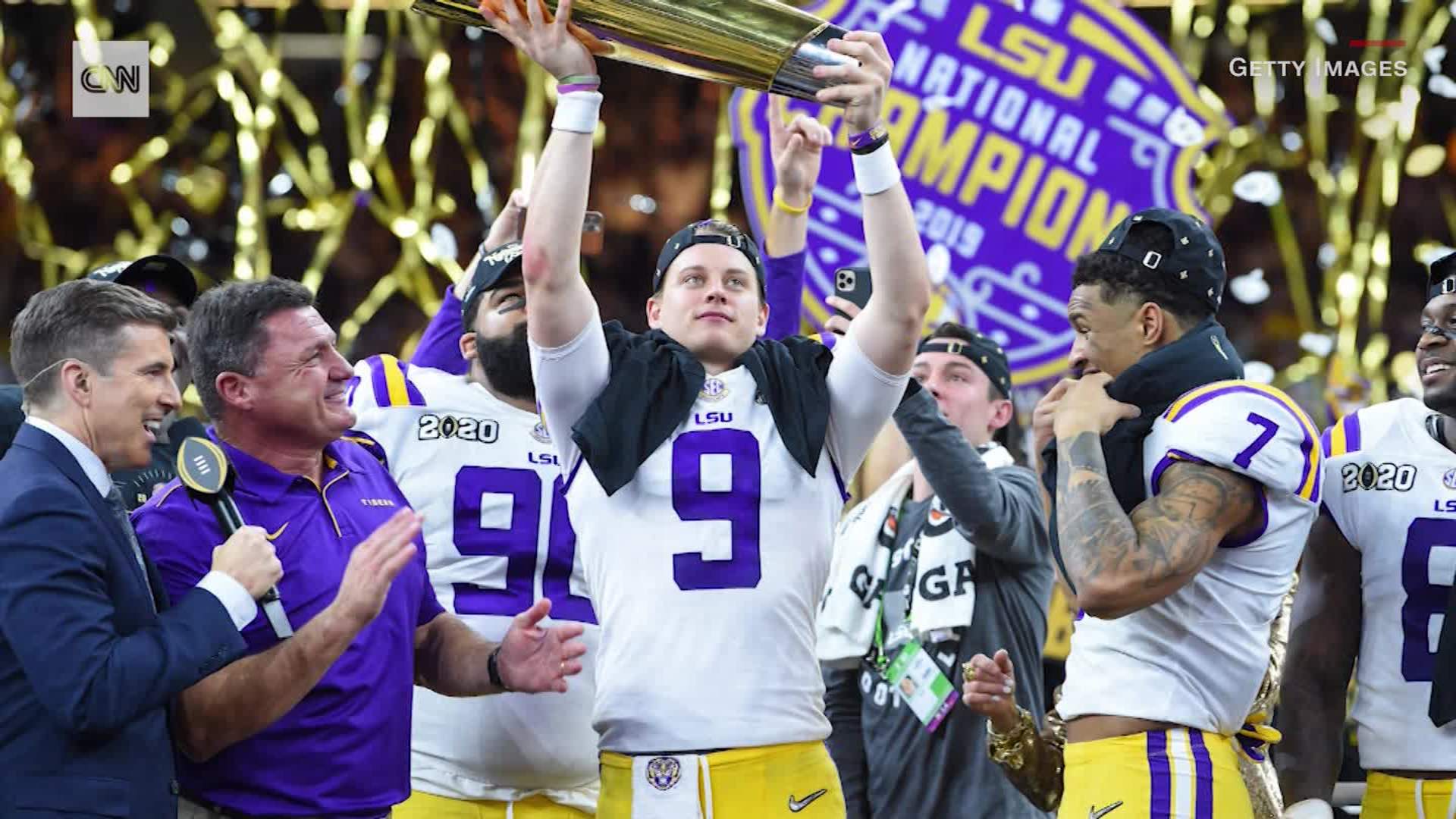 Burrow, who Fan Duel lists as the -2000 favorite to be the first player selected in April's NFL Draft, is at the top Cincinnati's wish list after the team benched longtime signal caller Andy Dalton midway through last season. Dalton's replacement, Ryan Finley, was ineffective in three games as a starter, forcing the Bengals to finish the season with Dalton back under center — a situation they found less than ideal.
Bengals have High Praise for Burrow
Two of Cincinnati's assistant coaches were quick to praise Burrow, who they see as the team's future. Quarterbacks coach Andy Van Pelt told the team's website that Burrow is ready to play in the NFL.
"He definitely checks off a lot of boxes early on in the evaluation process," Van Pelt said "He obviously looks like a very intriguing guy."
Offensive coordinator Brian Callahan is scouting players with Van Pelt this week at the Senior Bowl in Mobile, Ala., and said he's impressed with Burrow.
"He's got natural pocket feel. He feels it," Callahan said. "It seems like he never takes his eyes off down the field. He extends the play really, really well. He's a lot faster than you might assume when you see him running away from all those SEC guys. The ball hardly ever hits the ground in a game, which is rare. He just naturally puts the ball in places where those guys can make plays."
Can Burrow Tell Bengals Not to Draft Him?
While Cincinnati is high on Burrow, the soon-to-be NFL player isn't reciprocating the affection. He's been mum on the subject of his professional football fate. Rumors are the Ohio native isn't crazy about going to Cincinnati. If that's the case, he could request that the team not draft him, much like Eli Manning did in 2004. Manning expressed his intention not to play for the San Diego Chargers if they drafted him with the No. 1 pick. The Chargers worked out a deal with the New York Giants, picked Manning first, then traded him to the Giants for Philip Rivers.
Burrow could follow a similar plan. There are a couple of teams that could trade with the Bengals, one being the Carolina Panthers, who are rumored to be ready to part ways with Cam Newton.
Making that plan even more likely is the fact that Burrow isn't doing much — if anything — to endear himself to the city of Cincinnati. In a recent Bar Stool Sports podcast, he dissed Cincy's most famous restaurant, Skyline Chili.
"Oh, God. I hate it. Cincinnati's gonna hate me — I hate that stuff," Burrow said. "It's not real chili. It's just sauce. I mean, they've hated me for a while because I've had these takes since like I first got to Ohio State. And they're like, 'What do you mean? You're from Ohio!' and I'm like, 'Doesn't matter. I hate it.'"
It's possible the Bengals might also leave a sour taste in Burrow's mouth.