TJ Dillashaw lost his UFC bantamweight title in 2019 after testing positive for performance enhancing drugs, which led to a two-year suspension. Now, the former champion will jump right back into the title picture when he takes on Cory Sandhagen in the main event of Saturday's UFC on ESPN 27 card.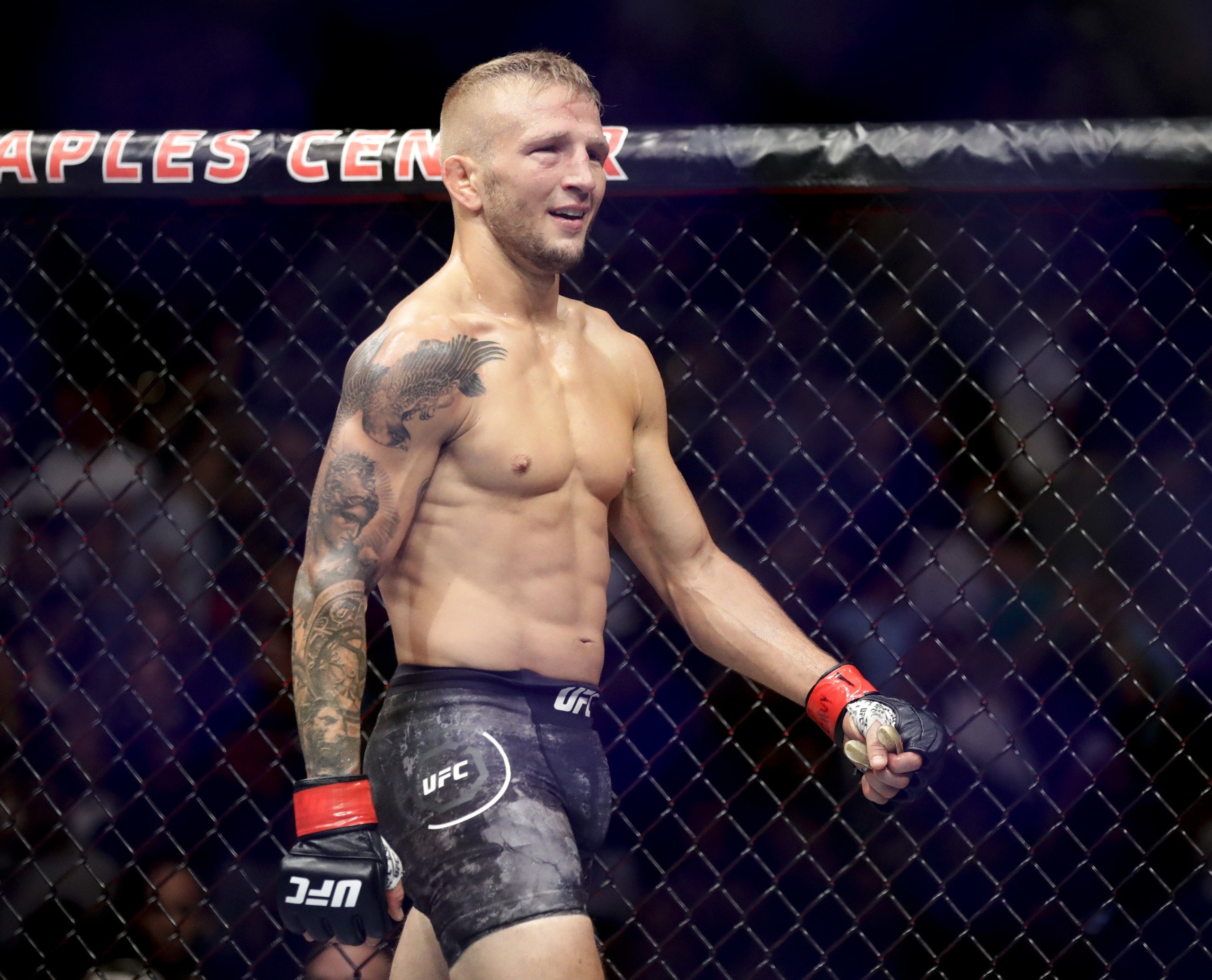 Dillashaw tested positive for erythropoietin (EPO) after his 2019 flyweight title fight with Henry Cejudo, which he lost by TKO in just 32 seconds.
Drug suspension cements former champ as villain
At the time, Dillashaw (16-4) was attempting to become a two-division champion. But the test results left him without any titles, and forced him out of the Octagon for over two years.
Dillashaw knows that he won't have much fan support during his comeback. But the 35-year-old says he's comfortable taking on the role of the heel in his next title run.
"I have already been the villain for a long time now," Dillashaw said on Morning Kombat. "The bad guy gets attention too. The bad guy gets big checks, so hate me but fill my wallet."
He'll get an immediate test in Sandhagen (14-2), who ranks as the No. 2 contender in the UFC's bantamweight division. Sandhagen has won nine of his last 10 fights, with the only loss coming last year to Aljamain Sterling at UFC 250.
The 29-year-old has never earned a title shot in the UFC. But a win over Dillashaw would immediately put him in line for a rematch with Sterling, who now holds the belt.
"Do I see anyone being able to have an argument that goes past mine, before the title? I don't see that," Sandhagen told The New York Post. "But also, a lot of that is up to the UFC too. We'll play it by ear, but I think I'll really stamp my passport and take that plane ride to wherever we'll be fighting sometime next year for the world title."
Sandhagen favored over aging Dillashaw
Sandhagen enters Saturday's fight as a -190 favorite over Dillashaw (+150), according to PointsBet. With Dillashaw out of the Octagon for so long, and Sandhagen and others having stepped up their games in the past two years, this fight looks like Sandhagen's to lose, especially as Dillashaw enters the twilight of his career.
Sandhagen also believes that the five-round format will give him an edge over the former champion.
"I know he gets tired," Sandhagen told The Post. "He does good operating inside of a tired body, which I'll give him credit for. But I think, especially him being a little older [and] him not being on drugs anymore is definitely going to cause some changing of the way that he will be able to perform in a five-rounder."
But Dillashaw says his overall game will be enough to carry him past Sandhagen, and earn himself another shot at the title he once held.
"I never fought someone who said TJ is slow or said TJ doesn't have power," Dillashaw said. "I'm well rounded, I'm going to work hard and push the pace. I'm mean as shit and I'm going to win this fight."