The Grade 1 Del Mar Futurity is another one of those races carrying a heavy Bob Baffert flavor. The Hall of Fame trainer won the Futurity a record 14 times, including seven consecutive victories between 1996 and 2002.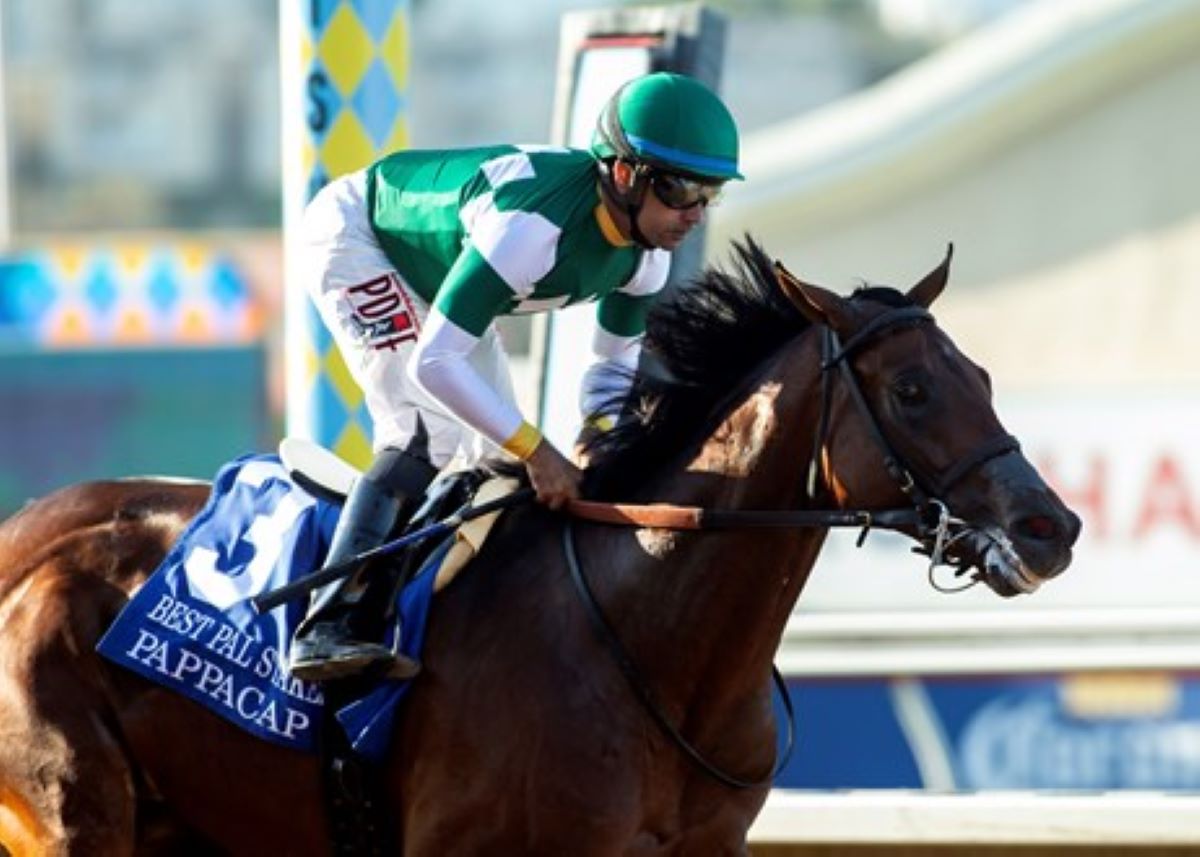 That's not surprising when you consider it's one of the top 2-year-old summer races in the country. It's also not surprising when you consider that since 1982, the Del Mar Futurity sent four of its winners to the Kentucky Derby winner's circle. That started with Gato Del Sol in 1981, migrated through Baffert's Silver Charm in 1996, his American Pharoah in 2014, and Nyquist in 2015.
Monday's seven-furlong Del Mar Futurity, which anchors the track's closing day meet, can give you a good look at possible 2022 Kentucky Derby prospects. Or, stretching that out further, Triple Crown race candidates. Candidates such as 2009 Futurity winner and Baffert charge Lookin at Lucky. All he did as a 2-year-old was win the Futurity prep, the Grade 2 Best Pal, take the Futurity, the Grade 1 Norfolk Stakes, and the Cash Call Futurity en route to Champion 2-Year-Old honors.
As a 3-year-old, Lookin at Lucky won the Rebel Stakes, the Preakness, the Haskell, and the Indiana Derby, en route to taking 2010 Champion 3-Year-Old honors.
Del Mar Futurity doesn't always predict Derby futures
At the same time, the Del Mar Futurity isn't always a golden ticket to the Churchill Downs starting gate on the first Saturday in May. Take last year, when Dr. Schivel vaulted to the forefront of Derby possibilities with his victory. But after moving to Mark Casse's barn, Dr. Schivel went on the shelf for several months, not re-emerging until June of 2021.
Casse brings 3/1 third-favorite Pappacap into this year's Del Mar Futurity. The son of 2017 Horse of the Year, Gun Runner, Pappacap rides into the Del Mar Futurity 2-for-2. That includes his nearly five-length victory in the Best Pal Stakes. It also includes his maiden-breaking, gate-to-wire debut at Gulfstream Park in May.
Pappacap displayed precocious versatility in both races. After he wired the field in his debut, Pappacap played the perfect stalker in the Best Pal. He settled in behind the two pace-setters, grabbed the lead mid-stretch, and galloped home by nearly five.
Baffert opens the Futurity with a strong pair
"I've seen much stronger Best Pals and I'm not sure he beat the greatest field in the world, but I liked the way he did it," Casse told Del Mar's Hank Wesch. "He settled, he finished, he galloped out strong. And I think it helped him. He's got a lot of confidence right now."
So do both of Baffert's entries: 2/1 favorite Murray and 5/2 Pinehurst. Both raced only once, but both impressed in different ways. The son of 2007 Derby winner Street Sense, Murray won his July 25 debut at Del Mar by 10 ¾ lengths.
Pinehurst got bumped out of the gate in his Aug. 1 debut, but the son of Twirling Candy seized the lead at the three-eighths call and held off Enbarr by a half-length.
"They both broke their maidens here and they've both trained well since," Baffert said.
This contender came from 2015 winner Nyquist
Both Murray and Pinehurst come in with high expectations. Murray was a $300,000 purchase at the Keeneland September 2020 Yearling Sale. Pinehurst went for $385,000 at the same sale.
The other single-digit colt to watch is American Xperiment (5/2), who trainer Steve Asmussen supplemented into the field early last week. Shipped from Saratoga, American Xperiment also toured the winner's circle in his debut. That came on July 30 at Saratoga, when he wired six rivals on a muddy track by 5 ¼ lengths.
"He got here Tuesday, he arrived in good order, and we're hoping he runs well. He broke his maiden impressively at Saratoga, so Steve decided to send him out," said Asmussen assistant trainer Sarah Campion, who is handling the son of Nyquist.