Clemson came into the year as one of the favorites to win a national title, a championship it fights for virtually every season. But a number of setbacks ended those dreams early and now the Tigers will attempt to end the 2021 campaign on a positive note when they take on the Iowa State Cyclones in the Cheez-It Bowl.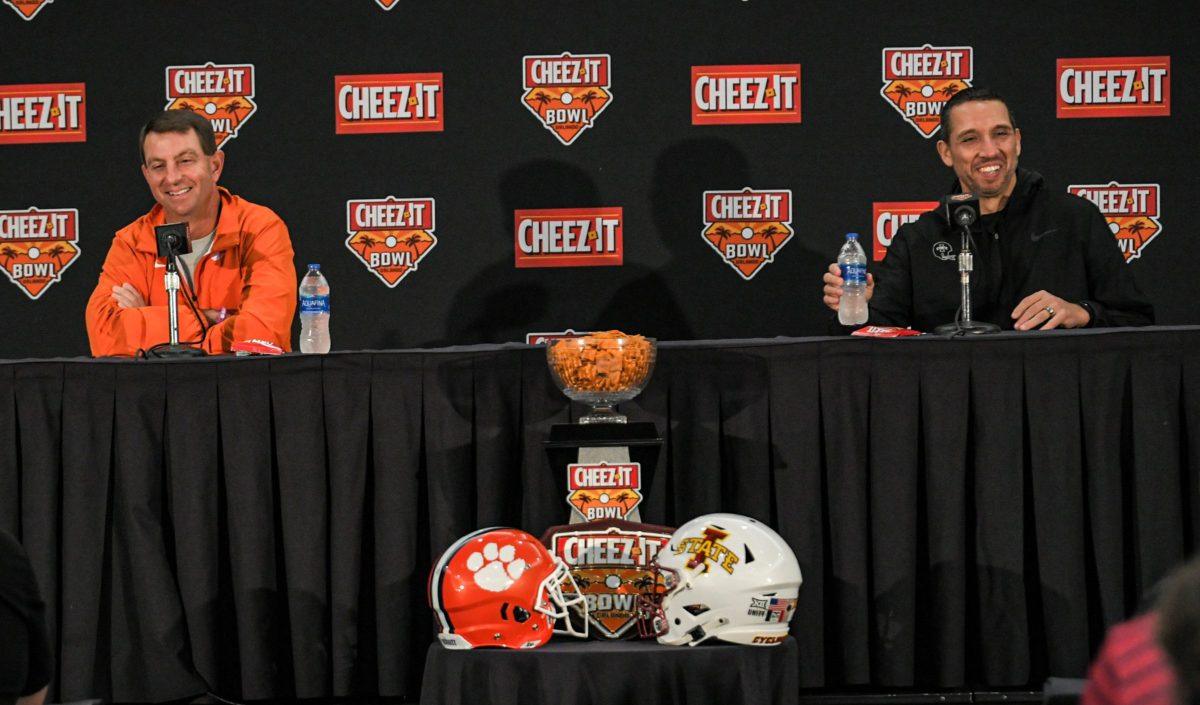 Clemson (9-3) failed to reach the ACC Championship for the first time since 2014, ending a streak of six straight conference titles.
Iowa State tests program against Clemson
That constitutes a clear down year for the Tigers, but head coach Dabo Swinney says his program is doing just fine.
"Good as it's ever been," Swinney told reporters when asked about the current state of the Clemson program. "We've got a great young nucleus of players. Got just about everybody back … we just won nice football games, and you know, we're a couple plays away from being in the playoff as well."
Iowa State (7-5) comes to Orlando for the Cheez-It Bowl following an up-and-down season in the Big 12. A win over Oklahoma State highlighted the schedule, but losses against Texas Tech and West Virginia stopped the Cyclones from competing for a spot in the conference title game.
Now, Iowa State head coach Matt Campbell says the opportunity to play the Tigers makes this final game very meaningful to him and his team.
"That part for me is a great honor to be able to compete, our team and our program, against this great Clemson program and what he's been able to build," Campbell said at a press conference.
Cheez-It Bowl provides tasty matchup for oddsmakers
Oddsmakers see the Cheez-It Bowl as a near tossup. Clemson enters as a 1.5-point favorite according to FanDuel Sportsbook, a testament both to Iowa State's ability to compete with superior teams and Clemson's struggles throughout the season.
That said, Clemson has continued to excel in one area: defense. Campbell knows his team will have to execute well with the ball if it wants to put up points against the Tigers.
"They're elite at almost every position group," Campbell said. "I think when you have really talented players that have great experience like coach has, the way they've played really through the entirety of the football season, it's a great challenge for our football team."
Clemson sees plenty to play for, even if the Tigers typically play for higher stakes than the Cheez-It Bowl. After starting the year 2-2, Clemson rebounded to give itself a chance at an 11th straight season with 10 or more wins. Only two teams – Florida State from 1987-2000, and Alabama from 2008-2021 – have done that more than 10 years in a row.
"You are sitting there at 2-2 in September with a lot of disappointment, a lot of negativity," Swinney told ESPN. "And you really saw the foundation of our program shine and win the day. I'm just really proud of how it's come together and how these guys have stayed together and gotten better and better."