Cade Cunningham, the projected #1 pick in the upcoming 2021 NBA Draft, led the #12 Oklahoma State Cowboys to an upset victory over the #2 Baylor Bears in the semifinals of the Big 12 Conference Tournament.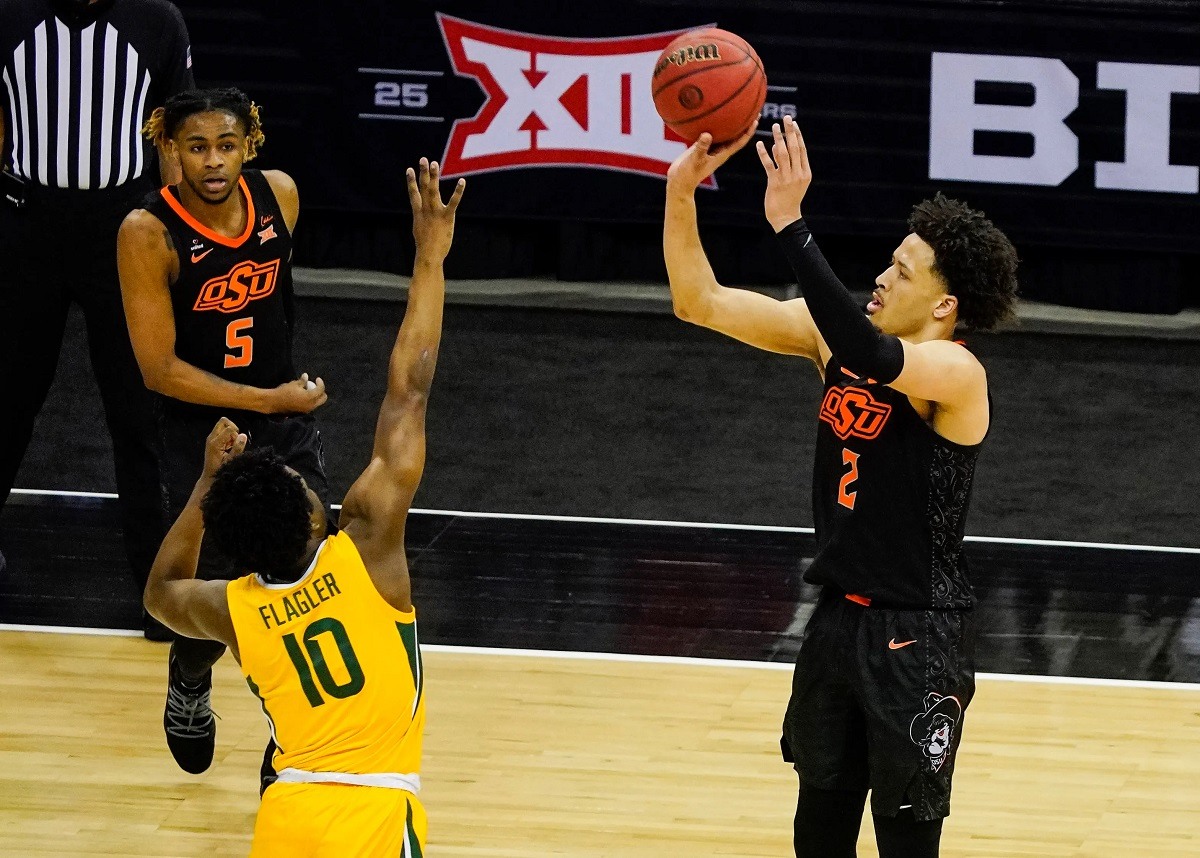 Oklahoma State won 83-74 and Cunningham led all scorers with 25 points. The Cowboys led by five at halftime. They padded their lead with 48 points in the second half against one of the top defensive units in the country.
Oklahoma State will face #13 Texas in the finals of the Phillips 66 Big 12 Championship, hosted in Kansas City. Texas is the favorite over Oklahoma State by -2.5 points.
Texas advanced to the Big 12 finals when Kansas withdrew from conference tournament after a player tested positive for COVID-19. Oklahoma State comes into Big 12 finals on a mission to win three games in three days to secure the conference championship.
The upset win over Baylor should boost Oklahoma State into a potential #2 seed when the March Madness brackets are released on Sunday night. Baylor was an early reveal #1 seed and should retain a top seed despite the loss.
Oklahoma State Mission, CC Superstar
Oklahoma State coach Mike Boynton pulled a move out of legendary coach Jim Valvano's playbook. Before the season began, members of the Oklahoma State basketball team practiced "cutting down the net", which is a tradition in which every member of the championship team takes a turn cutting off a link of the net.
"I believe in the law of attraction," said Boynton after the Baylor win. "You gotta believe something can happen and you gotta see yourself do it before you can put it into action. I wanted to set a tone with this team pretty early about what I expected us to be capable of doing. And then we went to work, and here we are."
"There was actually a vision," said junior guard Isaac Likekele said. "I don't know how to explain it, it was a different feeling this year. Coming in this year, we all had the same belief."
A team can't embark on a magical run in March Madness without a star player to carry them on their back when things go sideways. Oklahoma State has a legit star with Cunningham.
The super-frosh from Arlington, Texas is expected to head to the NBA after a one-and-done season. Cunningham saw his draft stock rapidly rise throughout the season in which he averaged 19.8 points, 6.5 rebounds, and 3.6 assists per game.
"Cade is the best player in the country," Boynton said about Cunningham. "I don't think it's close."
He came into his freshman year as a potential lottery pick, but by the Big 12 tournament, he's now the projected #1 pick in the NBA Draft over Jalen Green (Ignite/G League) and Evan Mobley (USC).
Can't Sic'em Thrice
Baylor defeated Oklahoma State twice during the regular season. In both losses, Oklahoma State did not have a full squad against Baylor. Cunningham missed the first game and Baylor beat them by 15 points. In the second game, the Cowboys were missing Likekele and they lost by 11 points.
Payback can be a nutbuster, especially when the team that lost twice during the regular season enacted revenge in the conference tournament.
Oklahoma State came into the Big 12 conference tournament on a hot streak. They lost just one game (Baylor) since the first week of February and knocked off four ranked foes. They also survived back-to-back overtime thrillers with big wins over #18 Texas Tech and #7 Oklahoma. Cunningham erupted for a season-high 40 points in the OT win over the Sooners.