The March Madness selection committee released early seedings for the top four spots of the upcoming NCAA men's college basketball tournament. The early reveal #1 seeds for 2021 March Madness are Gonzaga, Baylor, Michigan, and Ohio State.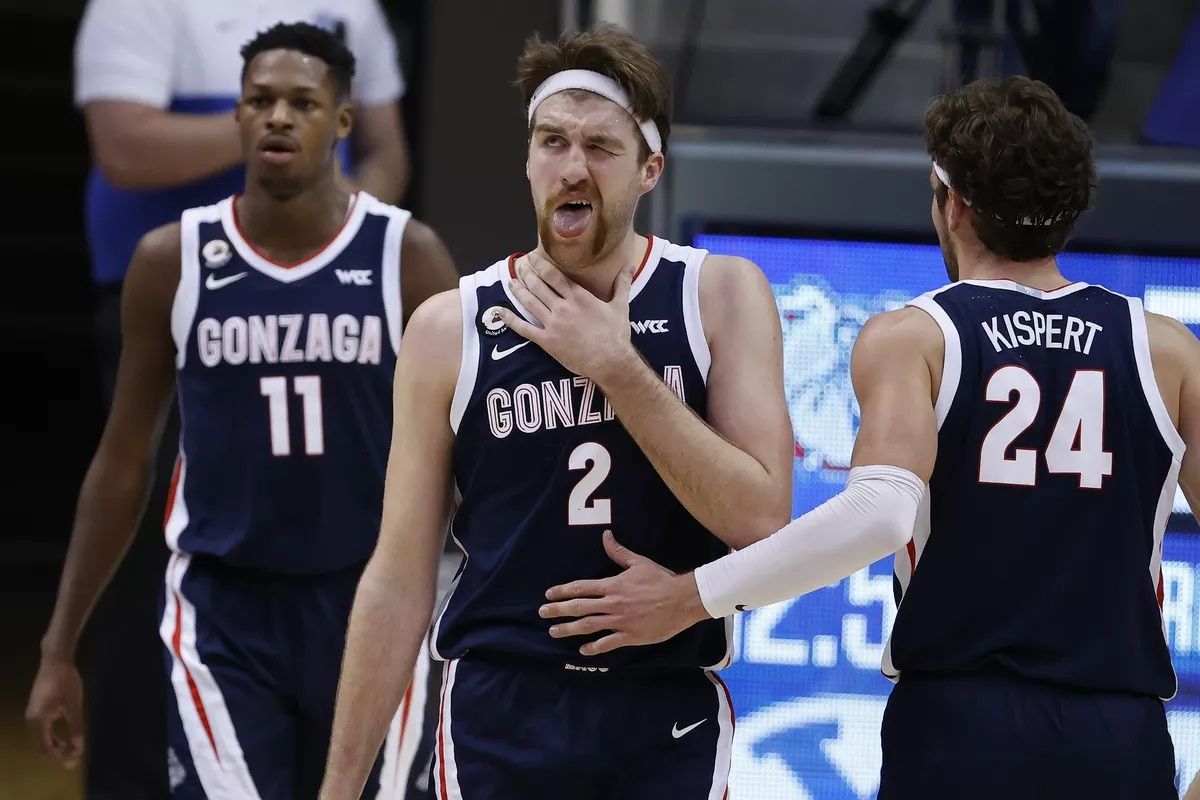 The top four ranked teams in the AP Top 25 poll were each rewarded with a #1 seed. The selection committee hasn't specified regions just yet.
---
2021 March Madness Early Seeds
| | | | | |
| --- | --- | --- | --- | --- |
| | #1 Seed | #2 Seed | #3 Seed | #4 Seed |
| Region 1 | Gonzaga | Alabama | Oklahoma | Iowa |
| Region 2 | Baylor | Illinois | Tennessee | Texas |
| Region 3 | Michigan | Houston | West Virginia | Missouri |
| Region 4 | Ohio State | Villanova | Virginia | Texas Tech |
---
This early reveal occurred before the latest ranking in the AP Top 25 Poll. Since then, both Villanova, Tennessee, Missouri, and Texas Tech lost games.
#1 Seeds: Zags and Baylor vs. Big Ten
The top two teams in the country, #1 Gonzaga (20-0) and #2 Baylor (17-0), are both still undefeated. It would be a shame if either of them bust before the Final Four because a Baylor vs Gonzaga matchup would be must-see TV.
Michigan (14-1), ranked #3 in the AP Poll, returned to the hardwood after a layoff. Juwan Howard's team picked up where they left off with a 67-59 win over #21 Wisconsin. The Wolverines lost only one game this season and earned a #1 seed from the March Madness committee.
Ohio State (17-4), ranked #4 overall, won six in a row, including impressive wins over ranked Wisconsin and Iowa when they were ranked #8 at the time.
DraftKings posted college basketball futures, and Baylor is +250 odds to win the 2021 national championship. Gonzaga is right behind the Bears at +275 odds. Michigan is third with +660 title odds.
#2 Seeds: Illinois Top Deuce
Illinois (14-5), ranked #5 in the latest AP Top 25 poll, was named the top #2 seed in March Madness. They are the third Big Ten team occupying the top five places in the poll. If you haven't seen Ayo Dosunmu (21.3 ppg, 5.1 assists) play, then you better hurry up before he heads to the NBA.
You know it's a weird year in college athletics when #8 Alabama (17-5) has one of the best college basketball teams in the country. High-scoring Bama sits in first place in the SEC this season. Bama went on a 13-2 run since the start of the season with losses against ranked Oklahoma and Missouri.
The Houston Cougars (17-2) are red-hot once again, but they got stiffed by the man … again. The Cougs, with only two losses, should be one of the #1 seeds, but the Big Ten gets more love than teams like Houston from the American Athletic Conference.
Villanova (13-3) is the top Big East team in the mix, but they recently lost to #18 Creighton. The Blue jays are peaking at the right time while Villanova is headed in the wrong direction.
#3 Seeds: Oklahoma Holding Their Own
#9 Oklahoma (13-5) had a big game against Texas canceled due to apocalyptic snow in Texas this week. They upset Texas, ranked #5 at the time, in a 1-point thriller.
#19 Tennessee (15-5) lost four out of its last nine games, including three losses against unranked SEC foes Florida, Ole Miss, and LSU.
#13 West Virginia (14-6) lost to Oklahoma by one point over the weekend in a double-overtime heartbreaker.
During a season in which both Duke and North Carolina are no longer elite, #7 Virginia (15-4) carries the torch for the ACC. They recently lost to #16 FSU.
#4 Seeds: Moving Day for Iowa and Texas
This is the nebulous area for the selection committee because numerous teams could easily be in this juicy spot as a #4 seed. That includes any of the top-25 teams outside the top 10.
#11 Iowa (15-6) has six losses, including two against unranked Indiana, yet get little extra love from the committee because the Hawkeyes are from the Big Ten.
Chaka Smart hasn't made a deep run in March Madness since his VCU days, but if the #12 Texas (13-5) can pull it together, they could make things interesting.
#20 Missouri (13-5) lost three in a row against unranked Ole Miss, Arkansas, and Georgia.
#15 Texas Tech (14-6) suffered another loss against West Virginia, who has their number this season. They're 3-3 in their last six games.
#17 USC (18-3) missed out on the early reveal and bubbled as the #4 seed. They'll be a fun watch in March Madness, especially the top freshman in the country, Eric Mobley.
#22 Loyola Chicago (18-4) would love a #4 seed, but they'll probably get screwed with a #6 seed by the selection committee because of their mid-major bias.