Wayne Middaugh hadn't curled competitively since he suffered a skiing accident that broke his leg in 11 places five years ago. But the 53-year-old has turned back the clock at the Tim Hortons Brier this week, leading Team Howard to a 7-1 record in round-robin play to top Pool A.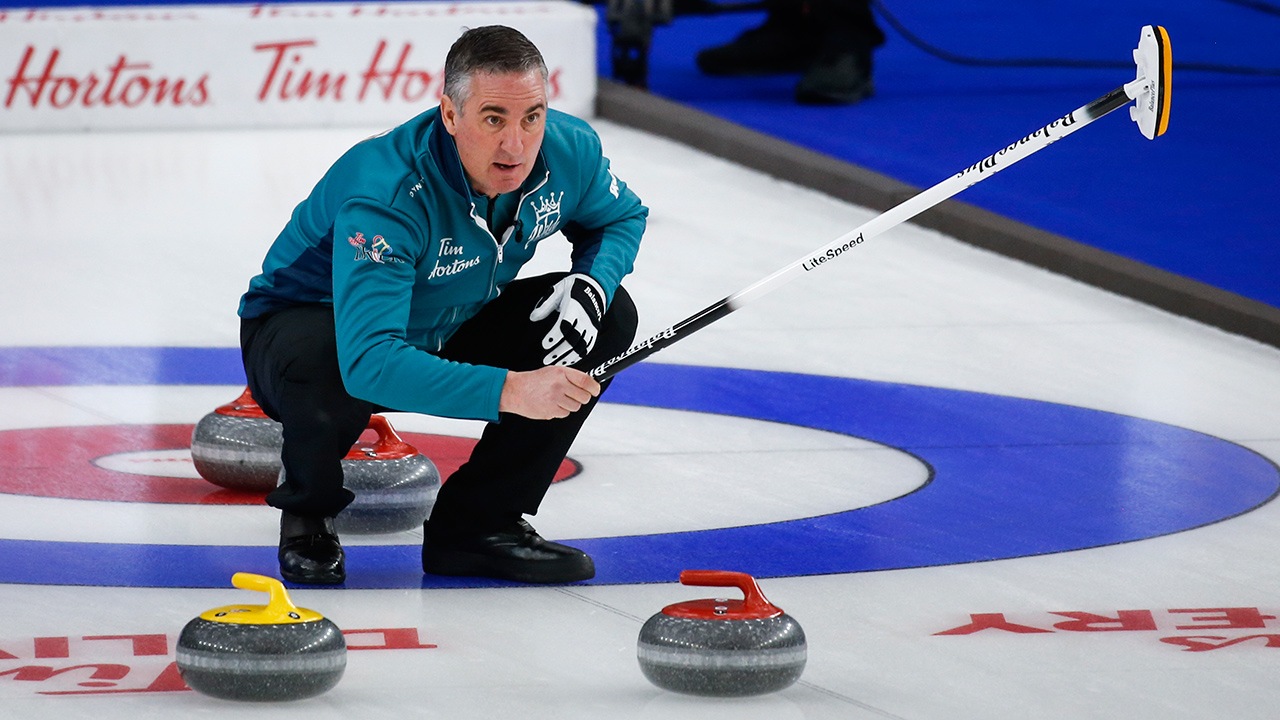 Middaugh joined the Wild Card #3 team as an alternate, but has come off the bench to skip the squad after Glenn Howard suffered a recent snowmobile accident that knocked the 58-year-old legend out of action.
Middaugh wows competitors in Brier return
Middaugh has shown vintage form over his first eight games at the Brier. That form has included some highlight-reel shots, including a double to beat Mike McEwen and Wild Card #1 on Tuesday.
#VintageWayne #Brier2021 pic.twitter.com/5tlEHQATOU

— TSN Curling (@TSNCurling) March 9, 2021
"It's awesome, it's unbelievable, Middaugh told reporters earlier this week. "You play your whole life as a kid to get to play in the Brier, and here I am. I don't know how I got here, but here I am."
Other players have marveled at what Middaugh has accomplished so far at the 2021 Brier.
"I think he's the most talented player I've ever seen play the game, so it's great seeing him out there," Ontario skip John Epping said, via SportsNet. "He's looking like he's throwing it great and you can see his intensity level hasn't changed at all. You can see he still hates to lose and he loves to win, so it's awesome watching him out here again."
Meanwhile, in Pool B, Kevin Koe and the Wild Card #2 team topped the group with its own 7-1 record. Koe's rink was 6-0 at the Brier before running into Epping (6-2), but bounced back with a win against Quebec to wrap up the first round and maintain their position at the top of the field.
"Kev's the type of player who looks like he gets better with age. He doesn't say a ton out there," John Morris, who plays second for Koe, told SportsNet. "The team dynamic is wonderful. It's a seamless fit and feels great to be playing together again."
Koe favored heading into Championship Pool
Koe enters the Championship Pool as the +160 favorite to win the tournament, according to Brier odds from online sportsbook Coolbet. Brad Gushue and Team Canada sit right behind them at +350 after posting a 6-2 record, with Alberta's Brendan Bottcher (+450) and the Middaugh-skipped Team Howard (+550) next on the list.
---
2021 Tim Hortons Brier Odds (via Coolbet)
Team
To Win
To Make Playoffs (Top 3)
Wild Card 2 (Koe)
+160
-714
Canada (Gushue)
+350
-167
Alberta (Bottcher)
+450
-133
Wild Card 3 (Howard)
+550
-167
Ontario (Epping)
+750
+175
Saskatchewan (Dunstone)
+850
+175
Northern Ontario (Jacobs)
+1100
+250
Manitoba (Gunnlaugson)
+1400
+400
---
The fact that Koe and Middaugh lost only one game each could be critical. Only three teams will make the Brier playoffs this year, and records carry over to the Championship Pool, providing a big advantage for those who limited their losses before the four crossover games.
Other teams have a lot of ground to make up in the next four rounds. Jason Gunnlaugson and Manitoba got off to a 5-0 start, but lost three straight games to limp into the Championship Pool, lengthening their Brier odds to +1400. Brad Jacobs and Northern Ontario (+1100) find themselves with the same 5-3 record and needing to pile up wins for a shot at winning the tournament.