You must root for a musher who named one of his lead dogs after a character from "Dazed and Confused", the 1993 stoner film by Richard Linklater. Brent Sass and his lead dogs — Slater and Morello — held off five-time champion Dallas Seavey and won the 2022 Iditarod, which was the 50th running of the grueling, yet legendary Alaskan sled dog race.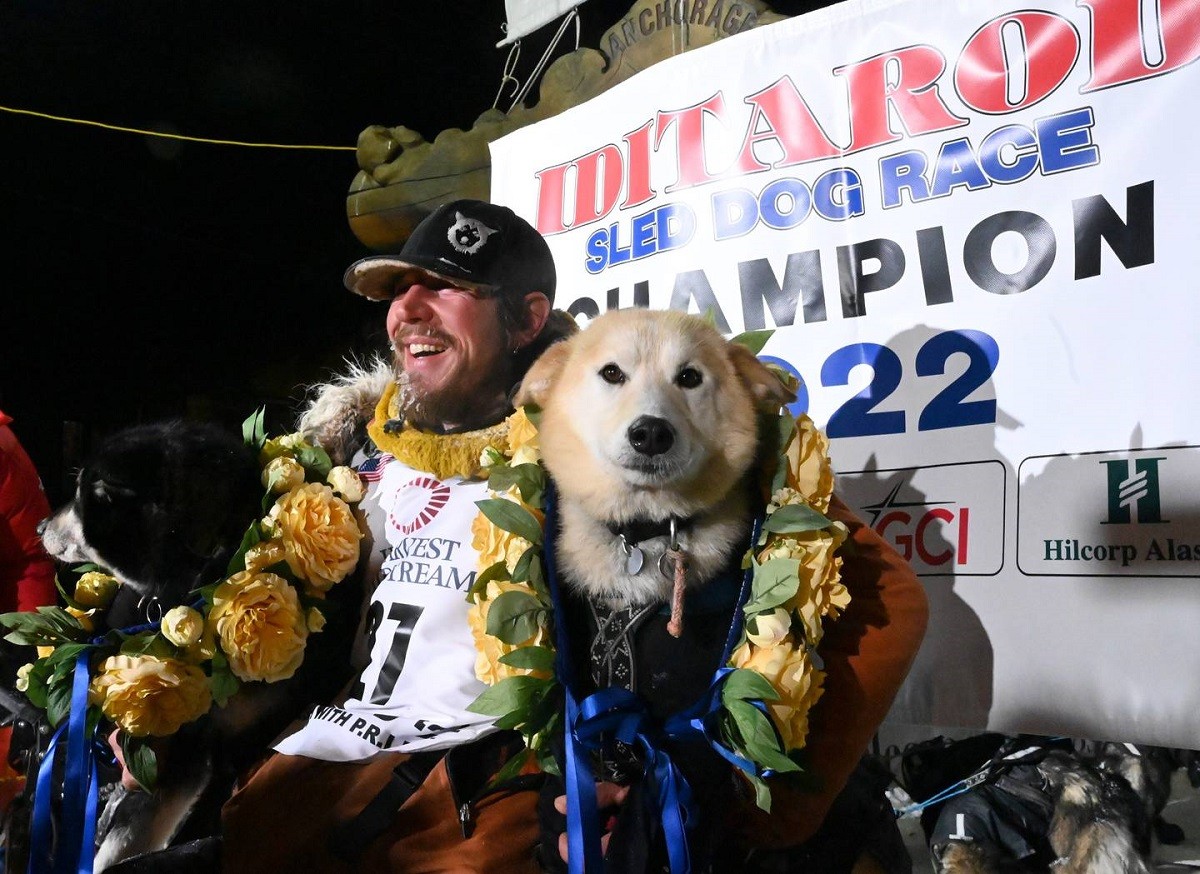 Sass crossed the finish line in Nome at 5:38am local time for his first-ever victory in the Iditarod. Sass and his 11 dogs in harness finished the 1,000-mile trek through the Alaskan wilderness in just under 8 days, 14 hours, and 39 minutes.
"It's awesome, a dream come true," said Sass. "A lot of things have to come together. You gotta have a lot of luck, you gotta be prepared and you gotta execute perfectly."
Sass collected a first-place payout worth $50,000.
Seavey, the 2021 champion and five-time winner, attempted to set the all-time Iditarod record with a sixth victory. However, Seavey struggled to keep up with Sass due to his dogs not eating at different times along the trail between Anchorage and Nome. Seavey arrived 98 minutes after Sass. He settled on a runner-up finish with only seven dogs in harness.
The 50th running of the Iditarod started with 49 mushers and only five mushers and teams dropped out.
Final Stretch: Sass with 3-Hour Lead
Sass, 42, was the first musher to reach Unalakleet and held a 14-mile lead over Seavey. The locals in Unalakleet awarded Sass with the Gold Coast award, which also comes with one ounce of gold as a prize.
In the final stretch of the race out on the Bearing Sea, the elements were the biggest competitor for Sass. The trail took the mushers onto the bleak sea ice where they faced ground blizzard conditions.
"It's windy and it's a pain, but it's nothing we can't run through," said Seavey during a rest on the ice.
"Windy and cold on the ice," said Sass. "But the race is not over."
"I gained a little bit on Brent, but not much," added Seavey. "I could gain some time between now and the finish. The reason we're behind by three hours is because we have sick dogs that were not eating. It's really tricky when you have a three-hour deficit without an ace in the hole."
Slater, Morello, and Sass
Sass originally grew up in Minnesota but moved to Alaska to ski competitively in college. He stuck around Alaska and fed his competitive juices with sled dog racing.
In 2012 during his first Iditarod, Sass was named the Rookie of the Year after a 13th place finish. Last year during a shorter course due to the pandemic, Sass finished a career-best with a third-place finish. He held a late lead, but was overtaken on the trail by Seavey.
At the 2022 Iditarod, Sass secured the lead halfway through the trail this year and had not seen another team since his mandatory 24-hour break, which he took in Cripple. Sass and his dogs held off a late charge from a short-handed Seavey.
"Being able to sort of keep Dallas at bay the whole entire race and race against the best guy in the business, that just makes this victory even sweeter," added Sass.
Sass raises and trains his dogs since they were puppies. He took inspiration from characters from his favorite films — "Dazed and Confused" — to name his litter of puppies. He's also a fan of "Orange Is the New Black" and named another litter based on characters from that popular Netflix series.
"Every one of these dogs I've raised from puppies, and we've been working towards this goal the whole time, and we're here," explained Sass. "It's crazy. It's all on them. They did an excellent job the whole race."
With Slater and Morello leading his sled dog team, Sass held off one of the greatest all-time mushers.
Check out OG's complete list of Iditarod winners and lead dogs.