The very aptly named Modern Games "won" the finale on Friday's Breeders' Cup five-race, all-juvenile card, the Breeders' Cup Juvenile Turf. Except bettors didn't collect a dime from his score.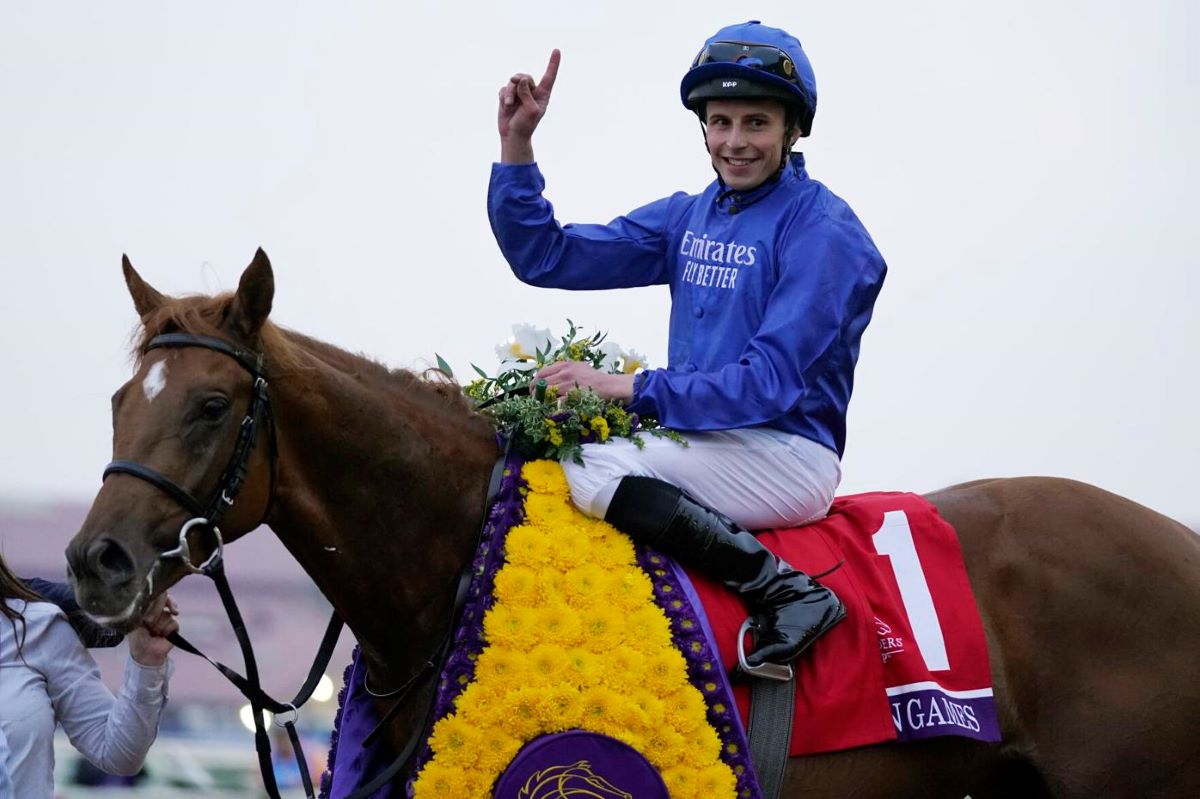 Fasten your seat belts. This Breeders' Cup Juvenile Turf will live in betting infamy for a long time. How many races did you ever see where a horse scratched, then reinstated and allowed to run for purse money only – then win? And how many times did you see a horse and his connections ushered to the winner's circle to a blizzard of boos?
The nearly 21,000 fans at Del Mar Friday – not to mention the hundreds, if not thousands – of ADW or OTB bettors with Modern Games on their tickets, felt like the Breeders' Cup and racing officials played head games with them. How does this happen? How do you allow a scratched horse back into a race, but don't allow pari-mutuel wagering on him?
A lot of people got their first taste today of what has been the standard operating mentality at so many racetracks — consequences so often only fall on the bettor. The track still gets the rake, the connections still get the purse, and the bettor gets screwed.

— Jeremy Balan (@jeremybalan) November 6, 2021
The multitudes with the 9/5 favorite on their tickets – many having him as the final key to a Pick 4, Pick 5 or Pick 6 – would love to know the answer.
Before we chronicle that answer and before we chronicle how this blew up Twitter and sent legions of angry bettors cursing everything from the sport itself, to California horse racing, to the Breeders' Cup, let's set the scene. It was a wild Friday finish to a relatively routine day of racing, where chalk prevailed in the Breeders' Cup Juvenile (Corniche) and Breeders' Cup Juvenile Fillies (Echo Zulu).
That routine slammed into the gate about as hard as Modern Games did. And that's what started this fiasco.
A farcical chain reaction
Standing in post 1, Modern Games was scratched from the race after he reared up in his starting stall and slammed against the back of the gate. Albahr, his stablemate in the next post, got spooked, threw his jockey, then flipped over. He got lodged underneath the starting gate and because he flipped over, became a mandatory scratch.
Albahr's jockey, Frankie Dettori, was unhurt, as was the horse. An assistant starter was taken by ambulance to a local hospital with an unspecified injury.
The on-site veterinary staff at that point reported that Modern Games was scratched as well. At that point, the stewards took him out of the betting pools. Then, after a 15-minute delay, the veterinarians at the gate declared Modern Games fit and allowed to race. The Breeders' Cup is operated under California Horse Racing Board rules and nowhere in the CHRB rulebook does it require horses breaking through gates to be automatically scratched.
Modern Games did not break out, he was let out
But Modern Games didn't break through the gate. An assistant starter sprung him early. California Horse Racing Board on-site veterinarian Chuck Jenkins did not examine the horse, assuming he broke through the gate.
As the Associated Press reported, Jenkins and fellow vet Dana Stead were behind the gate and did not see the assistant trainer open the gate to let Modern Games out.
"He was never touched, so there was no need to check him," Modern Games' jockey William Buick told reporters after the race. "There was really no need for what happened to happen. It was unfortunate, I think we all understand that, but thankfully, everyone came around to do the right thing and let the horse run. Because that was the only fair outcome."
Modern Games bettors were furious
Bettors thought otherwise. Especially after Modern Games came from behind in mid-stretch, passing Tiz the Bomb, Mackinnon and Grafton Street (who finished 1-2-3 for pari-mutuel purposes) for a 1 ½-length victory. But under CHRB Rule 1974 B, Modern Games was allowed to run for purse money only.
@Bet365 either you treat Modern Games as a winner or a scratched horse – it can't be neither and the horse cannot be made a loser as the horse did not lose, punters screwed due to stupid decisions made @DelMarRacing #ModernGames

— SarahJ2020 (@J2020Sarah) November 6, 2021
Rule 1974 B states: "If a horse is removed from the wagering pool due to a totalizator error, or due to any other error, and neither the trainer nor the owner is at fault, the horse shall start in the race as a non-wagering interest for the purse only and shall be disregarded for pari-mutuel purposes."
The Breeders' Cup issued a statement punting the ball back to the CHRB, citing Rule 1974 B, while adding the following:
Statement from the Breeders' Cup:https://t.co/9eZF6pYlI9

— Breeders' Cup (@BreedersCup) November 6, 2021
"The decisions leading up to today's Breeders' Cup Juvenile Turf were made under the authority of the CHRB. Please refer to the advisory put out by the CHRB earlier this evening for additional details and direct any further questions directly to them. We thank the CHRB for their thorough review of this situation, and we regret the impact this has had on the betting public."
Tiz the Bomb drops a payoff bomb on gleeful bettors
As far as that betting impact, 7/1 Tiz the Bomb was declared the "winner" for pari-mutuel purposes, paying $17.60, $7.40 and $5.20. Mackinnon (6/1) paid $6.60 and $5.40. Grafton Street, who went off at 22/1, paid $5.40.
Outrageous decisions RE: Modern Games. What footage were they watching to scratch him? And how is it possible that Charlie Appleby wasn't told anything while his horses were in danger? This is the biggest meeting in the world, no?

— Anthony Dunkley (@AJD1Racing) November 6, 2021
Meanwhile, in races featuring far less pari-mutuel drama, Echo Zulu won her third consecutive Grade 1 with a resounding 5 ¼-length blitzing of the Juvenile Fillies. The daughter of Gun Runner basically clinched the Eclipse Award for 2-Year-Old Filly of the Year with her victory. She paid $3.60 as the 4/5 favorite.
In the Juvenile, Bob Baffert's Corniche remained unbeaten with his gate-to-wire 1 ¾-length victory over Pappacap. The win gave Baffert his 18th Breeders' Cup victory and jockey Mike Smith his record 27th. Corniche paid $4.80 as the 7/5 favorite, becoming a millionaire with the $1,040,000 paycheck. That payday will have to suffice, since the Baffert-trained Corniche is ineligible for Kentucky Derby points.
Bobby Flay whips up another win
Celebrity chef Bobby Flay's Pizza Bianca captured the Juvenile Fillies Turf. At 9/1, she returned $21.80 for her half-length victory and trainer Christophe Clement's first Breeders' Cup victory. And Twilight Gleaming opened the Breeders' Cup card with a half-length victory over Go Bears Go in the Juvenile Turf Sprint. That victory paid $12.40, giving trainer Wesley Ward his third consecutive win in this event.