This was a Grade 1 stretch duel playing out in a Grade 3 Kentucky Derby prep; one vaulting Medina Spirit into the front row of Derby contenders as we enter February.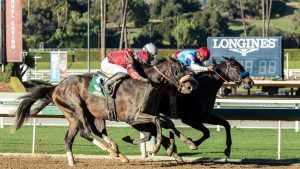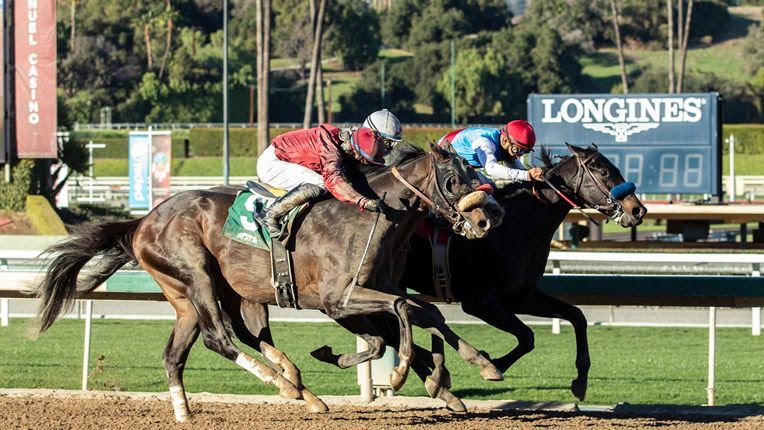 And once again, Bob Baffert holds yet another ace up his sleeve, along with his 10th Robert B. Lewis title.
After putting away stablemate Spielberg, Wipe the Slate, and Parnelli, Medina Spirit survived a furious cavalry charge from Roman Centurian and Hot Rod Charlie. He held the pair off over the last quarter-mile of Saturday's 1-1/16-mile Lewis at Santa Anita. The three hit the wire close enough to throw a blanket over them, and close enough to require a photo finish.
That finish showed Medina Spirit a neck in front of Roman Centurian. Hot Rod Charlie, sandwiched between Medina Spirit on the rail and Roman Centurian in the three-hole, finished a nose behind the latter in third.
Derby Futures Bettors Should Watch Medina Spirit
"He had every reason to give it up late down in the stretch when those horses came to him. I thought he was beat," Baffert said after the race. "I thought they were going to get by and he wouldn't let them, he fought on."
With this, Medina Spirit's Circa Sports Kentucky Derby futures odds dropped from 30/1 to 22/1. William Hill Nevada took a more modest slice, from 22/1 to 20/1. But big-picture wise, Medina Spirit's first stakes victory showed Derby watchers plenty.
It showed a horse possessing tactical speed. En route to a 91 Beyer Speed Figure, Medina Spirit went out quickly from the rail, perhaps too quickly for Baffert's liking. A rainy week deadened Santa Anita's dirt track, depressing fractions and creating a tiring journey. Yet, jockey Abel Cedillo took Medina Spirit out quickly after a slow start. Baffert, who said leading from the rail that early "wasn't ideal," said after Cedillo stepped on the gas, he couldn't back off.
Medina Spirit Showed Plenty of Grit
Medina Spirit turned back his challengers in waves. First, it was Parnelli and Wipe the Slate stubbornly sticking to his flank. At the top of the stretch, Roman Centurian and Hot Rod Charlie replaced those two. And neither went away.
This is where Medina Spirit showed – once again – his closing ability. Every time it looked like one of his pursuers would pass, Medina Spirit surged forward again. He kept his eyelash lead all the way down the stretch.
We saw this closing ability in the Sham earlier this month, where Medina Spirit nearly reeled in more heralded stablemate Life Is Good. He lost that race by only three-quarters of a length. This horse understands what it takes to prevail. That can't be overestimated at this stage of the season.
Still a Learning Process — Even for Baffert
"We're going to work with him and learn about the horse," Baffert said. "A race like this gives them a good foundation, that's why I decided to run him there. I'd rather run him in a race and keep breezing him, getting him ready. He's going to get a lot out of this race, but I think you have to take him pretty seriously now. Those are two good horses that he beat, so I'm really fortunate."
As for Baffert, it gives the Hall of Fame trainer his usual wealth of options going forward. He prefers splitting his Derby contenders up as long as he can. This means one of his armada, Life Is Good, Medina Spirit, even the manic-depressive Spielberg, will likely head to Oaklawn Park for the Arkansas Derby in April. The Santa Anita Derby awaits at least one Baffert charge.
Speaking of Spielberg, he finished a well-beaten fourth – 11 lengths behind Hot Rod Charlie. The manic effort he showed winning the Los Alamitos Futurity turned depressive here. He never threatened.
On-Again, Off-Again Spielberg Was Off Again
"He was never really in it. He didn't like dirt in his face. He didn't show up, but they'll do that," Baffert said.
Baffert told Santa Anita's Ed Golden he wasn't sure when his armada would run next. Santa Anita's next major Derby prep is the Grade 2 San Felipe on March 6. That's the main prep for the Santa Anita Derby.
That would be a logical place for Medina Spirit, if Life Is Good isn't there first. Regardless, Medina Spirit proved he's one for horseplayers to watch wherever he runs next.
"It puts him right up there with what's out there now," Baffert said. "We still haven't seen any American Pharoahs or Justifys yet, but Medina Spirit's win makes Life Is Good look better too. This next couple [of] months, you'll see a lot of horses change."