Anthony "Lionheart" Smith ended a two-fight losing streak on Saturday, submitting Devin Clark via a triangle joke halfway through the first round of their UFC on ESPN 18 Main Event.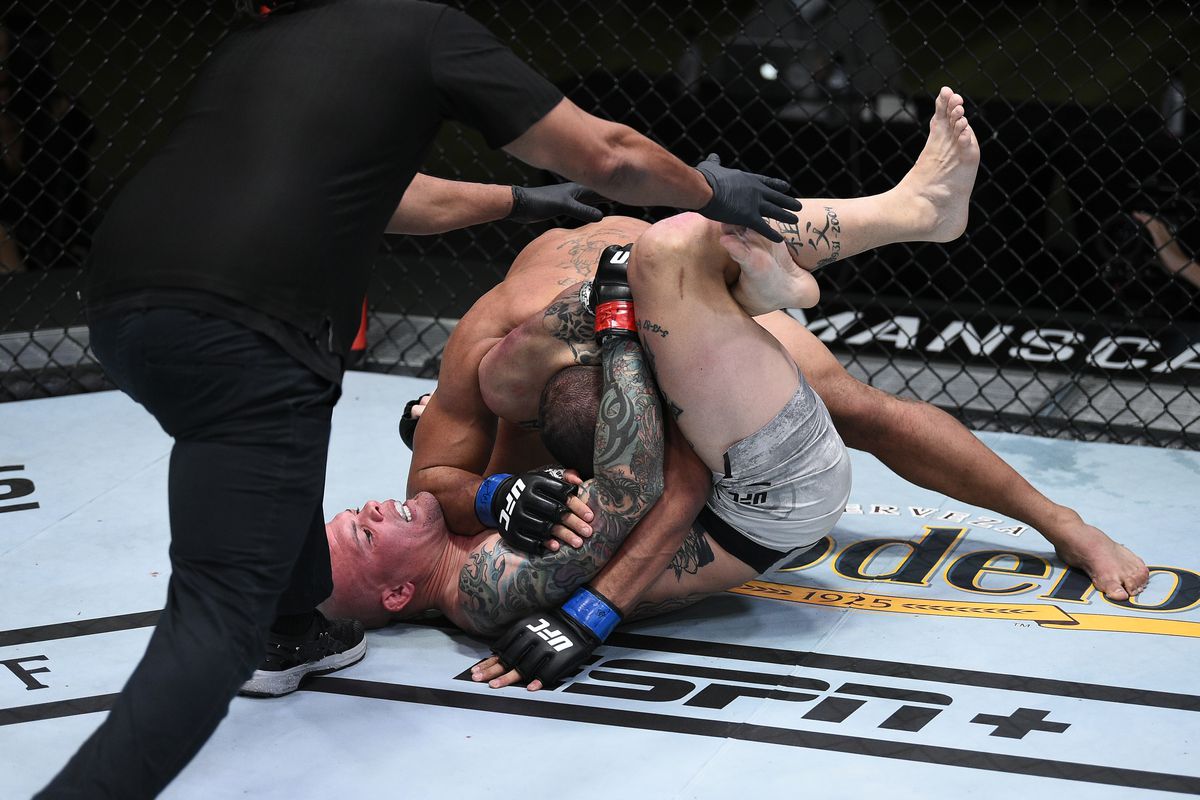 Clark opened the fight by rocking Smith with an overhand right and looked like he might score an early finish of his own.
Smith Makes a Statement with Decisive Win
Smith (34-16) survived the initial onslaught, then recovered by taking Clark down with a body lock. While Smith landed on the bottom, he was in control. "Lionheart" set up a triangle choke using his legs, leading Clark to tap out seconds later.
Smith lost his last two fights to Glover Teixeira and Aleksandar Rakic. This was his third fight of 2020, as he continues to pursue a busy schedule in the UFC.
Smith and Clark ended up in the main event after Curtis Blaydes, who was supposed to fight Derrick Lewis in a critical heavyweight clash, tested positive for COVID-19. The Smith vs. Clark bout moved into the headline role, and both fighters insisted that it be made a five-round bout, even though there was every chance the fight wouldn't go that far.
"He looked awesome," UFC president Dana White told reporters at the postfight press conference. "He came in to make a statement, and message received."
UFC Swaps Middleweight Fighters to Salvage Dec. 5 Main Event
COVID-19 continues to disrupt the UFC's matchmaking plans, as Kevin Holland has stepped out of the Dec. 5 main event due to his own positive test.
I have been pulled from my main event bout next weekend due to a positive pre fight covid test. Hoping to test clean and get back inside the cage ASAP. pic.twitter.com/KfMF4jQFQg

— Kevin Holland (@Trailblaze2top) November 28, 2020
The UFC had scheduled Holland to fight Jack Hermansson (21-5) next Saturday night. Instead, Marvin Vettori will take that fight. Vettori (15-4-1) has won his last three bouts.
Vettori was planning to fight Ronaldo "Jacare" Souza (26-8) at UFC 256 on Dec. 12. Instead, Holland (20-5) will now fight Souza, presuming he clears all COVID-19 protocols in time to do so.
Chandler Likely to Debut on Fight Island
Michael Chandler made waves when he signed with the UFC, as the company immediately thrust him into the backup position for the Khabib Nurmagomedov vs. Justin Gaethje main event at UFC 254. But, the former Bellator champion hasn't lined up his first UFC fight yet.
According to White, there's no rush to push Chandler into anything, especially after he prepared as though he would have to fight for the title in October.
"The problem with Michael Chandler right now is he stepped up for that fight and he cut weight, so he can't turn around as fast as these other guys can right now," White told reporters after UFC on ESPN 18. "So, no hurry, take his time, get his body back together. We'll get him something soon."
According to White, Chandler may well get his chance sometime in early 2021, when the UFC returns to its Fight Island facility in Abu Dhabi.