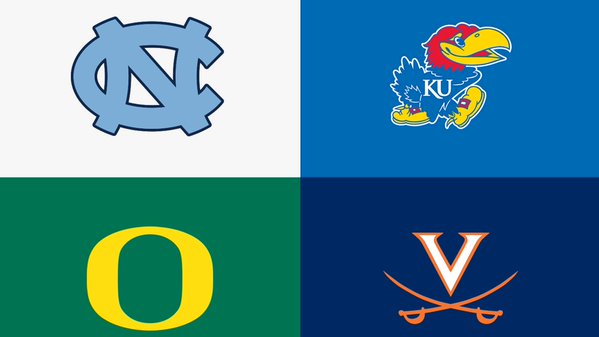 The NCAA men's basketball bracket is complete. Though each team's goal differs, 68 college programs are vying to survive March Madness according to their own ambitions and potentially reach the Final Four in Houston, Texas.
The NCAA tournament officially begins Tuesday with the First Four play-in games, but March Madness really gets underway on Thursday with the First Round showdowns. With no squad dominating men's college basketball during the 2015-16 season, experts predict this year's Big Dance could be one of the more upset-filled tournaments ever.
"If the regular season was this chaotic, surely the NCAA tournament would be complete mad," ESPN.com stated.
Seven teams held the #1 ranking in the Associated Press at one point during the regular season, but Las Vegas only has three of the 68 total teams with a realistic and viable chance at winning the National Championship.
Vegas Knows Best
Before you swiftly complete your bracket and pay your $20 office pool entry, you might want to consider where Vegas is placing its money. We're not saying that adhering to the sports lines in Nevada will assure that Bob from accounting won't win the bracket pool challenge once again, but it should help considering bookmakers do this for a living.
According to the aggregated odds in Nevada, number one seeds Kansas (30-4) and North Carolina (28-6), along with #2 seed Michigan State (29-5), are favored to win the title at odds of 5/2. The two other regional #1 seeds, Virginia (26-7) and Oregon (28-6), are listed respectively at 15/1 and 18/1.
Kentucky (26-8), a fourth seed out of the east region, sneaks into the top echelon of odds at 12/1. 
If you're the consummate gambler looking for a thrill featuring bigger odds, the following list of schools might be right for you. At the Westgate Las Vegas SuperBook, UNC-Ashville, Weber State, Austin Peay, Hampton, Florida Golf Coast, Fairleigh Dickinson, Southern, and Holy Cross are listed at 9,999/1.
#1 Seed Upset
Various sports experts are going so far as to say this might just be the year a #16 seed finally beats one of the four #1 seeds.
It's never happened in the 77 years of the NCAA men's basketball tournament, but this year's tourney has already made history. For the first time, each of the 68 teams in the field enters the fray with at least four losses.
The average margin of victory by #1 seeds over #16 teams is a whopping 21.0 points during the last six NCAA men's basketball tournaments. But that's not to say it couldn't happen.
CBS Sports columnist Sam Vecenie argues that since this year's top seeds are perhaps the weakest in recent memory, the time is opportune for a 16 to triumph. "There's talent on the No. 16 line this year, and it might not be as fun to be a No. 1 as it's been in the past," Vecenie opined.
Of course, that doesn't mean Vecenie thinks it will actually happen. Though the field has minimally tightened in talent, the odds remain dismal for a 16 seed Cinderella story to come true.