Zion Williamson injured his knee on the first play of the game and without Williamson in the lineup, #1 Duke lost a crucial home game to ACC rival #8 North Carolina 88-72.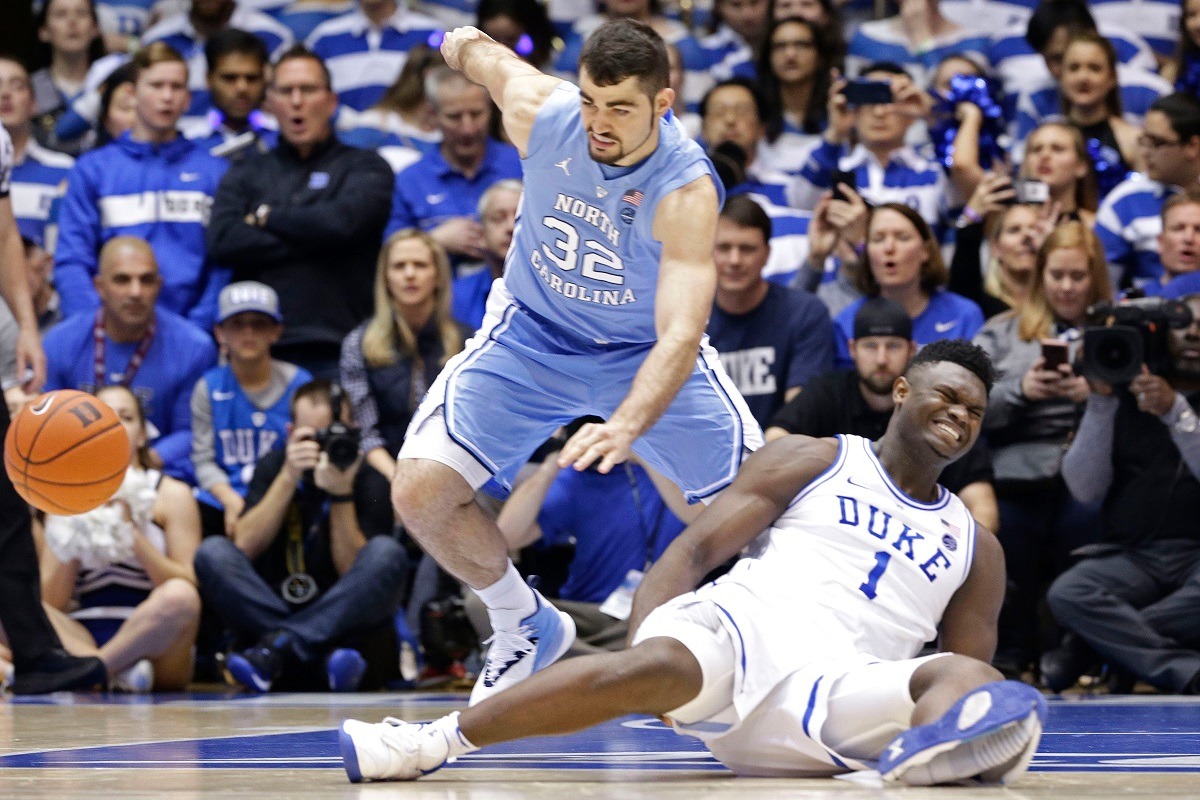 Williamson, Duke's superstar projected to be the #1 pick in the 2019 NBA Draft, played less than 40 seconds before he injured his knee due to a freak accident in which his sneaker busted at the seams. Without Williamson, Duke looked totally lost.
North Carolina (21-5) went into hostile territory and blew out Duke (23-3) by 16 points. Luke May, senior forward from North Carolina, led UNC with 30 points and 15 rebounds. Senior guard Cameron Johnson added 26 points.
Duke and UNC are now tied with #3 Virginia for first place in the ACC with an 11-2 conference record.
Zion's Sneaker Explosion
Zion Williamson is a freak of nature and it too a freak accident to bring down the giant. Williamson is easily the best and most-exciting collegiate player in over a decade, possibly more. If it were not for the one-and-done rule, Zion would be playing in the NBA right now.
Coming into the UNC/Duke game, Zion was only a few percentage points behind teammate RJ Barrett for the team's leading scorer. Zion had been padding his highlight reel all season with spectacular dunks. NBA fans have been tuning into his games to get a glimpse of the lottery pick. NYC basketball aficionados have been drooling at the prospect of the hapless Knicks drafting Zion with the #1 pick.
Simply put, Zion is the best player on the best team in the nation. But he had yet to experience the greatest rivalry in all of sports: North Carolina vs. Duke. The ACC rivals squared off for their first of two regular season games. Duke hosted the first one and they were 9-point favorites heading into Cameron Indoor Stadium.
And then it happened. I'm sure there will be a 30 for 30 documentary about Zion's sneaker explosion. UNC scored on their opening possession. On Duke's first possession of the game, Zion didn't even get a shot off before he went down 38 seconds into the game.
"I was right there and I didn't really see what happened," said teammate Tre Jones. "I just thought he'd twisted his ankle or his knee. But when he took his shoes off, I thought maybe something else was going on."
Replays showed that Zion's left sneaker broke apart as he planted his left foot. He slipped and injured his right knee while trying to brace himself. He tumbled to the floor and every Duke fan inside Cameron Stadium gasped in horror.
Duke Shutdown
Once Zion left the lineup, RJ Barrett and Cam Reddish stepped up for a combined 60 points. Barrett led all scorers with 33 points. Reddish added 27 points. However, the rest of the team scored only 12 points.
"It put everyone in the position of having to figure it out," said Duke head coach Mike Krzyzewski. "Playing without him, while playing a really good team. It's not a good situation. At halftime, the realization that he's not there settled in. And we played horrible to start the second half."
Carolina attacked the basket without Zion roaming the lane on defense. But it was his overall court presence that Duke could not figure out how to replicate on the fly.
"It was the first time we've not played with him all season," Reddish said about Zion. "We miss him as a player, but it's not just that. He is also the source of our energy. So, without him on the floor, that energy is missing."
Tre Jones had an awful night hitting only 1-of-11 shots. The tandem of Reddish/Barrett shot poorly from long range with a combined 7-for-23 from three-point land. Overall, Duke shot 20.5 percent from downtown on only 8-for-39 shooting. Duke's bench went 0-for-10 from beyond the arc. As bad as they were, Duke shot better than North Carolina. UNC hit only 10 percent of their treys on 2-for-20 shooting.
UNC's defense did an excellent job defending everyone aside from Barrett/Reddish. Then again, they missed a combined 16 shots from long range.
Hot Hot Hot Ticket in Durham
In one of the biggest rivalry games of the college basketball season that included President Barack Obama in attendance, ticket prices rivaled the Super Bowl. No one wanted to miss Zion Williamson's first game against rival North Carolina.
Tickets on the secondary market were going as high as $10,000. The average price for Duke/UNC hovered around the $2,500 range. That was on par with Super Bowl ticket prices.
If you were one of the people who bought a scalped ticket to specifically see Zion Williamson the dunk master up close and personal, you definitely did not get your money's worth.
President Obama tweeted, "Zion Williamson seems like an outstanding young man as well as an outstanding basketball player. Wishing him a speedy recovery."
The former president saw the sneaker explosion from his seat underneath Duke's basket. President Obama apparently shouted words of encouragement toward Williamson as he walked off the floor and headed into the locker room with the training staff.
After the game, Coach K said that initial tests reported that Zion had a mild knee sprain. His status is unknown for the next game and remainder of the season.