Left-handed pitcher CC Sabathia re-signed with the New York Yankees for a one-year deal worth $8 million.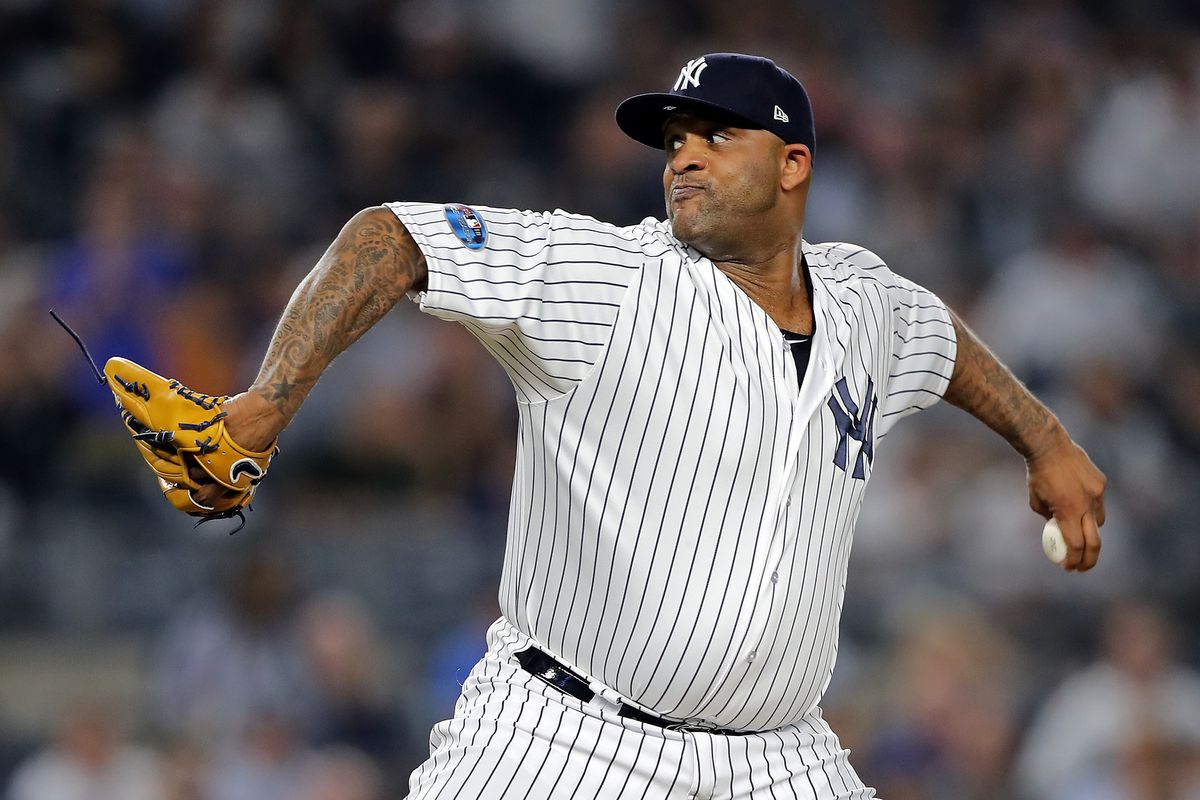 The 38-year old Sabathia, a member of the Yankees since 2009, will play his 19th and final season as a professional baseball player.
CC's Swan Song
On Wednesday, Sabathia released a video declaring that 2019 will be his final season before retiring.
"Back for one more year!" Sabathia declared. "This will be it. Nineteen years."
Despite interest from Oakland and Houston, Sabathia wanted to end his career in New York with the Yankees. In 2009, Sabathia joined the Yankees as a free agent and won his only World Series with the team that season. He also won the 2009 ALCS MVP.
Sabathia began his career in Cleveland and played a half of a season in Milwaukee with the Brewers after he was traded in 2008. In 2007, Sabathia won the Cy Young with the Indians.
For the 2017 season, Sabathia earned $25 million. He took a pay cut last season and signed a one-year deal worth $10 million, plus incentives. For his final season, he agreed to a 20% pay cut without any incentives.
Over the 2018 season, Sabathia started 29 games and finished with a 9-7 record. His ERA was 3.65, which was approximately his career average. His WHIP was 1.31 and he finished the season with 140 strikeouts in 153 innings.
Back for one more! #Yankees #R2C2 pic.twitter.com/YvDdpgexVu

— CC Sabathia (@CC_Sabathia) November 7, 2018
Chasing 250 and Cooperstown
Over his 18-year career, Sabathia is 246-153 with a career ERA of 3.70. Bartolo Colon is the only active pitcher with more career wins. Sabathia's closest competitor is Justin Verlander with 204 wins.
Sabathia is tied for 51st place on the all-time wins list with Amos Rusie and Joe McGinnity.
Only 12 other lefties have won more games in the history of baseball than Sabathia. If Sabathia passes 250 wins, he should be a lock for the Hall of Fame.
CC won 129 games with the Yankees for a total record of 129-80 in ten seasons in pinstripes. Sabathia needs ten more wins to catch former teammate Andy Pettitte.
One Last World Series Push
The Boston Red Sox won the World Series this season, but history will be against them next season. It's nearly impossible to repeat as World Series champions with the Yankees the last team to do so nearly twenty years ago.
The Yankees won the 2018 AL Wild Card game against the Oakland A's, but lost in the AL Divisional series to the Boston Red Sox. Last year, the Baby Bombers advanced to the ALCS but lost in seven games to the Houston Astros. In the last two postseasons, the Yankees were eliminated by the inevitable winner.
The Yankees are stacked with young, talented hitters and they boast an excellent bullpen. Starting pitching was the Yankees biggest problem in 2018 and it appears to be their biggest weakness moving forward. The addition of Sabathia is a welcomed addition to the back-end of the rotation. If the Yankees can get another 150+ innings out of Sabathia, it will be more than worth his salary as a fifth starter.
Job Openings in the Bronx
The Yankees are aggressively seeking multiple starting pitchers in the free agent market according to GM Brian Cashman.
"The Red Sox winning doesn't change the hunger level of trying to deliver a championship for our fan base," Cashman said.
Cashman and the Yankees have their eyes on Cory Kluber, Carlos Carrasco, James Paxton, Patrick Corbin, and Dallas Keuchel. Cashman would like to also re-sign J.A. Happ.
At the present moment, the starting rotation is anchored by Luis Severino and Masahiro Tanaka with Sabathia in the fifth spot.