There wasn't much upward movement, but Wisconsin, Boise State, and Arizona State took big dives in the AP College Football Top-25 Poll. Wisconsin fell from No. 6 to No. 13. Boise State dropped eight spots to No. 22, and Arizona State tumbled from No. 17 to No. 24.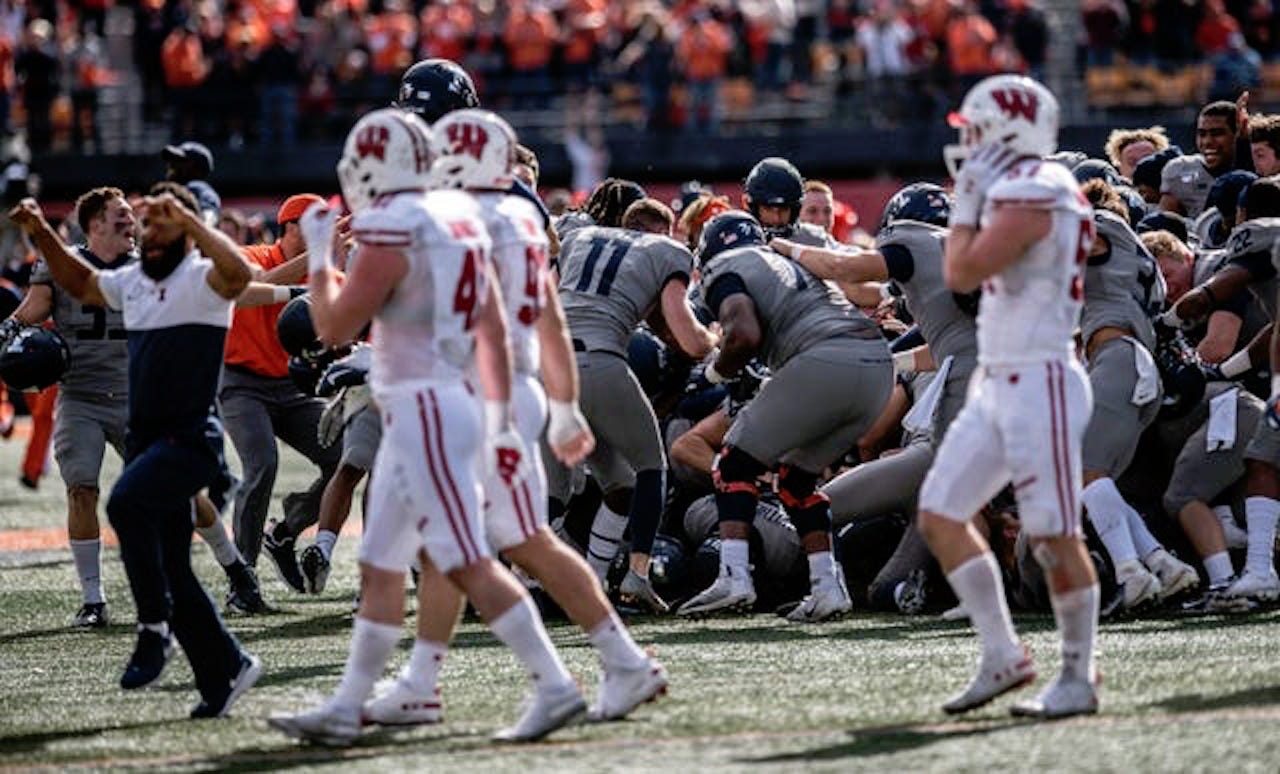 Wisconsin was the biggest surprise of the three. The Badgers were 30.5-point favorites over Illinois, and lost outright, 24-23. It was the first time a favorite of 30 or more points lost outright since Iowa State shocked Oklahoma in 2017.
Wisconsin coach Paul Chryst told reporters after the game that the team didn't execute when it needed to most.
"We had two drives late in the game that ended in turnovers," Chryst said. "It's always hard to win on the road, and that made it even harder. We just have to move on and learn from this."
Wisconsin Tough Climb Back in AP College Football Top 25
The Badgers were in the conversation for the College Football Playoffs, but this loss will make it next to impossible to get back into contention. Wisconsin, who is now at No. 13 in the AP College Football Top 25, will have to leap over nine teams to be considered for the four-team postseason.
The loss also heavily damaged the chances of Jonathan Taylor winning the Heisman Trophy. Even though the junior had 132 yards on 28 carries, he will most likely be collateral damage in the defeat.
That could be wholly unfair. Taylor became the third college running back to reach 5,000 yards before the end of his junior year. He joined former Georgia Bulldog Herschel Walker, and former Oregon running back LaMichael James.
Taylor was more in the mood to talk about what didn't happen, rather than what did. He told reporters after the upset loss that missing scoring opportunities was a critical mistake.
"Those are plays we have to make. Those are times where you must get in the end zone," Taylor said. "They did a good job making plays … getting off blocks. There were some times where there were guys one-on-one with guys, and you've got to make them miss. Everybody else is blocked up, and it's up to you to get that man in front of you."
Boise State Upset Victim
The Broncos were without starting quarterback Hank Bachmeier, who was out with a hip injury. Boise State was still a 7-point favorite over BYU. The Cougars upset the Broncos, and the 28-25 victory drove Boise State from No. 14 to No. 22.
Coach Bryan Harsin refused to blame back-up quarterback Chase Cord for the loss. Cord was 18-for-31 for 185 yards and two touchdowns, but also threw two interceptions.
"He was working hard to prepare himself for this game," Harsin said. "That's the one thing about him, he's a competitor. I'm proud of him. You know, we just had the two turnovers, and that's what it comes down to."
Michigan Continues to Fall
Though Michigan's three-spot drop wasn't as dramatic as the those of Wisconsin and Boise State, it is still concerning to supporters in Ann Arbor. The Wolverines began the preseason at No. 7 in the AP College Football Top 25. A crushing loss to Wisconsin in Week 3 dropped them from No. 11 to No. 20.
Michigan was beginning to climb back up the poll, getting to No. 16 in three weeks. Their 28-21 loss to Penn State knocked them back down to No. 19.
The Wolverines host No. 8 Notre Dame next Saturday, and still have their annual rivalry game with No. 3 Ohio State on Nov. 30.