No. 14 seed Hubert Hurkacz scored the biggest win of his career on Tuesday, defeating No. 2 Daniil Medvedev in five sets to reach the Wimbledon quarterfinals.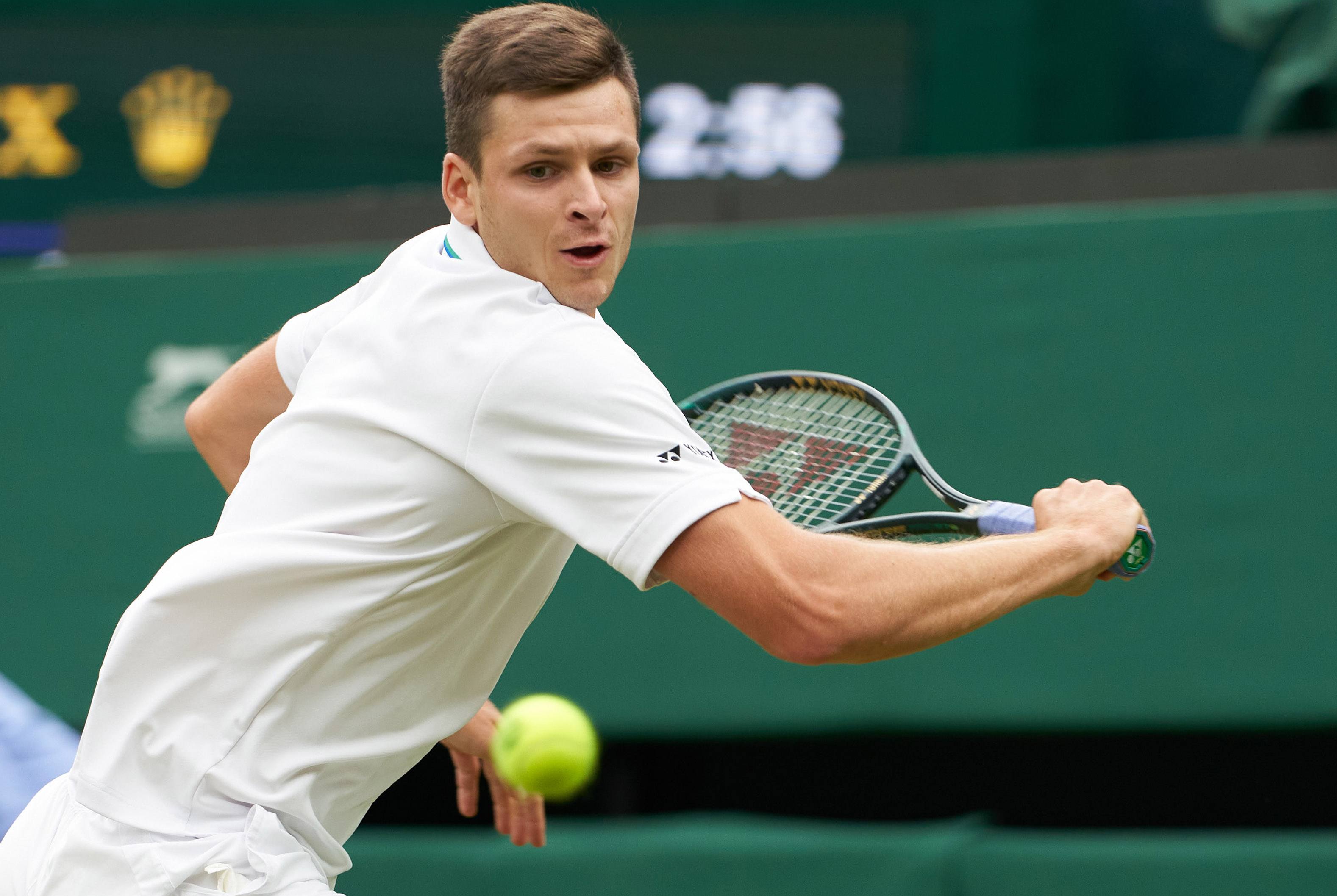 Hurkacz came from behind to win 2-6, 7-6 (7-2) 3-6, 6-3, 6-3, in a match that spanned two days due to a rain suspension.
Hurkacz faces Federer in quarterfinals
The two players were on serve in the fourth set when the match resumed on Tuesday morning. Hurkacz took control of the match at that point, winning eight of the final 11 games to reach his first career Grand Slam quarterfinal.
The win of his career 🇵🇱@HubertHurkacz defeats Daniil Medvedev in five sets to reach his first Grand Slam quarter-final#Wimbledon pic.twitter.com/JFIrQkQO9q

— Wimbledon (@Wimbledon) July 6, 2021
The 24-year-old Hurkacz will now move on to face Roger Federer in the quarterfinals.
"Roger, what he does, the way he plays, the titles he has won, he has inspired so many people," Hurkacz said after his victory. "It's going to be fun. I'll be hoping to get a little bit of support."
Hurkacz enters the quarterfinals as a +3400 long shot to win the tournament. However, his upset of Medvedev still had a major impact on the Wimbledon odds.
Medvedev stood as the most likely barrier between Federer and a return to the Wimbledon finals at the age of 39. If Federer can get there, he'll likely face tournament favorite Novak Djokovic (-260) in a rematch of their epic 2019 final, in which Federer had two match points but couldn't put away the match.
Federer comes into the quarterfinal match as a -275 favorite over Hurkacz (+220). If he gets by that match, he'll face either No. 7 seed Matteo Berrettini or young Canadian star Felix Auger-Aliassime. Berrettini stands as a -400 favorite in that match. If Federer and Berrettini both reach the semifinals, the odds will likely be near even as to who will go through to the final.
Djokovic remains favorite for sixth Wimbledon title
On the other side of the draw, there's only one man to beat: Djokovic. The two-time defending Wimbledon champion and world No. 1 reached his 50th career Grand Slam quarterfinal by sweeping aside Cristian Garin 6-2, 6-4, 6-2 on Sunday. Djokovic is only the fifth player, man or woman, to accomplish that feat.
"It's a privilege to break records in the sport that I truly love," Djokovic said after the win. "I'm devoted to this sport as much as I think anybody out there on tour. I just try to do my best."
---
Wimbledon Odds – Gentlemen's Quarterfinals (via FanDuel Sportsbook)
No. 1 Novak Djokovic: -4500
Marton Fucsovics: +1600
No. 6 Roger Federer: -275
No. 14 Hubert Hurkacz: +220
No. 25 Karen Khachanov: +250
No. 10 Denis Shapovalov: -315
No. 7 Matteo Berrettini: -400
No. 16 Felix Auger-Aliassime: +300
---
Djokovic faces Hungarian Marton Fucsovics on Wednesday. The 19-time Grand Slam winner comes in as a massive favorite, with FanDuel listing Djokovic as the -4500 pick over Fucsovics (+1600).
Should Djokovic advance, he'll face a more dangerous challenge in the Wimbledon semifinals. He could meet up with Canadian Denis Shapovalov or, potentially, No. 25 seed Karen Khachanov. Shapovalov rates as the -315 pick in that matchup.