Puppy Bowl XVI will air on the Animal Planet channel at 3 p.m. EST. The two-hour extravaganza features a variety of canine competitions which precede the 2020 Super Bowl. Sports gambling specialist Matt Lessinger, fresh off a winning night at the Grammy Awards, is our official "Puppy Bowl Correspondent." Let's go down to the field and get a report on the best bets for this year's Puppy Bowl.
Oh, and yes — this is real. We really can bet on the Puppy Bowl.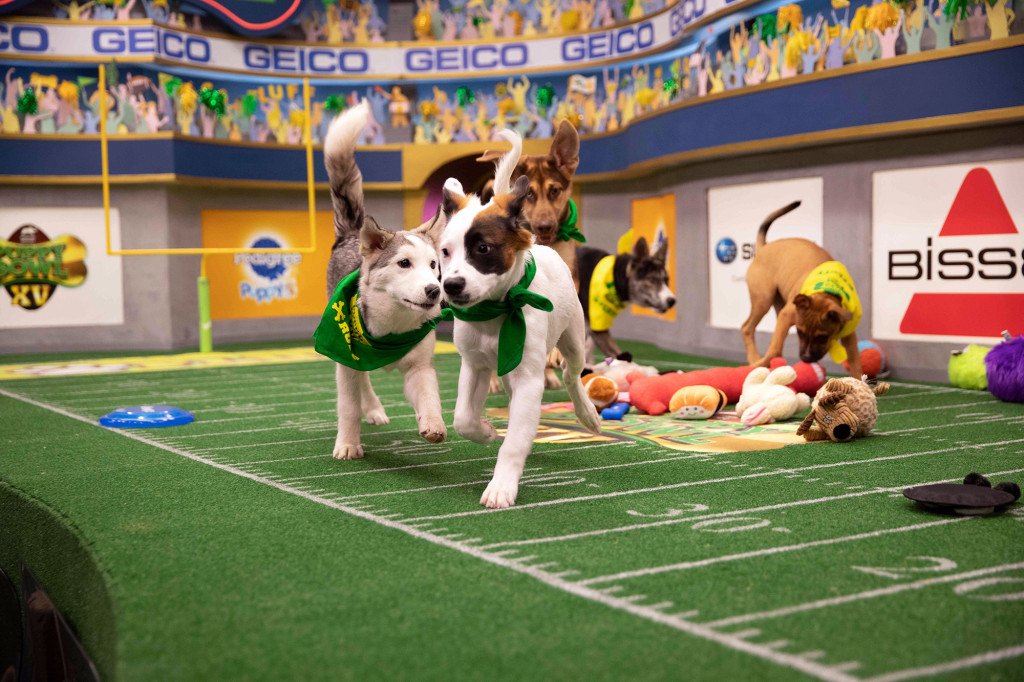 Who do you like in the big game?
No, not the 49ers or the Chiefs. We're more interested in Team Ruff versus Team Fluff in Puppy Bowl 2020!
Matt Lessinger, who enjoyed another winning year at the Grammys which were held last Sunday night (+18 units, if you followed and bet his picks, which were posted here at OnlineGambling.com) has been on the latest hot topic all week. He even reached out to his own, super-secret, insider contact to come up with some great analysis.
"Fresh off a big win at the Grammys, I'm looking to capitalize on the soft lines this weekend," Lessinger said. "No, I'm not talking about the Super Bowl — that's for squares. This weekend is all about the Puppy Bowl!"
What follows are Lessinger & Co.'s gambling-related thoughts and picks on the annual canine classic.
---
This year, Bovada has posted seven different Puppy Bowl wagers (yes, you read that correctly), and we're gonna break 'em down right here. I consulted my good friend, "Juliza the Puppy Whisperer," and he was willing to share with us all of his sharp takes:
Age of MVP
LINE:  Over 17.5 weeks (+130) / Under 17.5 weeks (-170)
Juliza's Sharp Take: This is an interesting way to kick-off a potential parlay, and one I like quite a bit. Faced with the choice of supporting a fairly new to earth young pup versus one that has some experience with the regimen of potty training, I'm all in on the pup who won't poop in-game. Take the over straight to the bank.
First Letter of Name of MVP
A-J (-120) / K-Z (-120)
Juliza's Sharp Take: Quick — think of calling over a stray dog. What dog's name comes to mind? Fido? Duke? Charlie? Ace? Benji? Cooper? While I would appreciate a cute Xander or Zippy as much as the next person, instead take a cue from the famous reindeer where Rudolph is the only outlier. The front end of the alphabet is where it's at. Only contrarians go for the back 16 letters (oh and yes, you get more letters on the back end — you know what they say though: "Mo Letters Mo Problems.")
Game Spread
Team Fluff -7.5 (-135) / Team Ruff +7.5 (-105)
Juliza's Sharp Take: Fluff or Ruff? This is the puppy bowl, which is the championship of all competitive baby dog activity. I know you bowl players gravitate toward Fluff, as do the pundits because of their familiarity with the association of puppies and their appealing squishy mugs with the word "fluff." But deep down inside, you need to remember these are future full-sized animals. There's a ruff inside each one of these huggable darlings, and you should expect to see it on display in the pinnacle of competitive puppy interaction. Ruff plus the points, and warn your spouse/partner that they will have to get used to your barking at the television throughout. Ruff-ruff with authority.
Gender of MVP
Male (-140) / Female (EVEN)
Juliza's Sharp Take: I'm married. Have a daughter. Want to keep it that way. Duress pick for this columnist, so the vote is for "female." As Beyoncé says, they rule the world. And my daughter says, they went to college to get more knowledge, while apparently, I spent my time on Jupiter (to get more stupider). No further comments.
Will Michael Vick Tweet About the Puppy Bowl?
Yes (+1200) / No (-7500)
Juliza's Sharp Take: What can we say here? How about what you're all thinking: Hell no! We can't be as firm in our opinion about the nation's leader weighing in (Trump always has an opinion about everything). Thankfully, that's not the question at hand.
Will a Puppy Attempt to Mate?
Yes (+350) / No (-600)
Juliza's Sharp Take: The game is reportedly shown on a live stream, so anything is possible. So bet YES, and this is again why the MVP is a female. Another example where smarter is better than harder. Ba-dum-bum. I'll be here all week, folks.
Will the MVP be a Pure Bred or a Mixed Breed?
Pure Bred (+450) / Mixed Breed (-850)
Juliza's Sharp Take: Lest we not forget the genesis of the puppy bowl, and all the champion puppies that have graced the field of play in years prior. Further, the time spent in glorious bowl cities with glamorous puppy chow and, of course, the already paparazzi-filled puppy media days. All of these off-the-field antics and time spent as a group of pups had to have led to many puppy trysts and puppy boat parties that didn't come to print. Like in real life, those with a mix of DNA and experience find the ease of comfort in a group of strangers with differences. The mixed breeds will look away from the on-field attempts to delay the game with fits of passion, and will already have been warned about staying out too late in the puppy clubs like Bark After Dark and Under Your Fur. Act like you been there and go with those who have. Mixed breeds MVP. Oh, and again, it's a female! I just secured myself another year of marriage.
A Disclaimer
Till we sniff each other again next year … enjoy all the kibbles and bits of knowledge that I bestowed upon you and make it a puppy bowl to remember. If by chance I steered you wrong above, please make sure to clean up after yourself.