Considering what she did in her last start: win the Breeders' Cup Filly & Mare Sprint, Ce Ce could find Saturday's Grade 2 Santa Monica Stakes at Santa Anita Park a bit of a comedown.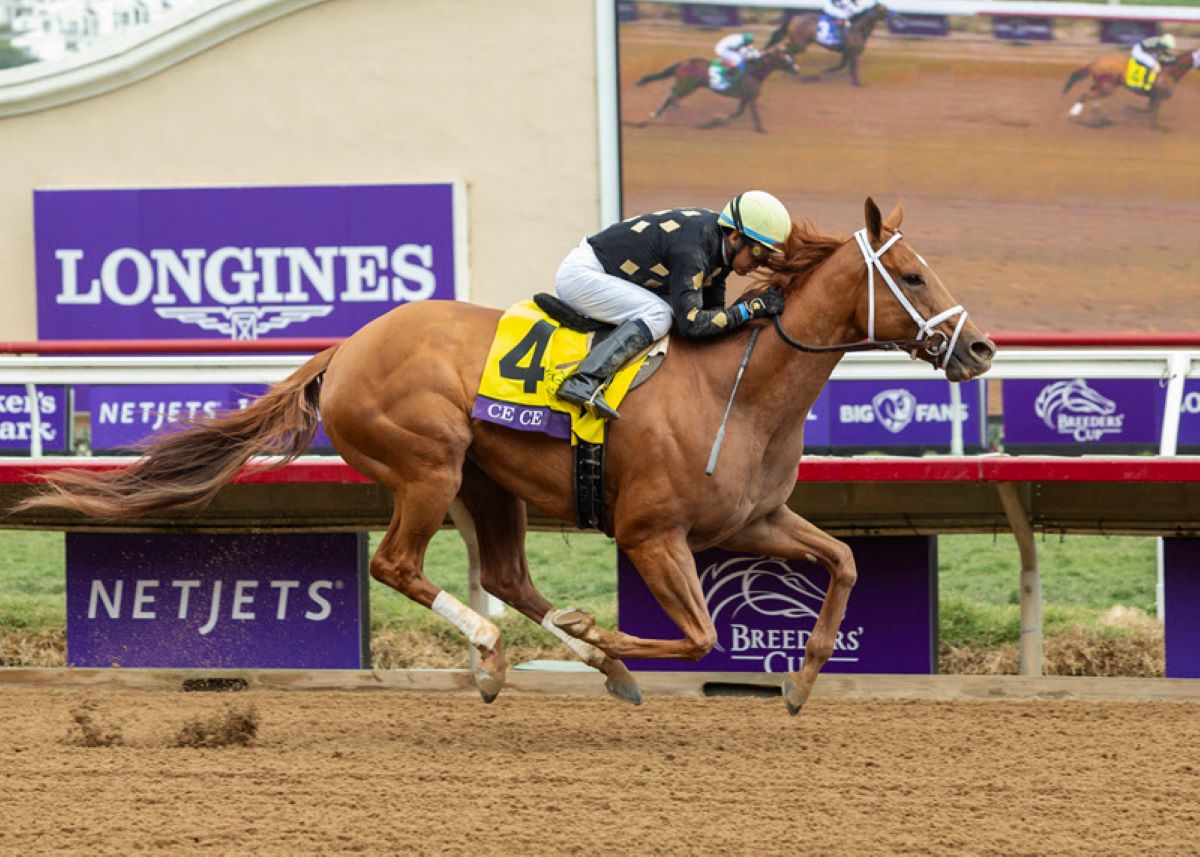 But 6-year-old campaigns must start somewhere, and a small, but deep Santa Monica field isn't a bad place to start them. From post 2, Ce Ce can look to her left and see Bob Baffert's Kalypso (3/1). She can look to her right and see Baffert's Merneith (7/2), who won this race last year.
Conversely, both of Baffert's book-ending entries in the seven-furlong Santa Monica can look to the 3/5 favorite as clearly the mare to beat. Kalypso owns a Grade 1 score in last December's La Brea Stakes, while Merneith lacks a Grade 1 victory. Neither the 4-year-old Kalypso, nor the 5-year-old Merneith are Eclipse Award finalists.
And neither Kalypso, nor Merneith are Breeders' Cup champions.
Ce Ce can raise her hoof to all of the above. Her upset victory in November's Breeders' Cup Filly & Mare Sprint gave the daughter of Elusive Quality her third Grade 1 victory and fifth graded-stakes victory overall. It vaulted her into finalist status for Champion Female Sprinter of the Year, status she shares with defender Gamine and Bella Sofia. Both of whom she bested in that Breeders' Cup race.
Ce Ce won three graded events at 5
The Michael McCarthy-trained mare should win that Eclipse. That Breeders' Cup 2 1/2-length score at 6.20/1 brought Ce Ce $520,000 and vaulted her career earnings to $1,753,100. It was her fourth victory in six 2021 starts. Three of those came in graded stakes: the Breeders' Cup, Grade 3 Chilingworth Stakes at Santa Anita and the Grade 2 Princess Rooney at Gulfstream.
The only time she missed the board in those six races came in the Grade 2 Santa Maria last May at Santa Anita. She finished fourth to As Time Goes By, running an uncharacteristic poor race where she weakened down the stretch. Even with that, Ce Ce banked $888,000 – more than half her career earnings.
That Breeders' Cup victory gave the then-5-year-old her first Grade 1 victory since she won back-to-back Grade 1s in the spring of 2020. She won the Beholder Mile at Santa Anita and the Apple Blossom at Oaklawn a month apart. That Apple Blossom victory at 4/1 came against a deep field featuring Serengeti Empress, Ollie's Candy and Point of Honor.
Her owner would rather see her run than breed
The fact you're seeing the 6-year-old Ce Ce and Hall of Fame rider Victor Espinoza aboard her is because her owner/breeder, Bo Hirsch, wanted to keep her racing. Apparently, so does Ce Ce. Her last workout came Jan. 30 – a 47-second, four-furlong work at Santa Anita that was second of 87 at that distance that day.
She's worked out every week since Thanksgiving Day. That included a 2021 bullet farewell Dec. 27 where Ce Ce's 46.60-second four-furlong jaunt was best among 109 that day.