Jairzinho Rozenstruik predicted that Alexander Volkov wouldn't stand and bang with him. Volkov proved him wrong early on Saturday night in the main event of UFC Fight Night 207.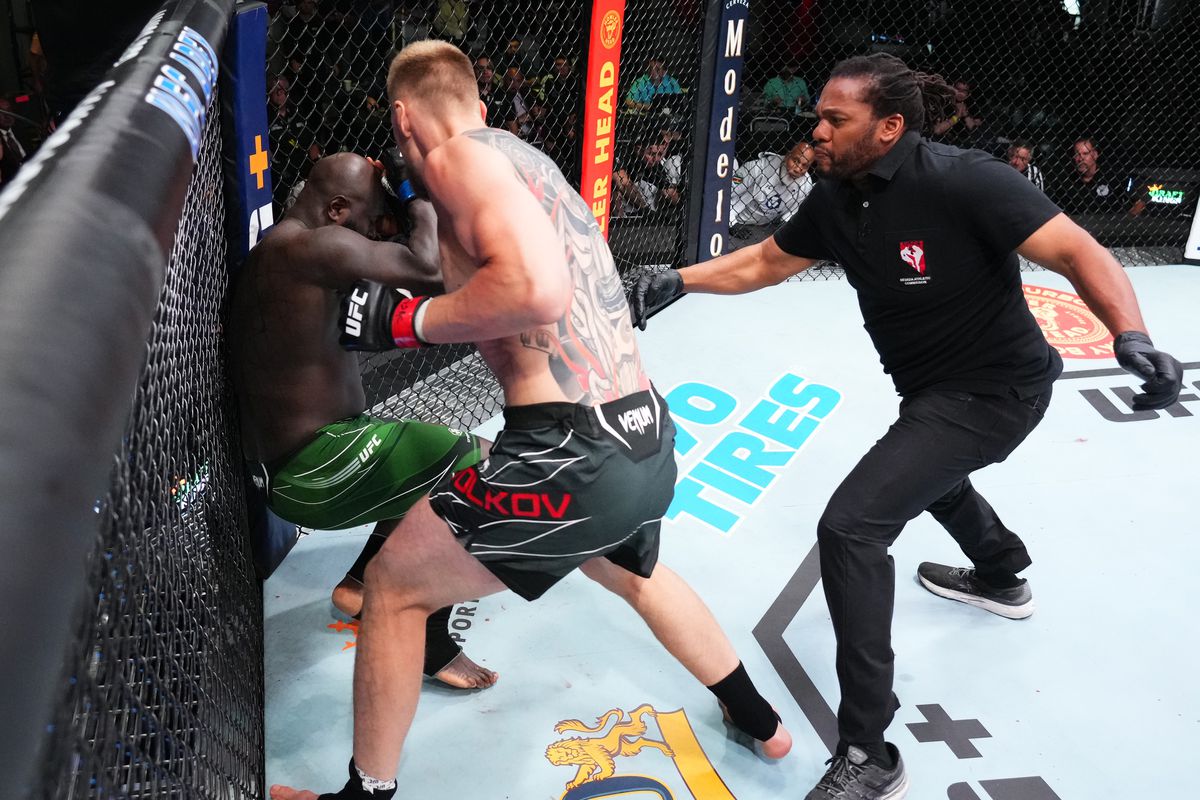 Volkov pounded Rozenstruik with long, standing punches, forcing referee Herb Dean to stop the fight just 2:12 into the first round.
Volkov looking upward in heavyweight division
Dean determined that Rozenstruik had stopped intelligently defending himself, though Rozenstruik protested the stoppage. Volkov never knocked Rozenstruik down, though he hurt him multiple times. The win was the fastest of Volkov's UFC career.
"I know that he doesn't not have good defense back to the cage," Volkov said after the fight. "I just see him go to the cage and just go forward for the knockout. Good fight."
Volkov (35-10) didn't call out a particular opponent, but expressed the desire to fight a higher-ranked opponent next. He currently ranks as the No. 7 contender in the UFC heavyweight division.
Meanwhile, Rozenstruik (12-4) has now lost four of his last six fights after starting his career with eight straight wins, including four to start his UFC stint.
Harrison faces toughest challenge yet at PFL 6
Kayla Harrison has dominated her opposition during her time in the Professional Fighters League, though some have criticized the quality of her opposition. That might begin to change at PFL 6 on July 1, as Harrison will face off against former Bellator featherweight champion Julia Budd.
Harrison (13-0) won her first fight in this season of the PFL via unanimous decision. That earned her three points. Budd (16-4) also has three points, despite the fact that she lost to Genah Fabian on May 6. However, Fabian missed weight for that bout.
Harrison has emerged as one of the biggest names in women's MMA over the past two years, winning two championships in the PFL. Several promotions bid for her services earlier this year, but she decided to stay with the PFL for at least one more season. At the same time, she has expressed interest in cross-promotional fights with bigger names in Bellator, UFC, or other competitions.
Molina blasts backlash to Pride Month shorts
Jeff Molina (11-2) took a split decision victory over Zhalgas Zhumagulov at UFC Fight Night 207. Afterward, however, much of his talk was about the shorts he wore for the fight.
Molina chose to wear rainbow-colored shorts, which the UFC released in honor of Pride Month. He said he was stunned to get backlash from some fans over his decision.
Jeff Molina goes *off* about the negative comments he received for wearing UFC's pride month shorts.

"I just thought in 2022 people would be a little more open-minded and not pieces of sh*t. But I guess I was wrong."#UFCVegas56 | Full video: https://t.co/mOxnqIFGCb pic.twitter.com/aKeVUUeXyg

— MMA Junkie (@MMAJunkie) June 5, 2022
"I was honestly shocked," Molina told reporters. "I picked the colors because I thought it looked cool and then also it supports a good cause, you know. But I will support anything of a community that's been oppressed and ostracized for some time now for something they can't help. I'll get behind any of that. I just thought in 2022 people will be a little more open-minded and not pieces of shit. But, I guess I was wrong."
A video of Molina's comments went viral on Twitter, generating support along with some more negativity. However, Molina says he shouldn't earn praise for what he saw as an easy choice.
"I feel like I'm being appreciated for something I shouldn't be appreciated for if that makes sense," Molina said. "It's like being applauded for saying murder is wrong. It should just be common [sense]."