Top-ranked recruit Vernon Carey, Jr, a 6-foot-10 center from NSU University Prep School in Fort Lauderdale, Florida, declared his intentions to attend Duke University next year.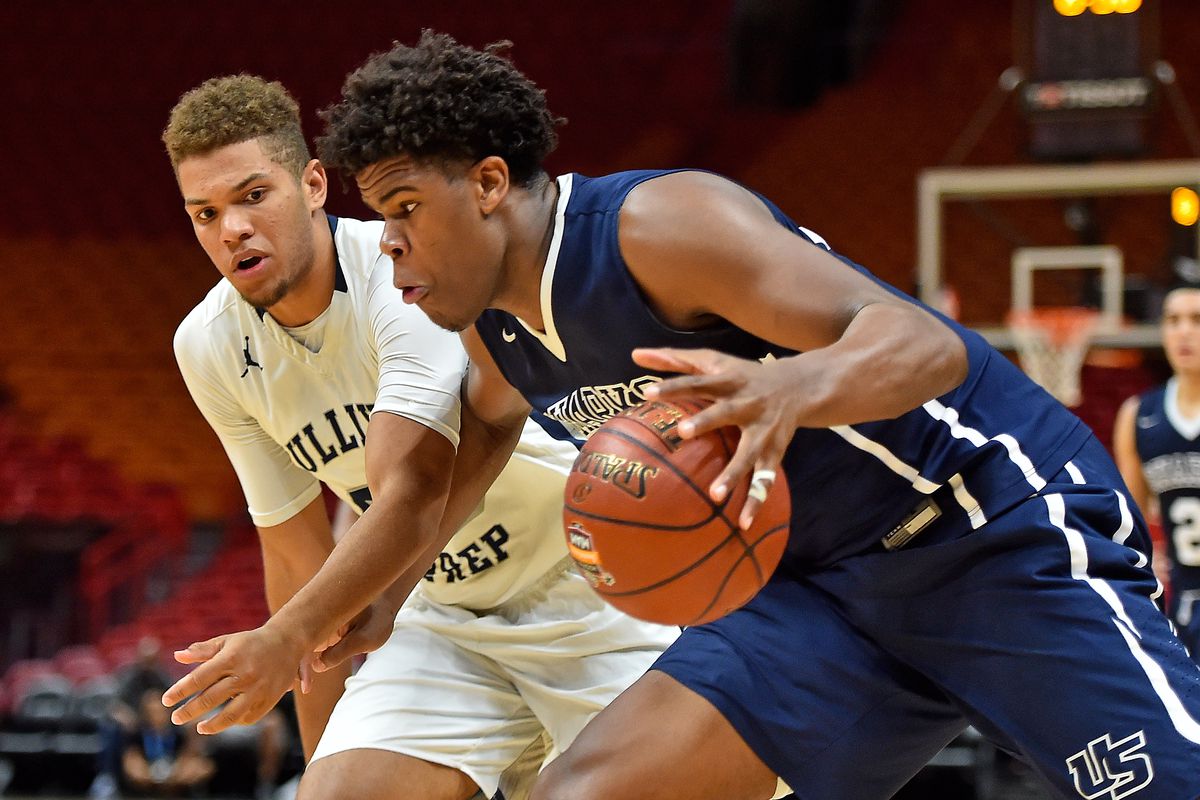 Carey is considered the second-best center in the country behind James Wiseman. Two weeks ago, Wiseman announced he would stay in Memphis and play for Penny Hardaway at the University of Memphis.
Positionless, NC
Carey, 6-foot-10, is a standout five-star recruit and one of the best big men from the class of 2019.
"The reason I chose Duke was Coach K," said Carey of head coach Mike Krzyzewski. "They see me as a positionless player, they said I can be anywhere on the court. That worked well with me."
According to Paul Biancardi, ESPN's national recruiting director, "Vernon Carey Jr. brings a unique combination of power and skill to the court. What makes him special is his ability to dominate in the paint while also being effective with his face-up game. His nimble footwork and soft touch is not talked about enough at his physically imposing size."
Last summer, Carey won a gold medal representing USA Basketball in the U17 World Cup. Carey averaged 11 points and 7 rebounds and was named to the all-tournament team. At the 2017 FIBA U16 Americas Championships, Carey won MVP honors.
Near Miss for Michigan State
Carey is the son of Vernon Carey, Sr., who played college football for the Miami Hurricanes and later played in the NFL for eight seasons as an offensive tackle. The Dolphins picked Carey, Sr. with the 19th overall pick in the 2004 NFL Draft.
Michigan State and North Carolina were among Carey's final choices, along with Duke. Even though Tom Izzo from Michigan State doesn't recruit all the way down in Florida, Michigan State missed out on Carey by a thin margin according to his father.
"Those guys did an incredible job," said Jim Carr, Carey's high school coach. "They did everything they could. They swung very, very hard. I don't think Michigan State has ever recruited a kid from this area before, but they're welcome back to get other guys."
Another Top Class for Duke
Duke has dominated the recruiting wars in recent years. Coach K evolved his coaching system and revamped Duke as both a perennial contender and a one-and-done factory for the NBA.
Coach K and Duke landed the top recruiting class in five out of the last six years. The one time that Kentucky and John Calipari edged them out, Duke was ranked second overall.
Carey will join other blue chip recruits Wendell Moore (6-foot-5 swingman) and versatile guard Boogie Ellis as the top recruiting class of 2019.
This season, Coach K's top recruits from the Class of 2018 have been making headlines. Freshman Zion Williamson and RJ Barrett have been turning heads at Duke. Seems like every game, Williamson is adding more monstrous dunks to his highlight wheel.
Duke did not land James Wiseman when he opted to play for his high school coach, ex-NBA player Penny Hardaway, who took the head coaching job at the University of Memphis. However, Coach K and Duke snatched up the second-best center in America and the overall #2 ranked recruit with Carey.
Carey draws immediate comparisons to Wendell Carter, Jr., who played for Duke last season before heading to the NBA. The Chicago Bulls picked Carter with the #7 overall pick in the 2018 NBA Draft.