The video assistant referee (VAR) system has created more controversy in the Premier League after disallowing a perfectly valid goal from West Bromwich Albion's Mbaye Diagne just four minutes into the game against Southampton. WBA eventually won the match 3-0.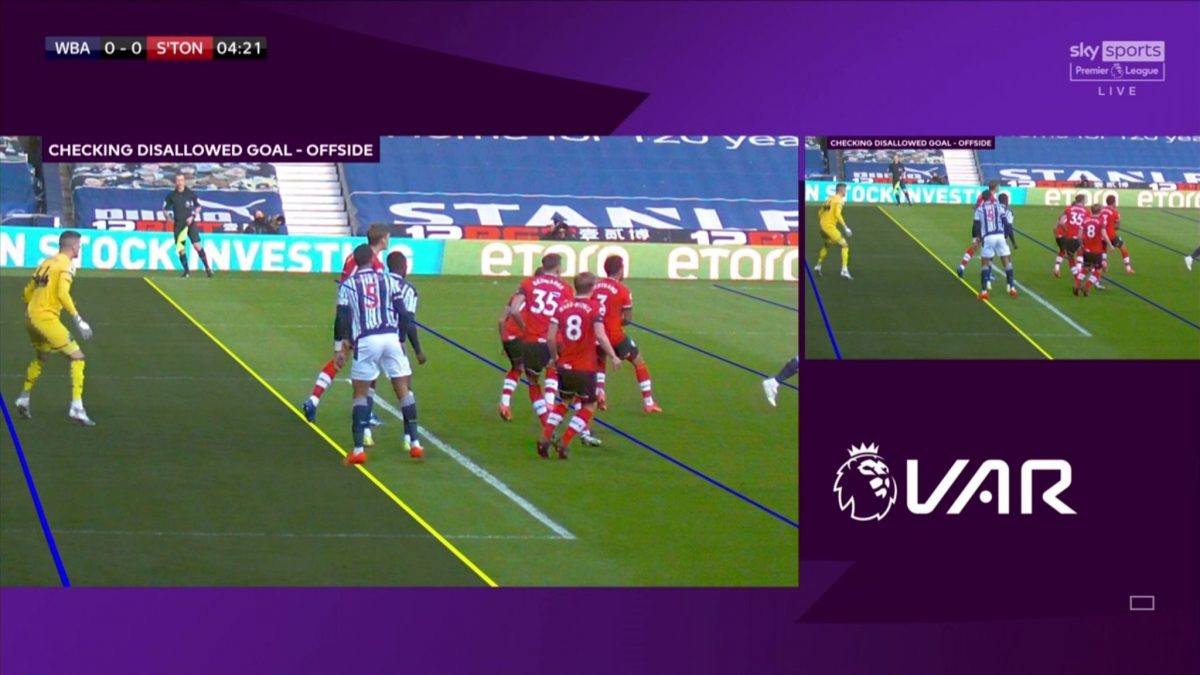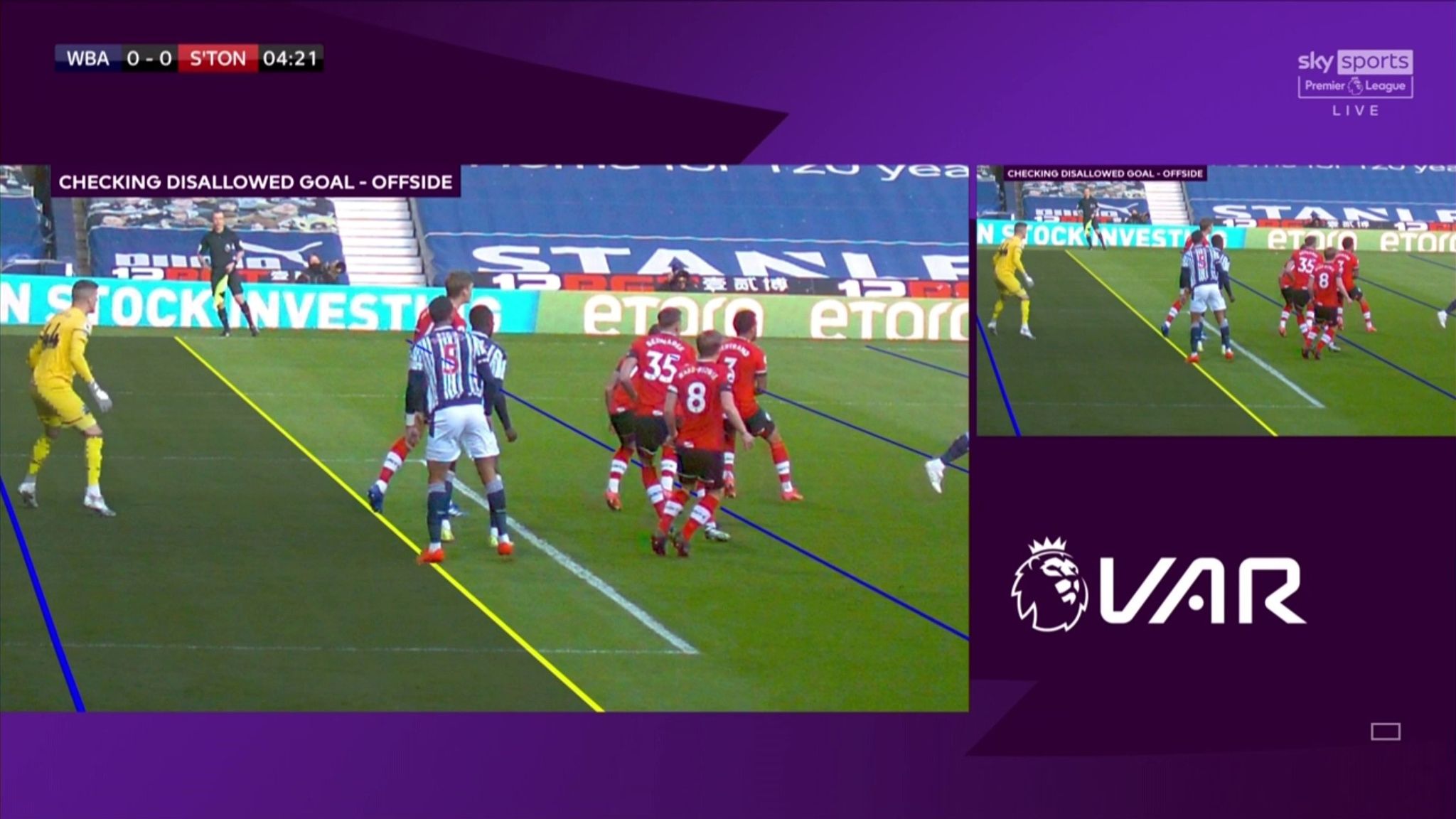 The assistant referee raised his flag for offside, then the VAR came into action analyzing the goal. With lines impossible to draw because WBA striker Diagne was masked by his teammate Kyle Bartley, the virtual assistant couldn't overturn the decision made by the linesman on the pitch. That was the explanation the game's broadcaster in England, Sky Sports, got from the VAR match center.
VAR went wrong: What did the TV show?
Replays, and even the line drawn by VAR to mark the players' feet, clearly leaned in Diagne's favor. The Senegalese striker was onside.
At first, many viewers thought the VAR drew the lines incorrectly, as they involved Bartley (number 5) and not Diagne, the goal's eventual scorer. Adding to the confusion, the virtual yellow line shows Bartley's foot offside, and not Diagne's, who is standing in front of him.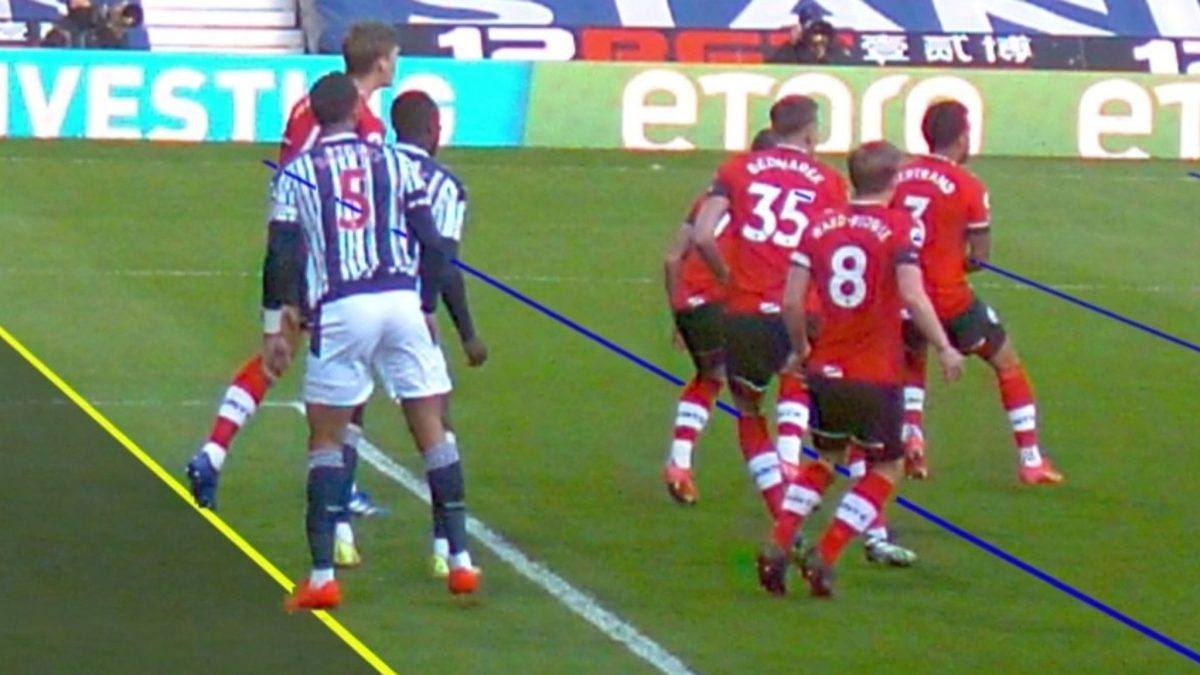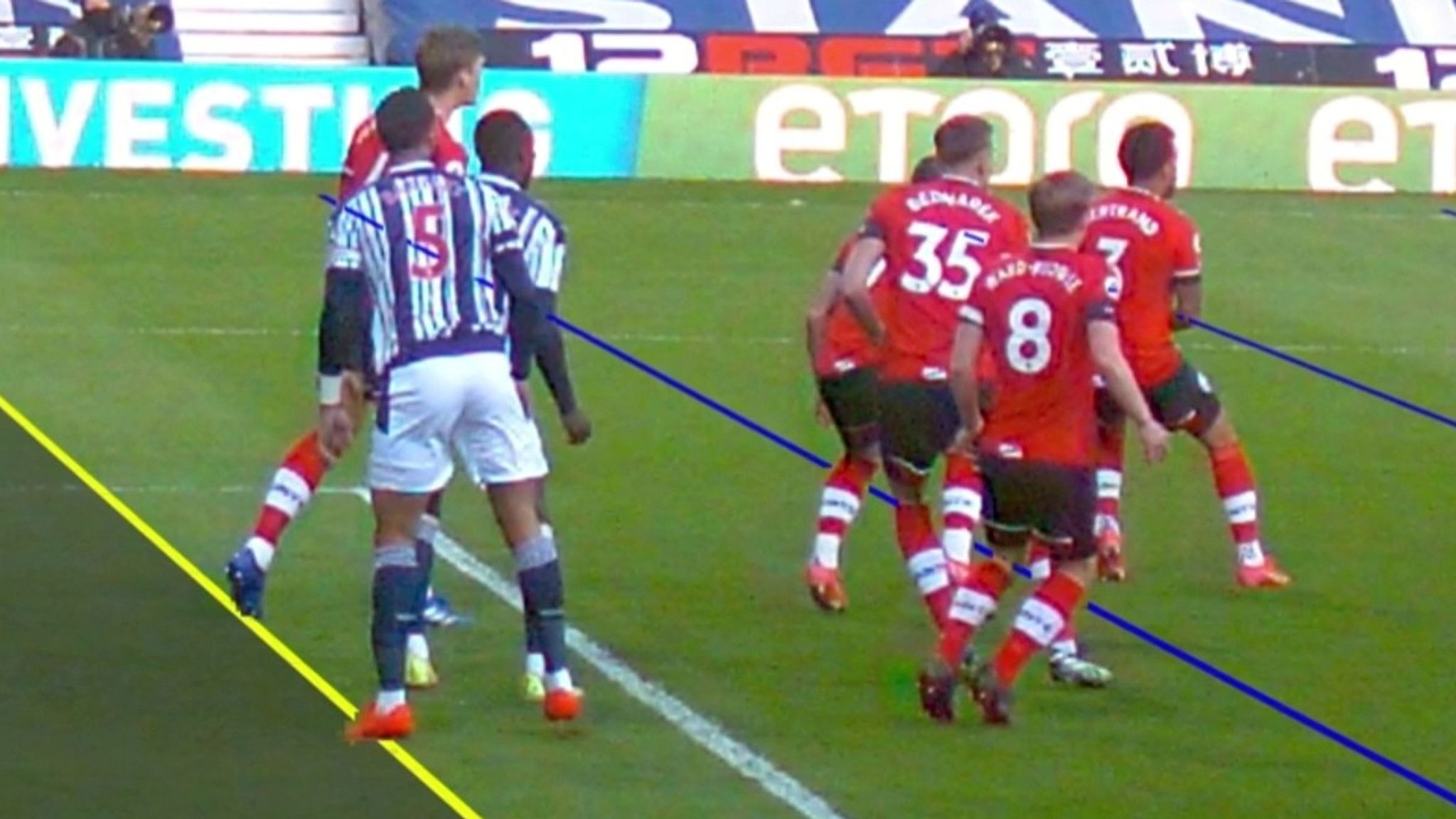 Even Sky Sports pundit and Liverpool legend Jamie Carragher was under the impression that the VAR made a terrible mistake, while the game's commentator, Don Goodman, said on air, "once I saw the pictures, I thought he [Diagne] was onside. The lines say differently, but it's Kyle Bartley who is offside. I wonder if they have got this right. Bartley had nothing to do with the goal."
Did #var use the offside lines on the wrong WBA player???

— Jamie Carragher (@Carra23) April 12, 2021
Former Arsenal star: 'I had enough of VAR'
"Bartley blocked the camera view, meaning VAR was unable to conclusively prove the striker was onside and was, therefore, unable to overturn the decision," VAR officials told SkySports, with presenter Dave Jones trying to clarify the matter at half-time. "They say that Bartley was blocking the line-cam view of Diagne and because they cannot draw a definitive line, they have to stick with the on-field decision."
Former Arsenal and Everton striker Kevin Campbell didn't take the explanation too well. He said he "had enough of VAR."
"That was a perfectly good goal," Campbell said. "The fact that West Brom has scored two goals [until half-time] has got the linesman and the VAR official out of jail. For me, it's a disgrace."
Carragher was on the same page. "Diagne is onside, I have no doubt whatsoever. VAR can't see the shoulder of Diagne, but there is more evidence that he is onside than the evidence that he is offside."
Oh for crying out loud, take a day off, VAR.

— Gary Lineker 💙 (@GaryLineker) April 12, 2021
WBA went on to win the game 3-0, with goals from Matheus Pereira ('32, penalty), Matt Phillips ('35), and Callum Robinson ('69).
Manager Sam Allardyce addressed the situation after the match. "I've seen all the lines and angles on that and, as far as the situation goes, I think they got that wrong. Gladly, it hasn't affected the result, but it easily could have done."
VAR and the desperate calls for change
This isn't the first time VAR has come under scrutiny after this weekend's action; there were big problems in four other games. VAR took away goals from Wolves and Liverpool for millimeter-long offside positions, and also made contested penalty decisions at Tottenham vs. Man United, and Burnely vs. Newcastle.
In their thousands, fans have asked for football to be "given back" to the fans in social media outbursts. Gary Lineker, the former England, Barcelona, and Tottenham striker turned TV celebrity pundit, has expressed concerns with VAR after almost every debatable decision.
I'm sorry, but VAR gets more ridiculous by the day. How on earth can they say with any confidence that that is offside? Same as last night's disallowed goal. Ridiculous.

— Gary Lineker 💙 (@GaryLineker) April 10, 2021
Wenger offers new offside rule
Arsene Wenger, the former Arsenal manager, is now FIFA's chief of global football development. He wants a new offside rule in place, and his bosses are ready to listen. Wenger wants attackers to be onside as long as any of the body parts they can use to score are level with their second-last opponent. This would make future offside decisions much more blatant.
Wondering what football would look like under Wenger's "daylight" offside law? Raheem Sterling would be onside in this example, the heel playing him onside.

NB: You still need the offside lines, and you still have marginal decisions. pic.twitter.com/GYA2CBmkLz

— Dale Johnson (@DaleJohnsonESPN) March 5, 2021
Affected by the wrong offside decision made against him on Monday evening, WBA manager Sam Allardyce wants a "VAR restart" in the summer.
"The reflection on VAR can be done at the end of the season. All Stakeholders should have an influential input into how VAR goes forward and I think that input needs to be from everyone. We need to come together on this because there are too many of us not being allowed to express how to make it better. It needs to help us more than it has actually done."
Since the start of the 2019/20 season, when VAR was implemented in the Premier League, Liverpool had the biggest number of disallowed goals by the virtual assistant. Klopp's boys have been denied 10 goals, followed by Villa, Man City, Tottenham, and Wolves with six, and Bournemouth, Chelsea, Sheffield United, and West Ham with five.
Most PL goals disallowed by VAR since start of 2019/20:

10 – Liverpool
6 – Villa, Man City, Spurs, Wolves
5 – Bournemouth, Chelsea, Sheff Utd, West Ham.

Whatever your view on the accuracy of the decisions, #LFC have been hit hard by some very narrow margins pic.twitter.com/kAbFwwdcJK

— The Tomkins Times (@thetomkinstimes) April 10, 2021