Valentina Shevchenko has easily turned back the last six challengers to her women's flyweight title. Taila Santos says she can be the one to end that streak in the co-main event of UFC 275 in Singapore on Saturday.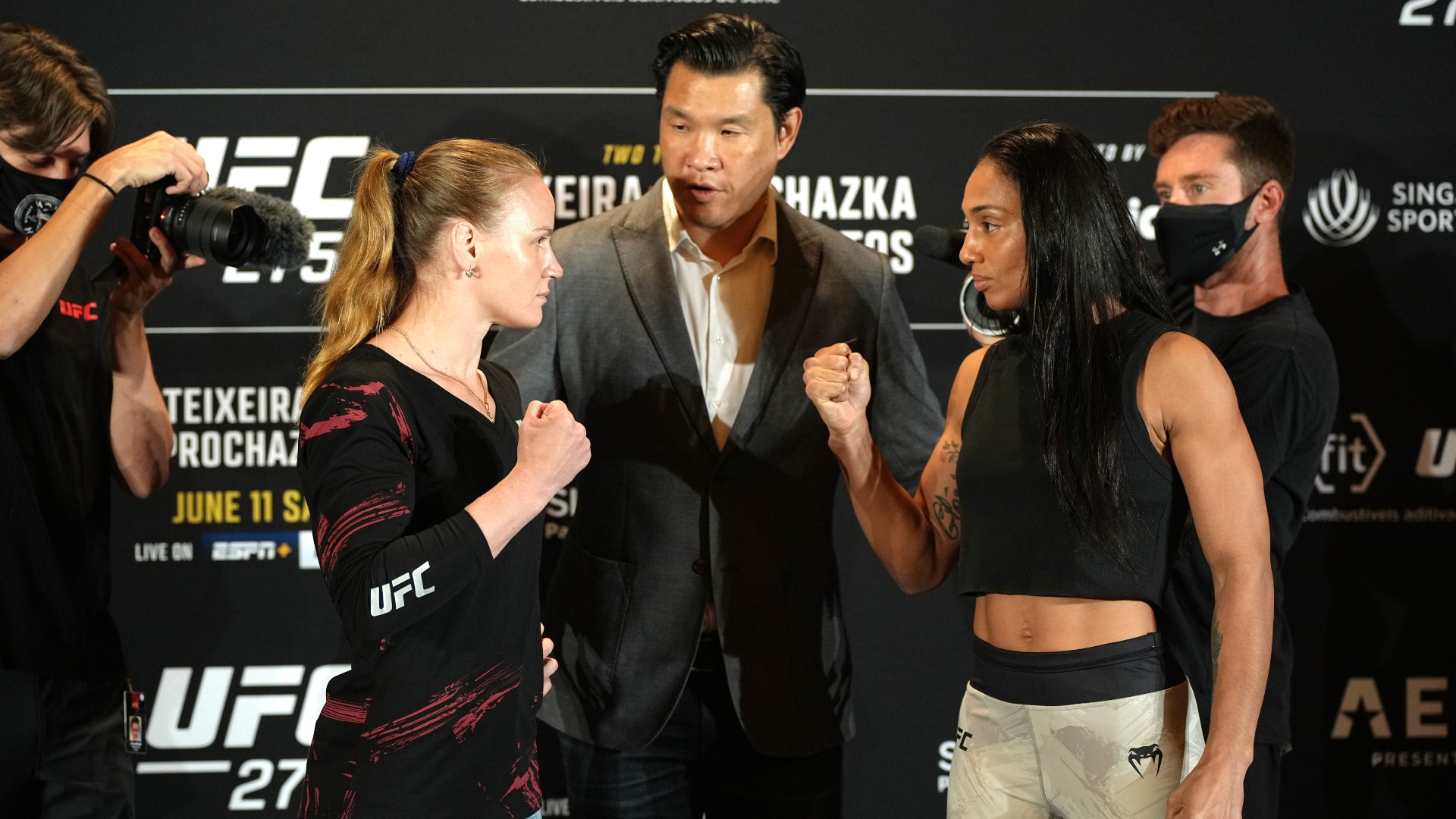 Oddsmakers are skeptical, with DraftKings Sportsbook making Shevchenko a -630 favorite over Santos (+450) in Saturday's fight.
Santos: Nobody's perfect, even Shevchenko
Santos (19-1) has reason to feel confident. After losing her UFC debut in 2019 – the only defeat of her career – she has rattled off four straight victories, including a first-round submission of Joanne Wood last November. While she's now the No. 4 contender in the flyweight division, it's hard to pick a better challenger for Shevchenko given Santos' resume.
It's one thing for Santos to think she can win – fighters almost always do. But Santos also thinks she has found exploitable aspects of Shevchenko's game, something opponents have been struggling to do for years.
"She's about as close as you can get to the perfect fighter, but nobody is perfect," Santos told reporters via a translator. "Doing the tape study, we were able to locate a few things we can work on and that was basically what the strategy has been put around those flaws that we found, and that's what I'm going to impose."
Shevchenko (22-3) has heard it all before. The champion has won eight straight fights, and 14 against opponents not named Amanda Nunes, who beat Shevchenko twice by decision. While Shevchenko admits that Santos is a solid fighter, she doesn't sound worried at all heading into UFC 275.
"She showed that in her previous fights she is a tough opponent, a strong opponent with a lot of power, and you cannot take it from her," Shevchenko told reporters. "My thing is to see where her holes are and where I can destroy her. So I'm not going out there to admire her but to destroy her. When I start to study my opponent, this is what I focus into."
White talks up UFC 275 matchup
Shevchenko also brushed off Santos' talk of finding weaknesses on tape.
"I think it's kind of hypnotizing herself, trying to convince there is something there should be," Shevchenko said. "All of my opponents, they were saying the same. The same over and over. It's like, 'No one is unbeatable. She has some holes in her game.' But once they step inside the Octagon, they feel the opposite side. They feel the difference between the fighters."
Ultimately, any Santos win will mark a massive upset at UFC 275. Yet it's worth noting that the challenger does possess enough knockout power to have a puncher's chance. And that's something UFC president Dana White has talked up heading into the fight.
"She more than has a chance," White told Yahoo Sports. "This woman is very dangerous. She's only got one loss in her entire career. And the problem is, people don't realize how dangerous this woman is."